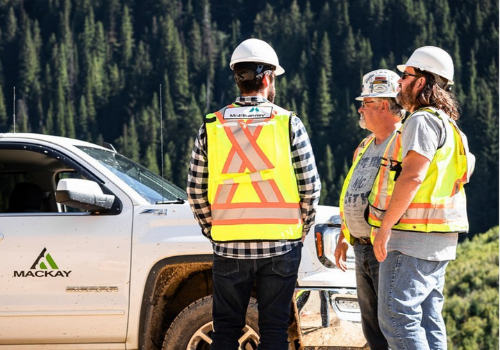 MacKay Contracting is a heavy civil construction company based in Cranbrook, British Columbia, Canada. It serves five market sectors throughout Western Canada: infrastructure – utilities, water and wastewater delivery/treatment, dams, bridges and tunnels; transportation – airport runways, rail, roadways and highways; mining – mine infrastructure, site development, reclamation and contract mining; energy – specializes in HDPE piping and does site preparation, structures and pipelines for the industrial, oil, gas, LNG and renewables markets; and environmental – wide range of services for site remediation.
Wayne MacKay founded the company in 1986 in the Rocky Mountains with a single wheel loader working at the Sullivan Mine. Located in Kimberley, British Columbia, it was a major producer of lead, zinc and silver.
Over time, the the business grew and expanded its services. Wayne's son, Rob, grew up helping in the business, and is now at the helm. 
Rob attributes MacKay Contracting's growth to several key factors:
Building and maintaining a strong and collaborative team of individuals all working toward the same goal
High standards of efficiency and safety
A willingness to accept and meet challenges
"We have a can-do attitude," he says, "and we do not shy away from challenging jobs. From design through completion, we have earned a reputation for meeting or surpassing expectations, even on complex and time-sensitive projects.
SAFETY IS A CORE FOCUS 
Because of the nature of the work and the many hazards that are just a part of the job, the construction industry is inherently dangerous. That is why safety is of the utmost importance and there has always been an emphasis on workplace safety at MacKay Contracting, points out Rob.
"Nothing is more important to us than the safety of our workers and the public affected by our worksites. Our philosophy is that all incidents can be avoided and we have an exceptional safety record on all of our projects."
Safety is a core value at the company that makes for a very strong safety culture, notes Rob. "We maintain very high safety standards."
Safety meetings and toolbox talks are held on a regular basis. There is continuous training on working safely and maintaining construction site safety. There is a focus on preventive measures and precautions to avert the occurrence of any accident or mishap on a jobsite. 
"We expect our subcontractors to follow our in-house safety procedures, including safety meetings and reporting of near-misses to supervisors. Everyone is a part of our team."
The company recently began using a software program that lets employees access the company's safety manual and safety information and documentation on their smartphones. Employees are also able to do hazard assessments, measure safety key performance indicators, check work permits and perform other tasks.
MacKay Contracting maintains a Certificate of Recognition (COR) from both the Alberta Construction Safety Association and the BC (British Columbia) Construction Safety Alliance. A COR safety certification is awarded to employers who develop health and safety and injury management systems programs that meet established standards.
COMPANY CULTURE CONTRIBUTES TO SUCCESS
MacKay Contracting, which has around 200 employees, does not have difficulty with finding and retaining employees. The chief reason for this, explains Rob, is that there is a strong, positive, family feeling company culture.
This culture has several benefits, he says. It helps attract people and retain employees because the culture increases job satisfaction and boosts employee morale.
BENEFITS OF TECHNOLOGY
MacKay Contracting takes advantage of technology and software solutions to improve its operating efficiency and productivity. It uses a construction estimating software that has intuitive construction logic to bid with more speed and accuracy. Construction management software is used to increase productivity, keep things on schedule, monitor progress and keep all members of a project a fully informed.
The company uses GPS and telematics systems to track equipment utilization, drive productivity and operational efficiency on jobsites, better schedule equipment inspections, maintenance and repairs and reduce operating costs.
"We have seen such a benefit from GPS and telematics that we are adding it to some of our older  machines."
A PLATFORM FOR INDUSTRY DEVELOPMENTS
The company strives to keep up with changing industry trends and technology and acquires knowledge through experience and learning, says Rob. A great platform to do this is to attend CONEXPO-CON/AGG.
"Worldwide suppliers are all in one spot and you can see and touch the latest and greatest equipment and technology. You gain knowledge and exposure to new trends, products, technology, software and resources."
CONEXPO-CON/AGG – North America's largest construction trade show – represents every major construction sector.
In addition, Rob notes, there are a wide variety of educational sessions where attendees can listen to various industry experts speak and enhance one's knowledge. Attendees can learn about new and different ways and methods to improve their operations.  
"The show's many networking events provides the opportunity to meet people from various fields and industry sectors and discuss challenges and possible solutions," he says. "I always learn something at CONEXPO-CON/AGG and always walk away with new insights."
Join more than 50,000 industry peers who receive construction industry news and trends each week. Subscribe to CONEXPO-CON/AGG 365.