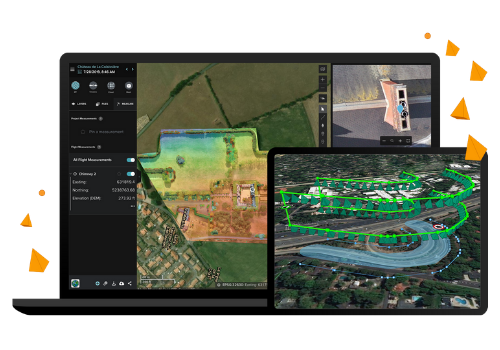 Reality capture is essentially a modern term for site documentation – a process that takes time but with little return. It's often a requirement to satisfy insurance obligations and customer RFIs (requests for information), and so it remains an essential component to every project.
"Reality capture is seeing advancements in both indoor and outdoor uses," says Jeremiah Johnson, Imagery Solutions Architect, Esri. Indoors, expensive equipment like terrestrial LiDAR scanners are starting to be replaced by cheaper 360-degree cameras mounted on workers' helmets. Outdoors, drones are seeing advancements in flight planning and obstacle detection for more seamless reality capture."
However, it is automation of reality capture that is now delivering value to contractors.
"Automation is really the only way technology like reality capture can scale through the market," says Johnson. "Automation not only reduces acquisition time but lowers the barrier to capturing an area more frequently. When the marginal cost of acquisition becomes closer and closer to zero dollars, there becomes little reason not to capture every week, every day, or even multiple times per day."
Creative Use Cases for Automated Reality Capture

Suffolk has been using OpenSpace automated reality capture on an Enterprise level for about a year. When the company first rolled out OpenSpace automated reality capture, it was piloted with eight project managers. It gained great momentum, and now OpenSpace is being used on 25 projects throughout the country.
"Teams are experimenting," says Max Sanchez, Construction Solutions Director at Suffolk. "If they use it for even one component on the project, great. If they use it for more, even better. It's all on the creativity of the user."
For example, a Suffolk project team in Florida has successfully utilized the technology for hurricane preparedness to document the site before a storm event.
Suffolk is focused on refining use of OpenSpace's Field Notes feature. "The greatest benefit to using automated reality capture is the time savings," says Sanchez. "And this time savings adds up to a lot of money saved."
Prior to using OpenSpace, project managers at the company would take pictures with their phones and upload it to the company's construction management software and then write where and when that photo took place. OpenSpace automatically time and place stamps each photo. "It makes the process so much more efficient," says Sanchez.
The software merges the photos to form the whole work site (a digital twin) and a green line shows you the path of the camera.
COVID-19 Accelerates the Trend
Working remotely is a phenomenon to which many people have become accustomed and those in the construction industry is no exception.
"Construction sites will no longer be the same," says Johnson. "We're seeing less people on construction sites and more people online remotely keeping track of progress and implementing changes. This trend started prior to COVID-19 but was accelerated overnight and we don't expect these new ways of working to just disappear once we start going back to a semblance of the work style that existed in February 2020. These new workflows are here to stay and will continue to push the boundaries of what reality capture can do for construction sites in the future."
"COVID-19 further drove adoption of automated reality capture at Suffolk," says Sanchez. "We completed work on one of our renovation jobs in New York and both the architect and the engineer wanted to work off site. Because we used OpenSpace, they were able to work remote while staying up to date on the latest changes in the field and having the confidence to make decisions. It's been really valuable to make game time and streamline workflows as more engineers and architects are becoming non-local."
Seeing is Believing
Automated reality capture also serves as a dispute resolution tool. General contractors and subcontractors can sometimes disagree about the status of work. Typically, any disagreements can only be solved when both parties go out to the field at the same time to get a visual of the area in question – a process that takes time and can prolong the resolution.
When you daily photo document the entire construction site, both parties can digitally visit the area in question and the photos provide evidence with which people cannot argue.
Suffolk also uses it for business development. "Not every client wants to be on-site on a daily basis," says Sanchez. "Even if we make changes in the field–if our structural engineer wants to change a beam depth from 24 inches to 48 inches, for example, we can pull up OpenSpace with the client and show them the impact of the change so they can easily approve the change without having to go into the field."
Join more than 40,000 industry peers who receive construction industry news and trends each week. Subscribe to CONEXPO-CON/AGG 365.