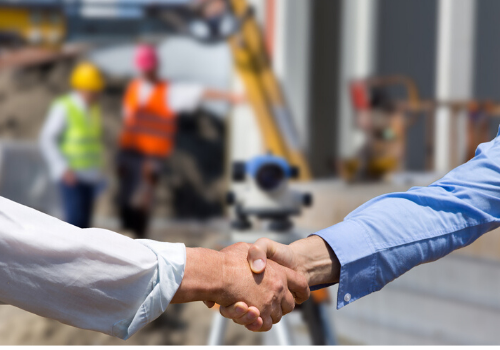 To exceed customer expectations today, businesses must go far beyond the basic delivery of the product or service the customer paid for. Consumers don't like being "sold", but they love being "served". Consumers want to feel important. Consumers also want to feel like businesses are helping them solve problems. If they don't feel that way, it's hard for today's consumers to resist the urge to seek out less expensive alternatives.
According to Lou Roddy, president of Leadership Lessons Learned LLC, customer service is now about Total Customer Experience. Companies in the construction industry, particularly equipment dealerships, should think about what this means. How do their internal operations add or detract from the Total Customer Experience?
"Customers don't care about your internal issues," Roddy says. "They don't care if you are meeting your sales forecasts or expense budgets. Customers simply want you to service them well."
According to Roddy, a customer is four times more likely to leave you if their problem is service-related, as opposed to product or price-related. That might sound a bit scary, but should also be reassuring. The one thing a business has the most control over is how it treats its customers.
How Engaged Employees Drive Customer Experience
"Total Customer Experience has become the most influential brand differentiator," Roddy says. "Furthermore, employee attitude and behavior is one of the most significant drivers of customer satisfaction."
This is why Roddy talks about building a customer service culture from the inside out. By developing a more engaged workforce, that workforce will instinctively know to do the right things at the right times, helping to deliver a superior Total Customer Experience on a consistent basis.
"Companies that excel at customer experience have 1.5 times more engaged employees than their competitors," Roddy points out. "Additionally, customer retention rates are 18 percent higher when employees are highly engaged, and 86 percent of buyers are willing to pay more for a great customer experience."
In order to develop a highly engaged workforce, employees must first buy into the company's vision and core values. Employees must also believe in the importance of their individual roles.
Roddy talks about something known as the 4 H's: head, heart, hands and habits. "Engaged employees think, feel and act — and then act habitually in a good way," Roddy explains.
There are two main drivers of employee engagement:
Rational drivers such as wages and benefits
Emotional drivers such as feedback, support and recognition
When companies effectively manage both of those drivers, employees are more likely to do what Roddy calls the Four Rights:
The right thing
At the right time
The right way
For the right reasons
Sometimes employees do one or two of the Four Rights. For example, an employee listens to an unhappy customer complain (right thing and time), but does so reluctantly because the boss is standing within earshot (wrong way and reason). In today's environment where Total Customer Experience is the benchmark, that is not enough. Employees must actively listen to the customer because they want to.
To begin fostering the necessary level of employee engagement that leads to the right behaviors, companies must build the proper workplace culture. Company leaders have a pivotal role to play here.
How Leaders Can Drive Employee Engagement
There are two key behavioral drivers in a company:
What are leaders willing to tolerate?
What do leaders reinforce?
For example, a company may say "safety first", but if leaders are willing to tolerate employees not wearing their required PPE, employees will pick up on that. Similarly, employees will also recognize when leaders compliment or reward employees for wearing the proper PPE.
If companies want employees to consistently behave a certain way, leaders must consistently lead a certain way.
What do leaders pay attention to and measure?
How do leaders react to certain incidents? Are they slow to respond, or do they act decisively with a clear plan?
How do leaders recognize and reward good behaviors?
Where does a company allocate training and other resources? That says a lot about a company's true priorities.
What do leaders look for in new hires?
What standards do leaders stick to when deciding if an employee should be terminated?
It is simple: How employees think and feel will influence how they act.
"The defining moment is when a leader catches an employee doing the right thing when the employee thinks nobody is watching," Roddy says. "That 'right thing' has become habit because the engagement is there."
How Employee Disengagement Impacts Customers
Roddy points to some eye-opening statistics that help validate how important employee engagement has become:
Engaged employees perform 20-28 percent higher
Companies understand customer needs 400 percent better
Companies generate 40 percent more revenue
On the other hand, it's important to acknowledge how disengaged employees can have an adverse effect on Total Customer Experience.
Customer doesn't feel valued … employees perceive favoritism in the workplace
Customer doesn't feel courteous treatment … employee feels underappreciated
Customer feels it takes too long to resolve problems … employee doesn't clearly see goals and direction
Customer sees company as eager to make excuses … employee perceives finger-pointing and shaming in the workplace
Customer perceives inconsistent treatment … employee perceives micro-managing behind the scenes
If company leaders commit to listening to their employees, the other side of the business — the customer — will benefit. Some companies view employee "grumbling" as nothing more than noise, but customers end up feeling that noise. That negatively impacts the Total Customer Experience.
This article was based on a presentation given at CONEXPO-CON/AGG 2020 by Lou Roddy, president of Leadership Lessons Learned LLC, a consulting firm specializing in coaching, training and counseling for corporate leaders. Prior to starting Leadership Lessons Learned, Roddy spent 40-plus years in various roles with Caterpillar, including human resources.