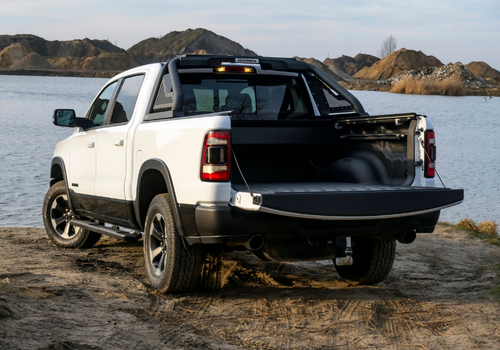 Performance features like horsepower, torque, towing capacity, and payload all play a role in transforming an everyday pickup truck into a legit work truck. But what really turns a pickup into a construction contractor's workhorse are the accessories.
Here's a look at 12 truck accessories that can help contractors add a little pick-me-up to their pickup trucks by enhancing versatility, productivity, safety, and comfort.
1. Portable ramps from Link Mfg. are a handy way to get smaller but heavier wheeled equipment into a truck bed. Lightweight and heavy-duty versions are available, allowing contractors to easily load 750 to 1,000 pounds. High-strength aluminum construction provides durability, while the compact folding option makes storage easier. Ramp sizes range from 24 to 36 inches in width, 72 to 108 inches in length, and 56 to 96 pounds.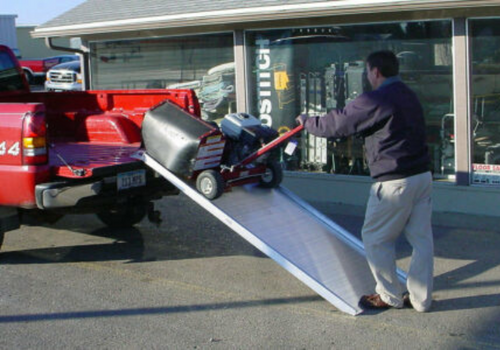 2. TigerTough seat covers aren't your typical seat covers designed to keep cute little Fido's hair from getting all ground into the seat fabric. TigerTough seat covers are for tough people who work hard and get dirty for a living. The secret is the unique Ironweave construction that's tough as nails with a custom waterproof coating. These snug-fitting seat covers are also breathable and easy to clean. TigerTough also makes seat covers for construction equipment.
3. Plus-Top Work Toppers from BrandFX provide an efficient way to transform your truck bed into a safer and more secure storage compartment. The advanced composite construction gives contractors the best of both worlds: a high-strength performance that's still lightweight and fuel-efficient. Choose from a selection of shelving, drawer, cabinet, and lighting options to create the perfect setup for your application. Designed to fit most bed sizes including popular Chev, RAM, Ford, and GMC pickup models.
4. Lube systems from Summit Truck Bodies are a slick way to increase the efficiency and flexibility of a service truck. Numerous systems are available for oil, fuel, grease, antifreeze, and DEF (diesel exhaust fluid). Tanks are available from 50 to 250 gallons and are made of either carbon steel, stainless steel, or polyethylene. To complete your customized lube system setup, Summit offers other optional items including hose reels, reel boxes, pumps, and nozzles.
5. VIAIR portable air compressors from Chandler Truck Accessories could be one of the handiest things you keep in your truck. Think about it. One truck pulling one trailer hauling one skid steer has at least a dozen opportunities for a flat tire. And we all know that flat tires happen when you least expect it and can least afford it. For extra use, a portable air compressor can power pneumatic tools on the jobsite and is a quick and easy way to clean off dusty equipment and engine housings. Just connect an integrated cable to the battery clamps under the hood and get to work.
6. Stor-Loc tool cabinets are USA-made and fully customizable, creating a range of storage solutions from the workshop to the truck bed. Cabinets can be configured to fit your needs, ranging from just 15 inches high to 62 inches. The company is particularly proud of its cabinet construction. Each cabinet is fully MIG-welded and features heavy-duty 11-gauge rails and an 11-gauge carriage. Full-height sidewalls maximize storage capacity while the full-width aluminum handle angled at 45° allows for easier identification of contents.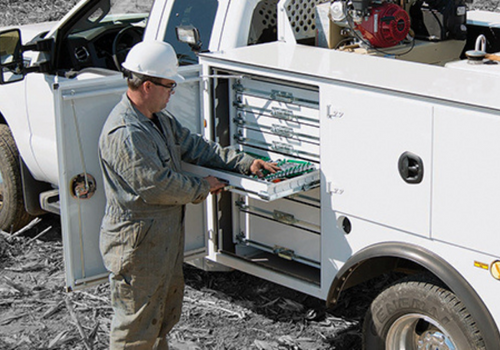 7. Mechanics truck drawer sets from IMT are designed to withstand the rigors of mobile technicians. Features like the 250-pound slides used across the entire range of the drawers play into that superior durability. So does the chip-resistant, powder coat finish, which also contributes to this product's professional appearance. For ease of use, each drawer set uses a single-hand, two-point latching mechanism. For security, all drawers come equipped with individual key locks. To improve organization and efficiency on the job, dividers can be added into the drawers, and individual drawers can be completely pulled out so technicians can bring them closer to their work area in the field.
8. Suction cup phone mounts from RAM Mounts work perfectly on windshields, allowing busy contractors to safely secure their smartphones in a more accessible way while they drive. They're backed by a lifetime warranty thanks to their sturdy construction. They're pretty flexible and versatile, too. The medium-length, double-socket arm and ball-and-socket technology allow for generous adjustability, giving contractors the ability to set their phone up just the way they like it.
9. Buyers Products' Deep Cable Truck Step from Zip's AW Direct gives you a reliable boost when climbing into your truck. Featuring easy bolt-on installation, this truck step has a 4-3/4" diamond deck-span to guard against slipping. For additional stability, the step also features 1-1/4" galvanized wire cable sides. It's plenty durable, too. The cable is welded to 1-1/2" pipe sleeve ends for added strength, while the powder coat finish adds a sleek look while protecting against corrosion.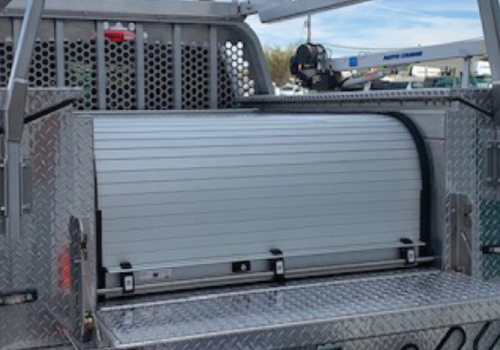 10. The roll-up truck bed cover from Dynatect provides a convenient way to add a layer of security for your tools and supplies right when you need them. Plus, the design allows better access to the sides and top of the compartment. This is a nice accessory to help guard against theft and inclement weather. That said, even though the cover is made of aluminum which resists rusting, the company says this bed cover does not offer enhanced water management. If rain and snow are really a concern, contractors can opt for a roll-up bed cover with Dynatect's unique water-mitigating design with interlocking ribs and integrated seals.
11. A Lube-Mate mobile lube system from American Eagle can transform the typical service truck into a lube truck, but can also be easily removed later when it isn't needed. All units come with the hardware needed to mount and plumb, as well as a 7.5-gallon drain pan with a quick coupler for used oil. The V90M model is the entry-level unit. It has one 45-gallon tank for new oil, along with a 45-gallon tank for salvage oil. The dry weight is 550 pounds.
12. Above-deck air compressors from Vanair are a good solution when truck bed space is limited. These vehicle-mounted compressors are designed to provide a wide range of air power from 30 to 185 cfm. For added reliability and performance, they include cold-weather packages and integrated hydraulic/compressor oil coolers. The Reliant RC40-L model, ideal for field service trucks, is 40% lighter thanks to its aluminum construction. Dimensions are 33.7L x 21.0W x 24.3H with a dry weight of 245 pounds.
This is just a sampling of the thousands of productivity-boosting truck accessories you'll find at CONEXPO-CON/AGG. LEARN MORE about the upcoming show in Las Vegas, March 14-18, 2023.
Read Next
6 Work Trucks Made for Construction