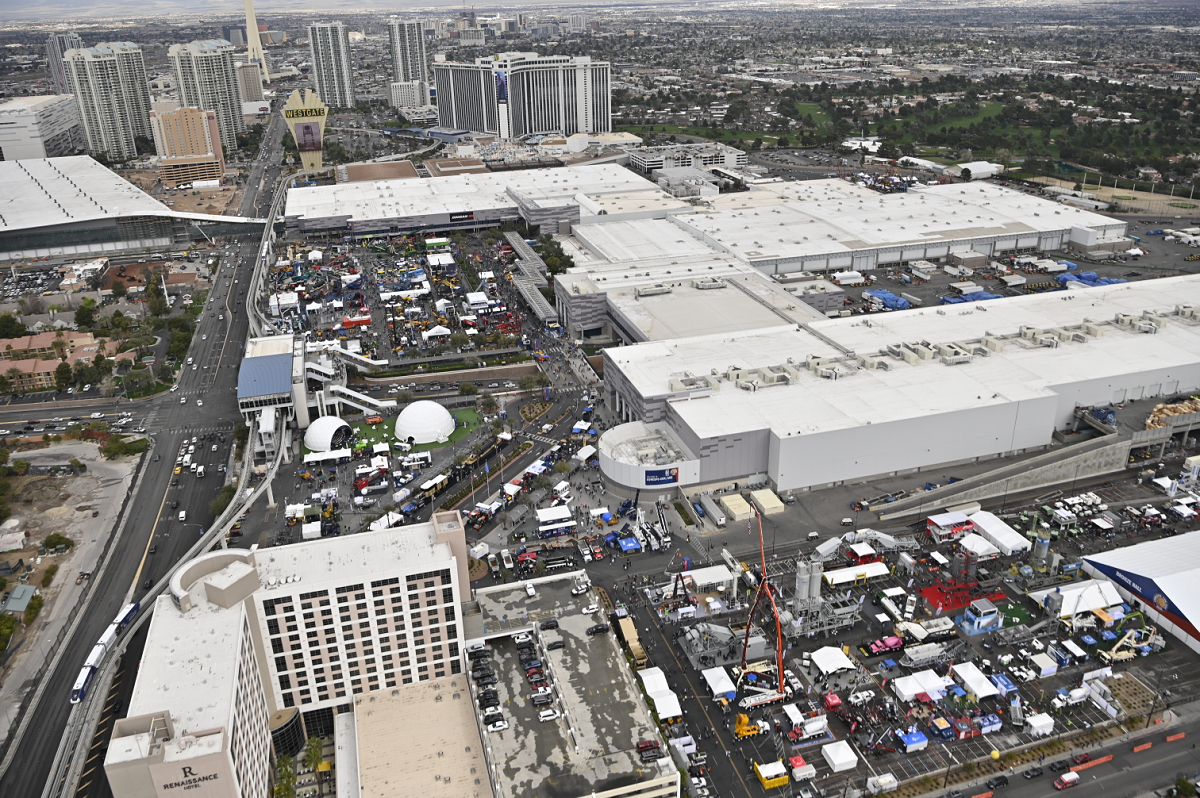 MILWAUKEE – With construction technology around sustainability significantly advancing in recent years, CONEXPO-CON/AGG 2023 is already set to have the biggest focus on sustainability since the show began in 1948.
"The construction industry and CONEXPO-CON/AGG are evolving in many ways to adapt and showcase sustainable technologies, products and practices supporting a more sustainable world," said CONEXPO-CON/AGG Show Director Dana Wuesthoff.  "More than ever, show attendees will see sustainability in action, from electric and hydrogen powered construction equipment, to more recyclable materials and waste reduction opportunities, to changes we're making to the show to better support sustainability."
Here's how CONEXPO-CON/AGG is putting sustainability at the forefront:
Sustainable Tech on Display
Across the show floor, sustainable technologies, products and practices will be on display. Here is a sampling of what will be featured:
Volvo Construction Equipment has already announced they will bring several electric and autonomous pieces to their stand in the Festival Lot, including their EC230 electric excavator pilot,  their Zeux autonomous concept wheel loader, and their HX04 prototype hydrogen articulated hauler.
Just steps away, Caterpillar (Booth F-9127) will bring four battery electric machines as well as a series of prototype batteries for off-road equipment ranging from 48-600 volts.
In addition to that, CONEXPO-CON/AGG attendees can expect to find:
The Arbor Day Foundation Partnership
One of the biggest sustainability efforts on the part of CONEXPO-CON/AGG directly is a newly announced partnership between the show and the Arbor Day Foundation. CONEXPO-CON/AGG and the Arbor Day Foundation are working toward planting 130,000 trees in forests of greatest need, one for every show registrant.
Additionally, CONEXPO-CON/AGG exhibitors and attendees can contribute to the Arbor Day Foundation's funds, allowing them to further their goal of involving themselves in its mission of planting, nurturing and celebrating trees around the globe.
Each dollar contributed to the Arbor Day Foundation will result in one tree being planted in a forest in need.
"The Arbor Day Foundation is excited to be the official nonprofit sustainability partner of CONEXPO-CON/AGG 2023," said Becca Hebbard, corporate partnerships manager for the Arbor Day Foundation. "As one of the world's most trusted and experienced tree planting organizations, we work with organizations of all sizes to help them meet their corporate sustainability, ESG, and CSR goals. Whether you're looking to help protect biodiversity, contribute to wildfire recovery, bring the benefits of trees to a community in need, or add verified forestry carbon credits to your emissions reduction strategy, the Arbor Day Foundation is uniquely positioned to connect you with meaningful projects all over the world."
Sustainability Education
CONEXPO-CON/AGG has given sustainability its own education track in its seminar offerings, now with thirteen sessions dedicated to the topic. Those sessions tackle subjects like reducing the carbon footprint of concrete, getting and managing electric construction equipment, asphalt and concrete recycling, carbon neutrality, and a "Sustainability 101" session for attendees just now starting their sustainability journey.
But construction pros don't have to wait until they get to Las Vegas to start their sustainability education. The CONEXPO-CON/AGG Podcast has several episodes dedicated to the topic, including:
Episode 84: "Mining Technology Improves Sustainability, Operator Comfort, Productivity"
Episode 89: "Advancing Cement & Concrete Sustainability with Connected Devices"
Episode 116: "Salvaging the Industry"
Making the Show Itself More Sustainable
CONEXPO-CON/AGG and IFPE are committed to reducing the environmental impact of the show. This includes partnering with vendors that are dedicated to sustainable practices and reducing waste, helping exhibitors choose more sustainable options, and measuring our total 2023 environmental impact to identify future improvements.
The sustainability efforts at CONEXPO-CON/AGG reflect the focus on sustainability within the entire construction industry. Many construction companies have realized that their clients are demanding sustainable building practices more and more with each project, and contractors themselves are recognizing the benefits of moving to more sustainable equipment and practices.
That's why CONEXPO-CON/AGG 2023 is already outpacing all previous shows in attendee registration. Contractors wanting to register before January 6, 2023, can save 30 percent off their badge by using code MEDIA30.
About CONEXPO-CON/AGG
CONEXPO-CON/AGG is the largest construction trade show in North America and the premier event that connects professionals from every major construction sector. Held every three years, CONEXPO-CON/AGG takes the construction industry to the next level by helping construction professionals elevate their industry expertise, experience the newest equipment and products through demonstrations and industry-leading education, make new professional connections, and grow their own marketability within the industry. The next CONEXPO-CON/AGG will be held March 14-18, 2023 in Las Vegas, Nevada. For more information on CONEXPO-CON/AGG, visit https://www.conexpoconagg.com.
About the Association of Equipment Manufacturers (AEM)
AEM is the North America-based international trade group representing off-road equipment manufacturers and suppliers with more than 1,000 companies and more than 200 product lines in the agriculture and construction-related industry sectors worldwide. The equipment manufacturing industry in the United States supports 2.8 million jobs and contributes roughly $288 billion to the economy every year.