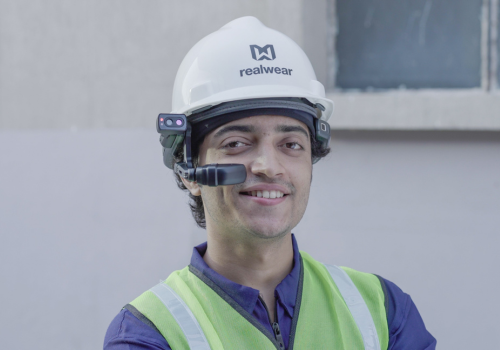 Wearables are providing numerous jobsite benefits from productivity to accuracy to safety. They not only enhance human capability but are also capable of passive data collection and communication, which allows people working remotely to make decisions using accurate and up-to-date data.
And, real-time, passive data collection and communication are also essential when jobsites include both people and robots working together.
Construction workers can be covered head-to-toe in wearables if they want. For example, below are wearables ideal for the construction industry:
Guardhat: This helmet uses sensors to identify and share information about the worker's location and environment and provides a data analytics platform that connects workers through situational awareness. It also allows for voice and video calls, as well as calls for help at the push of a button.
XR10 with HoloLens: This collaboration between Trimble and Microsoft has created an augmented reality tool that allows the wearer to view blueprints and design plans overlaid on the actual environment. This helps trades with the installation process, helps people problem-solve design issues, clearly shows as-built progress, and helps with quality control.
Scan-Link: The company inserts sensors that use RFID (radio frequency identification) into safety vests and attaches another sensor to the rear of heavy mobile equipment. When one of the vests comes within range of the heavy equipment sensor, an audible and visual alert inside the cab informs the operator.
Apple Smartwatches: The 8 Series can detect some biometric data, as well as activity and sleep data, which has limited in-the-field usage, but it also can identify being in a crash, and it connects to your phone, so you can make calls on it and look up information online without worrying about dropping it. It also tells the time.
Triax Spot-r: This clip fastens to your belt or vest. It detects falls and jumps from height, as well as provides an audible alert in case of evacuation.
Solepower: These boots measure indoor and outdoor position, step count, speed, and more to make determinations about fatigue, heart rate, and dehydration risks. IoT (internet of things) capability allows for remote insight into worker health and location, which provides greater transparency in labor and workflow status.
These wearables are beyond proof of concept and have had numerous units in the field for years.
Working with wearables at scale
RealWear, who launched their new headset in January 2023, has customers with thousands of units, and they need to be able to manage them at scale, which RealWear can help them achieve because they have had customers with a lot of units for years, so they understand the problems and have customized solutions.
The headset provides a camera, four microphones, and a virtual dashboard, which the user positions so the dashboard is at the bottom of their view just like the dashboard of a car. All functions are voice-operated.
Ideal applications include remote experts (mechanic or engineer), remote viewing (for project progress or quality control), field-office communication, and the thermal camera can pick up heat when looking for heat loss in a building or for overheated electrical wires.
They've also made several significant updates to the visual display and usability. The display is sharper, it portrays colors more accurately and is now 720 dpi instead of the 480 dpi provided by their previous version—the 500. "It looks like a 10-inch iPad at arm's length and it's easier to see all four corners without repositioning," says Rama Oruganti, Chief Product Officer of RealWear.
And it's built on an Android open-source operating system and there are more than 200 applications that have customized their platform to make it better for hands-free operation.
"These apps have simplified their UX so that you don't have so many buttons on a small screen," says Oruganti. "You don't want it to be too busy, because you can't touch it right. So you want it to be as spacious as possible with only a few action items and little-to-no scrolling, which is difficult to do with voice."
Benefit from continuous, passive data collection
Myant produces a line of clothing embedded with sensors that detect a person's temperature, heart rate, and motion to make determinations about health. The product line includes a tank top, bra, chest band, and underwear. "People may not be able to wear a bracelet, because it interferes with their work or for safety reasons, but everyone wears underwear" says Tony Chahine, Founder, and CEO of Myant.
The company calls its solution "Textile Computing" and they use it to determine wearer health.
Wearing the clothing while healthy and at rest creates a baseline. The deviation from a baseline from a single source of data may inform us of additional biomarkers. An elevation in body temperature, for example, corresponds to an elevated heart rate. Any deviation can result in an alert there is either a change or an issue with someone's health.
A great use case for the technology is the ability to detect a driver's fatigue from collected electrocardiogram data. When integrated with the truck or heavy machine system, it can alert the driver and potentially park the truck or machine without human input.
All this data is collected passively and continuously. The wearer doesn't need to interrupt their daily life to input data.
"One doesn't need to look too far into the future to see the relationship between machine and human is becoming more efficient. We want to leverage that relationship to enhance safety and wellness. The seals' aggregation of data combined by continuous data will provide an entirely new level of connectedness and safety."
Read Next
Wearables: A Look at Smart Helmets