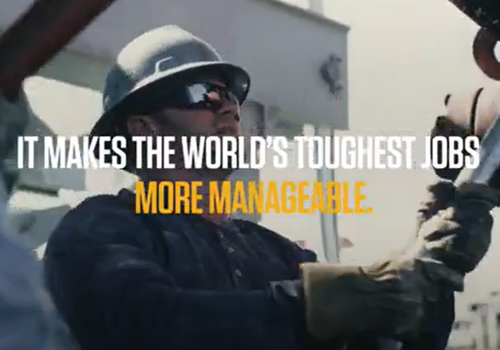 Our team at Carhartt Company Gear™ would like to thank everyone who took the time to stop by our CONEXPO-CON/AGG booth this year. We were immensely grateful to meet the people and businesses that keep the construction industry moving forward every single day and give them the opportunity to experience Carhartt quality firsthand. If you missed us at the show in Las Vegas, we would still be happy to connect. One of our Carhartt Uniform Specialists can get you set up with the right uniform solution to fit your needs in no time.
For over 130 years, Carhartt's been committed to serving hard-working professionals, giving them the best workwear on earth to help keep them safer, comfortable and productive. With Carhartt Company Gear™ we continue that commitment, not just for crews but for the companies that employ them. Which is why we offer more than just uniforms. More than a flame-resistant jacket, it's a legacy of protecting the American workforce. More than a sweat-wicking tee, it's making the world's toughest jobs more manageable. More than workwear, it's a tool for retention and a great first impression.
Whether you have a small team of 10 or a complex network of 10,000, we provide premium workwear that helps your crews work hard, look sharp and build business. Our uniforms are engineered with top-notch materials and rigorously tested to meet industry safety standards. From rugged to professional with technologies like Super Dux™, Hi-Vis, and Force®, which can help construction crews perform their best in demanding conditions. With a wide range of styles, sizes and colors for men and women. And longer product lifecycles that can help lower the cost of ownership, all from a brand that instills a sense of pride in your crews and projects professionalism to your customers. Because people trust Carhartt for the quality and durability they've always known.
At Carhartt Company Gear™, we make it easy to buy uniforms direct, right on our website. Create an order online 24/7 and purchase gear as you need it. You'll never be asked to sign a contract or deal with paperwork. Plus, we offer custom embroidery and screen printing so your company can get the recognition it deserves, too.
If you're not sure what your business needs are or if you would like a more specialized approach, we recommend scheduling a one-on-one meeting with a Carhartt Uniform Specialist. They can help you navigate the ins and outs of uniform choices for your crew, technology and industry-specific requirements, larger-scale ordering and customization, and ensure you get the best possible gear to fit your business needs.
Even if you didn't get a chance to talk with us in person, our Carhartt Uniform Specialists are available to provide a free uniform consultation by giving us a call at 866-698-1125 or visiting companygear.carhartt.com/conexpo to learn more. Our consults are no-pressure, 100% free, and they provide a great opportunity to discover what makes Carhartt more than a uniform. Because at Carhartt Company Gear™, we're dedicated to putting in the work to give your crew the best and help build your business. We look forward to hearing from you, and we hope you enjoyed CONEXPO-CON/AGG as much as our team did.