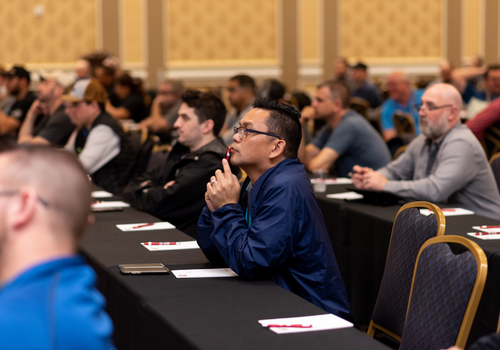 Make the most of your CONEXPO-CON/AGG experience! CONEXPO-CON/AGG's comprehensive education program is the leading source for contractors, business owners, construction material producers, and end-users to obtain cutting-edge information for today's challenging economy and business model.
With less than one month to go to the 2023 CONEXPO-CON/AGG, it's important to finalize your show schedule and enroll in the education sessions you want to attend to be sure they don't fill up.
Note: If you purchased the "Show Admission" ticket option, education sessions are currently not included in the package. However, you do have the option to purchase access to individual sessions, as well as upgrade to full access to all education sessions. To add education sessions to your existing reservation, login to your profile from your email reservation and select "Add Sessions".
Browse all 175+ education sessions here.
Leverage Your Relationships: Prospects to Projects
Tuesday, March 14 | 1:00PM - 2:00PM
Speaker: Jennifer Todd M.L.S.
Learn how to effectively build, maintain, and elevate professional relationships in the construction industry to expand your network, attract new clients, and secure contracts.
Breakdown of the four key elements to turn your contacts into contracts: 
Understanding Your Business
Establish Trust & Build Value
Assessing Your Clients Needs
Leverage Your Social Media
Building Blocks of an Effective Equipment Budget 
Wednesday, March 15 | 1:00PM - 2:00PM
Speakers: Kevin Reimert CEM, STSC and Richard King CPA, CGMA, CCIFP
A critical aspect in equipment-intensive construction companies is the budgeting of capital expenditures as well as annual equipment hours, owning and operating costs. This session will provide insights into the process, inputs and workflows to establish accurate and effective budgets. Learn best practices of how the internal ''Equipment Triangle'' of Operations, Fleet and Accounting can collaborate to achieve success in managing, budgeting and tracking your fleet.
Session Learning Objectives:
Understand the workflow of a collaborative and comprehensive equipment budgeting process
Effectively forecast capital expenditures
Establish equipment hours budgets
Understand the basics of setting equipment rates and forecasting equipment charges to jobs
Budget depreciation, rentals and other equipment owning costs
Identify quality inputs and sources of information to budget fuel, preventative maintenance and other variable operating costs
Develop reports to track actual results vs. budgets.
Ask the Influencers - Panel Discussion & Meetup with the Most Popular Construction Minds 
Friday, March 17 | 9:30AM - 11:45AM
Panelists: Jimmy Starbuck, Katie Kelleher, Matt Stanley, Missy Scherber, and Taylor White
Featuring five of some of the most well-known industry personalities on social media,  this 2-hour session will allow you to understand how they got to where they are and the trends they see that will impact the industry going forward. They will provide tips and tricks on how to better your social media skills, building relationships online, and much more. This is a panel discussion so be sure to come and ask them questions! 
Muddy Boots Leadership
Tuesday, March 14 | 10:45AM - 11:45AM
Speaker: John Gronski
Packed with inspiring and motivational stories from leaders in the industry, attendees of this interactive session will learn:
How leading with character builds trust
How to have the courage to make decisions with limited information 
How to strengthen resiliency in yourself and your crew members
Compaction 101: Doing the Right Things, the Right Way
Friday, March 17 | 10:45AM - 11:45AM
Speakers: Tim Kowalski
Roller compaction is the last opportunity during the paving process to produce a long-lasting and high-quality pavement. This session will cover the compaction basics that will help prepare attendees for challenges faced during construction operations. The common objectives include uniform target density and a pavement surface smoothness that earns rideability awards and bonuses. Using compaction best practices will consistently produce highest quality pavements with lowest production cost.
Learning objectives: 
Understand the four elements of compaction
How to balance production, laydown, and compaction operations in order to match paving speed with rolling speed
Understanding which factors can affect compaction, and practices to mitigate negative impacts
Bold Leadership for Women 
Wednesday, March 15 | 10:45AM - 11:45AM
Panelists: Alicia Brentzel, Amanda Kurt, Katherine Freeman, Kristina Mahler McMillan, Stephanie Susott
Panel discussion including female business leaders across the industry discussing real-life experiences and advice for how to not just make it in a male dominated industry, but how to discover your own voice and power.
Building High Performance Teams - Creating Magic with Trust
Tuesday, March 14 | 9:30AM - 10:15AM
Speakers: Don Swasing CEM-STSC and Richard King CPA, CGMA, CCIFP
In this session we will discuss high performance teamwork and how to build and nurture a high-performance team. We will discuss the critical nature of trust in a high-performance team and how to establish and maintain trust, while showing the importance of team culture and organizational culture and its role in high performance. We will also discuss the power of inclusion and how inclusion inspires the best outcomes, the concept of shared purpose and how to create it and explore how to create alignment and why it's important on high performance teams. Overall, we will share real world stories of high-performance teamwork and exceptional outcomes.
Learning objectives include:
Activities that build trust with your team
Understanding how to set and maintain a high-performance culture
How to unlock team potential through intentional and consistent actions
The importance of aligning around a common purpose
Creating shared performance goals and partnerships on the team
Celebrating accomplishments as a team
Stop Playing Baseball in an MMA World
Thursday, March 16 | 10:45AM - 11:45AM
Speaker: Wally Adamchik CSP CMC
We live in a VUCA world - volatile, uncertain, complex, and ambiguous. The rules of the game have changed and too many businesspeople are playing baseball in an MMA world. Leadership, at the tactical and strategic level, is different. The VUCA challenges of today require leaders at all levels to be better. But how? How do you motivate in when people are checking out? How do you engage people when you are one browser tab away from distraction? How do you set strategy when the pace of change is so rapid? This hard-hitting interactive session will answer those questions and help you craft your path forward with proven techniques to overcome the challenges you face. The solution is a different VUCA vision, understanding, clarity and agility. Develop your checklist and an action plan to get maximum ROI for attending. Be confident, not confused about what to do next.
Constructing a Culture of Suicide Prevention
Thursday, March 16 | 10:45AM - 11:45AM
Speakers: Aaron Witt, Dave Lersch MBA, Michelle Walker CCIFP, CRIS, Sandy Lender
In this session, panelists will share their experiences implementing suicide prevention education and initiatives within their companies so that participants can explore their own next steps.
The goal is for different sized companies to recognize and develop cultures of suicide prevention, and to determine what resources will work for attendees to:
Start the conversation
Normalize the conversation 
Continue the conversation 
Effectively integrate with the field
Learn the responsibilities for the roles on the job-site
Learn the qualification requirements for the roles on a job-site
Qualifications of Onsite Personnel for Cranes
Tuesday, March 14 | 10:45AM - 11:45AM
Speaker: Thomas Sicklesteel
The national consensus standard (ASME) has updated the qualifications of onsite personnel for cranes in December of 2021. This industry standard goes into effect in December 2022. Additionally, in 2021, OSHA released a compliance directive regarding the qualifications of operators to the crane rule it established in 2018. A comprehensive road map will be provided to ensure that you are in compliance with the law and the latest industry standards.
Learning objectives:
Understand the roles that have been identified on a job-site
Learn the responsibilities for the roles on the job-site
Learn the qualification requirements for the roles on a job-site
Seasoned But Not Too Salty
Wednesday, March 15 | 9:30AM - 10:15AM
Speakers: Kristina Harrington, Luke Payne, Scott Lidster, Thomas Haun
The face of youth sometimes rises the ranks all the way to leadership positions - and once there, they have a lot to learn and teach from the top. Join several industry leaders in a discussion about the pros and cons, the challenges, and the benefits they experience.
Learning objectives:
Learn about the success of real young leaders and their personal stories
Understand the generational differences in leadership style and work culture
Discover how to succeed as a young individual in the industry
Orientation - Show Planning and Navigating 
Tuesday, March 14 | 8:15AM - 9:00AM
Speakers: Sara Feuling P.E. and Lexy Frechette
This FREE orientation will cover everything you should know about both the CONEXPO-CON/AGG & IFPE shows. Topics will include show's history, how to navigate the conference center, transportation options, networking and education opportunities, new features and spaces, and other important details. The objective of this session is to help attendees have the best show experience possible. Don't miss out on this overview and some fun surprises through the session.
Read Next
20 Tips from Veteran CONEXPO-CON/AGG Attendees
Transportation Options, Maps, and Schedules for CONEXPO-CON/AGG