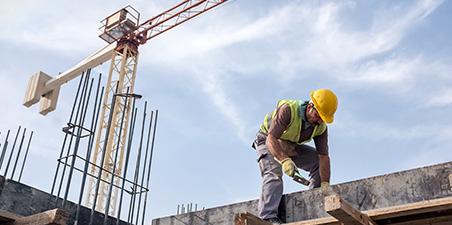 Safety protocols and accident-related statistics are typically well documented and understood by construction companies, but this is not always the case for long-term health hazards.
While exposure limits for risk factors like respirable silica dust are very low and breathing in dust over a short timespan can cause lasting damage, long-term exposure-related health effects on construction works are too often overlooked, according to Tim Turney, technical product manager, Casella Solutions.
"To avoid these problems, construction companies must be proactive in protecting workers against exposure to dust and other hazardous construction byproducts," he stresses. "A proactive approach to limiting risk factors, controlling exposure, and continual monitoring will reduce long-term health effect."
As such, developing methods for creating a safer construction jobsite becomes paramount, as safety awareness can only be accomplished by having a structured safety program—which results in the message being more widely understood across an organization and ultimately adopted on a construction jobsite.
Methods for a Structured Safety Program
Structured programs are designed for improving quality and clarity, while understanding the effects of the changing environment or development phases. A well-established and structured program will help improve overall safety in a number of different ways.
Jim Bohn, director, strategic development, Robert Bosch Tool Corp., points to three key ways to improve overall safety on construction projects.
First, frequent communications can remind everyone about safety. This can include meetings, lunches, awards, poster, or even shirts.
Next, clarity on what is expected to be safe within the company is essential.
Finally, true quality actions are needed by everyone in order to meet the expected safety characteristics outlined by the company.
"Most companies have safety program, but too many times not everyone follows the program," he says. "Exceptions lead to disruption, chaos, and eventually problems. Safety is important everywhere, all of the time and concerns everyone."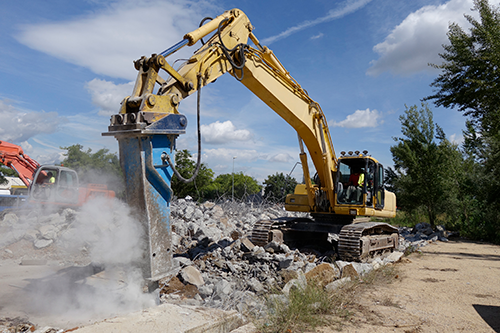 A structured safety program will organize the safety characteristics for the company, which will allow an organized safety message to be communicated effectively to the organization. According to Bohn, strategies are only as good as realistic goals, and once strategies are established, then objectives will define the actions needed to reach goals.
He goes on to say that objectives that are set should be SMART goals, or specific, measurable, attainable, relevant, and time bound, and that each person in a company should know their part in achieving the objectives.
"This not only contains the information for workers, but must be held on a consistent basis with an understanding from them about what the benefit is for them and the company," he continues. "Stringent structure is not always the best, but when it comes to topics that must be in everybody's minds when they are on the job, it will protect everyone and provide productive and profitable results."
Construction companies might also consider the methodology of identify, assess, control, and record and/or even review to be sure workers are adequately protected, according to Turney.
First, identify tasks that are creating the most risk. This can include cutting with high-energy tools that create dust—whether silica or otherwise. Consider how tool and process changes can make a difference. For instance, using a block splitter instead of a high-energy saw or fastening instead of hole drilling can greatly diminish respirable dust suspension.
Next, assess the extent of the risk posed to workers. Use precise measurement devices such as lightweight, quiet, and intuitive personal air sampling pumps to determine exposure levels to hazardous conditions. Have dust samples analyzed, then begin taking steps to mitigate problems. For example, if there are dust problems, put control measures in place and then assess the residual risk with air sampling pumps to see if the control measures are effective.
Then, control the levels of the respirable dust being created whether that means using water to dampen materials and surface or employing vacuum extraction tools that suck up dust while in use, or employing adequate respiratory protective equipment measures like dust masks that are comfortable and rated to protect against assessed dust levels.
Finally, record and review data that's been gathered to determine how control methods and process changes are impacting dust levels, as well as ensuring new processes are documented properly.
"Training is key," says Turney. "Workers need to be educated on the risks they face, mitigation methods, what dust levels are dangerous, and how to use monitoring devices. Construction companies should review the facts with workers before each job starts, and be sure communication is ongoing."
He even suggests considering toolbox talks that take five or 10 minutes to remind everyone of the correct use of tools.
Achieving Your Safety Goals
In the end, protecting against health hazards on the jobsite shouldn't have to be difficult, if companies are properly prepared. It starts by thinking ahead and choosing the right tools, building materials, and processes.
"Construction sites are constantly changing, and hazardous conditions can come and go quickly. Just because a tool operator is wearing protection does not mean others are not at risk nearby as dust can stay suspended for extended periods of time," explains Turney. "The only way to truly protect workers is to be strategic about the tools, processes, and education you employ, and to regularly measure exposure levels with the proper equipment so that you can adjust to shifting conditions."
At the end of the day, it always comes back to setting the right goals and objectives—and making sure that workers are aware of those goals and objectives.
When people know what they have to accomplish and how it relates to an overall goal, they will feel more empowered to do what it takes to get their responsibilities completed, according to Bohn of Robert Bosch Tool Corp.
"If the goals, strategies, and objectives are communicated to everyone in the company and there's alignment for understanding and achieving them, the company can move in the same direction to be successful," he explains.