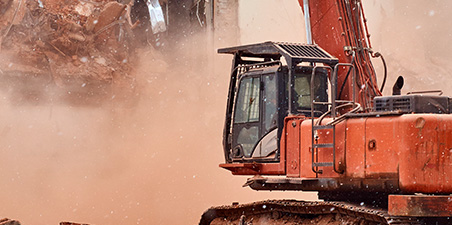 As seen with asbestos and lead-based paint, it can take some time for exposure to cause health issues and difficult to identify the causal factors. Recently, a rule has come down to further protect construction workers from exposure to respirable crystalline silica.
The Occupational Safety and Health Administration (OSHA) has issued a final rule to curb lung cancer, silicosis, chronic obstructive pulmonary disease, and kidney disease in America's workers by limiting their exposure to respirable crystalline silica. The rule is comprised of two standards, one for construction and one for general industry and maritime.
The U.S. Department of Labor first highlighted the hazards of respirable crystalline silica in the 1930s, after a wave of worker deaths. The department set standards to limit worker exposure in 1971, when OSHA was created. The standards have recently been reviewed and further limits on silica exposure have been drafted and implemented. Some new industries such as stone or artificial stone countertop fabrication and hydraulic fracturing potentially expose workers to high levels of respirable crystalline silica.
Changing the Rules
According to OSHA estimates, the new rule will save more than 600 lives and prevent more than 900 new cases of silicosis each year, once it is in full effect with projected net benefits of about $7.7 billion, annually. 
About 2.3 million workers are exposed to respirable crystalline silica in their workplaces, including two million construction workers who drill, cut, crush, or grind silica-containing materials such as concrete and stone, and 300,000 workers in general industry operations such as brick manufacturing, foundries, and hydraulic fracturing.
These new rules have some key provisions:
Reduces the permissible exposure limits (PELs) for respirable crystalline silica to 50 micrograms per cubic meter of air, averaged over an 8-hour shift.
Requires action on behalf of the employer if workers are exposed to 25 micrograms of respirable crystalline silica per cubic meter of air averaged over an 8-hour shift.
Requires employers to use engineering controls (such as water or ventilation) to limit worker exposure to the PEL; provide respirators when engineering controls cannot adequately limit exposure; limit worker access to high exposure areas; develop a written exposure control plan, offer medical exams to highly exposed workers, and train workers on silica risks and how to limit exposures.
Provides medical exams to monitor highly exposed workers and gives them information about their lung health.
Provides flexibility to help employers—especially small businesses—protect workers from silica exposure. 
Kimberly Darby, OSHA spokesperson, says, "The previous PELs were based on studies from the 1960s and earlier and did not reflect more recent scientific evidence. In the 45 years since the previous PELs were established, the U.S. National Toxicology Program, the International Agency for Research on Cancer, and the National Institute for Occupational Safety and Health have all identified respirable crystalline silica as a human carcinogen."
There have been some delays in implementation of the rule. Tim Turney, technical product manager, Casella, says, "The rule was initially due to come in on June 23, 2017 for the construction industry, but enforcement has been delayed until September 23, 2017. This is mainly due to specific aspects of the construction industry. There is trepidation within the industry about ensuring compliance with the regulation and ensuring deadlines are met."
The Rule in Action
Some things on the jobsite will have to change with these new rules in place. Darby says, "Exposures to crystalline silica dust occur during many common construction tasks involving cutting, sawing, drilling, and crushing of concrete, brick, block, rock, and stone products. The rule reduces the amount of silica dust that workers can be exposed to on the job. That means that employers will have to implement controls and work practices that reduce workers' exposure to silica dust. The technology for most employers to meet the new requirements is widely available and affordable."
She adds, "The standard provides flexible alternatives, especially useful for small employers. Employers can choose to measure their workers' exposure to silica and independently decide which dust controls work best in their workplaces to limit exposures to the new PEL. Alternately, employers can simply use a control method laid out in the construction standard."  (Table 1-Speciified Exposure Control Methods When Working With Materials Containing Crystalline Silica.)
As these measures are executed at the jobsite, contractors will need to change some habits, and Turney of Casella provides some recommendations:
"Two main things will need to change with the regulations. Firstly there will be the need to measure and control exposure, and secondly that medical surveillance will be required where an employee is required to wear RPE for more than 30 days per year," Turney says.
Some dust control measures include methods known to be effective, like using water to keep dust from getting into the air or using ventilation to capture dust. In some operations, respirators may also be needed. Employers that follow the methods correctly are not required to measure workers' exposure to silica and are not subject to the PEL.
These changes may seem overwhelming to construction managers and owners, but there are several resources available to assist with the new rules.
"OSHA recognizes that most employers want to keep their employees safe and protect them from workplace hazards. OSHA provides extensive compliance assistance through our Compliance Assistance Specialists, website, publications, webinars, and training programs, many of which are geared toward small and mid-sized employers. OSHA has developed a Small Entity Compliance Guide for Construction, fact sheets, and other compliance assistance resources," Darby says.
She adds, "OSHA's On-site Consultation Program provides individualized assistance to small businesses at no cost. This service, which is provided by consultants from state agencies or universities, is separate and independent from enforcement programs in federal or state OSHA programs. It provides confidential workplace safety and health evaluations and advice to small and medium-sized businesses." This solution can assist contractors if they feel that additional measures need to be taken to ensure their safety.
Besides the new measures being taken to protect workers, there are some technologies available to contractors to monitor their work environment.
"Evidence needs to be provided even if you believe crystalline silica exposure levels are low. So where exposure is possible, monitoring is the best way to quantify the issue. Personal Air Sampling pumps, for example, now have remote monitoring capabilities via Bluetooth to an app. This makes it easier to manage multiple pumps on site without the need to check each individual unit, saving time and effort," says Turney, a supplier of monitoring equipment.
These new rules for those working around respirable crystalline silica are a step in the right direction towards ensuring the health and safety of construction workers now and in the future.