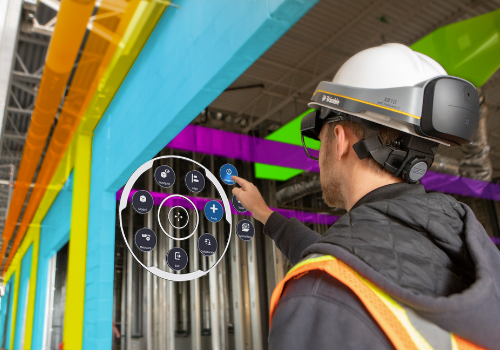 Contractors have a lot of difficulty keeping projects on time and on budget. According to Trimble, 89 percent of construction projects are delivered late while 40 percent go over budget.        
Large construction projects are complex systems containing many stakeholders. Combine this with the outmoded systems of communication and management employed by most contractors, and you can see why most projects suffer from at least one of these two detriments. A change in the field can mean days of delays and even rescheduling when you are using paper.
GA Smart Building, a construction firm based in Toulouse, France, wanted to avoid these inefficiencies on a project they completed recently so they used the Trimble XR10 with HoloLens 2 and the Trimble Connect for HoloLens software. They were also very interested in improving the efficiency and quality of their prefabrication process by visualizing step-by-step guidance of the assemblies while fabricating.
The HoloLens 2 is the second version of the industry-leading immersive mixed reality device. The Trimble XR10 with HoloLens 2 device is the only safety-compliant mixed-reality hardware in the market for onsite workers looking to implement mixed reality. The Trimble Connect for HoloLens software is a market leader for its workflow-oriented functionality enabling workers onsite to do more than just visualize a model.
Flawless Prefabrication
By using these technologies on the project, GA Smart Building was able to have seamless data flow between the office and the construction site. Also, field workers leveraged the mixed reality overlay to instruct them how to perform efficient, quality, and safe prefabrication and fabrication tasks. Using 3D technology eliminated the flaws in fabrication derived from misinterpreting design intent examining 2D blueprints.
"Using Trimble's mixed-reality solutions for near real-time quality control, the onsite team identified and resolved potential issues avoiding significant schedule delays and cost overruns," said Rémi Visiere, Head of Research, Development & Innovation, GA Smart Building.
"By providing precisely overlaid and sequenced instructions, any room for interpretation was removed from the process, helping workers communicate and collaborate more efficiently and work towards the same goal. In doing so, installation work transpired faster and at a higher quality, significantly improving the company profit margins on the project," said Jordan Lawver, Portfolio Manager, Mixed Reality, Trimble.
Transforming Workflows
The Trimble Connect platform is deployed as a complement to a contractor's existing authoring and task management tools so you don't have to overhaul your system.
"For GA Smart Building, Trimble Connect added a collaborative cloud layer to their construction model storage, sharing, and communication. The workers did not have to adjust any existing workflows other than using Trimble Connect as their new model repository, one that is compatible with dozens of file formats. Once the data flow was established, the Trimble Connect for HoloLens field solution provided a one-click solution for sharing models to be overlaid directly to the field through the Trimble XR10 with HoloLens 2," said Lawver.
It took Trimble and GA Smart Building just two days total to train staff and implement the software before they were ready to use it on the project.
Prefabrication workers were trained and visually guided on how to assemble rebar cages. Using the Trimble Connect with HoloLens 2 reduced the amount of assembly backtracking and rework, which led to an increase in prefabrication work efficiency by 15 percent.
One Tool Replaces Many
The introduction of hands-free mixed reality technology has transformed the way GA Smart Buildings does their work. Before implementing mixed reality, onsite teams had to use a combination of 2D blueprints, tape measures, laser scanners, virtual reality devices, and tablet augmented reality viewers to complete the same tasks. One device has now replaced the need for all of the others.
"Workers used the HoloLens onsite to ensure that concrete-poured columns were installed in precisely the right location as per the design, reducing typically expected rework costs by 75 percent," said Lawver. "Together, these two workflows saved GA Smart Building €39,000 on the project. The customer saw a return-on-investment on their capital expenditures (~€10,000) in the technology on just this one project."
In the future, GA Smart Building is planning to roll out these mixed reality solutions more widely. "We plan to expand our use of mixed reality technology to support additional projects and workflows such as onsite assembly assistance, progress tracking using 4D models, and asset management. We expect that, once fully implemented, mixed reality technology can save us six to eight percent of project costs. This would improve our overall profit margin to 9 to 13 percent, tripling the profit on each job," said Visiere.
Join more than 40,000 industry peers who receive construction industry news and trends each week. Subscribe to CONEXPO-CON/AGG 365.