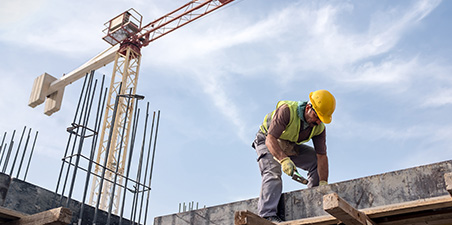 Construction jobsite technology has moved beyond project-management software and mobile applications to include Internet of Things (IoT) solutions. This can include everything from wearable devices, to sensors, to drones.
"These technologies serve as new data collection points at the jobsite, automatically recording information on workers, equipment, tools, and project site and environment, and feed it to the cloud where it can be combined with software and other analytics tools," explains Chad Hollingsworth, cofounder and CEO, Triax Technologies.
The construction industry has recognized that technology is the way of the future, and as contractors become more comfortable with these tools—and see how effective and valuable they are—it will drive further adoption.
At the same time, the technology is advancing. Jobsite data, analytics tools, artificial intelligence (AI), and machine learning are all becoming more prevalent.
"If construction firms collect the right type of data, these data technologies can unlock new insights, identify sources of waste, tag and flag hazards, automate time and attendance, and increase efficiency and safety," says Hollingsworth.
Technology is impacting all aspects of construction projects, at all levels of an organization. For instance, site managers can customize notification that can be sent to their email or cellphone, or that only convey information they need. The end result is increased visibility and timely, actionable insights that can enable more proactive workforce, resource, safety, and project management.
Even more, technology is saving workers time, enabling them to be more efficient and effective, as it can help automate manual processes. This means employees spend less time collecting information and compiling reports—and instead more time acting on the insights.
"While project leaders have traditionally relied on lagging information to improve future project management, looking back at what worked and what didn't after the fact, new IoT-enabled technologies are providing managers with the leading, real-time indicators that help them proactively measure progress, manage their resources, stay on top of workflows, and ahead of potential safety dangers with timely information that allows them to respond to incident or communicate a hazard," explains Hollingsworth.

Setting Up Future Jobs
The first step toward this smart construction jobsite is putting good strategies in place and implementing technology on projects.
Two key steps in this area include awareness and education. Hollingsworth recommends learning what technology is out there and how other contractors are using it. Then, understand company's goals, objectives, and needs. "To fully leverage the power of technology, employees need to work across departments and job functions to identify, evaluate, and adopt appropriate solutions."
Some construction companies might find success by taking a scientific approach to technology adoption. First identify the problem that needs to be solved. Next research what solutions are out there. Then test them. After that, look at how the technology performed. Did it meet the results? What changes need to be made?
Preparation is key, and implementation and training should be part of a larger technology strategy. Here are some steps to implementing and training workers on the use of new technology:
Work with different functions and departments to determine the best way to roll out the solution
Determine what type of training and support will be provided
Designate champions of the solution at the jobsite
"Successful implementations and training can take patience and perseverance, and companies need to be willing to take the time to conduct initial and on-going training and designate the right people to answer any questions that come up," says Hollingsworth.
Brian Saab, CEO and cofounder, Unearth, agrees, that getting started with new devices, such as drones, can seem overwhelming, but there are a number of good resources available. One of the best ways to get started is to find a technology provider to partner with.
"Many people don't realize that software companies have programs to help contractors onboard drones into their workflows," he explains. "Many platforms will let you get started for free and help you with the new technology because they are invested in seeing you succeed. You'll get one-on-one attention to develop the drone program you need, and the software and data required to see an ROI on your investment."
The next step is to ensure the selected technology is adopted on a construction jobsite. Here are some ways to ensure a new, emerging solution is used on a project: 
Provide live, hands-on training
Develop processes and procedures for use
Comunicate them with everyone at the organization
Hold bi-weekly check-ins to track progress
Evaluate how it is working at least quarterly

Data Drives Decisions
While the type of devices at the smart construction jobsite vary—sensors, wearables, drones, etc.—the concept for each is very similar: generate and disseminate data to make smart, actionable decisions.
"The biggest trend growing alongside drones is data integration from IoT," says Saab of Unearth. "Drone data is ideal for capturing a broad picture of progress and site conditions, and IoT data from specialized sensors complements this wide dataset by providing detailed insights into specific site conditions. These trends are both representative of the larger trend toward digitization of construction, a movement pushing for everything on a project to be recorded and tracked in a digital space."
As devices such as drones become a regular part of workflows and the associated software advances, jobsites will be able to maintain a digital twin of the project, which, according to Saab, is a way to monitor a project in real time from anywhere in the world.
"Drones will be able to fly the same path multiple times per day to create a digital model of a project that lives in the cloud," he says. "When combined with machine learning, the technology will be able to track progress and identify problems to keep projects on time and on budget with less effort."
In the last five years, devices such as drones have dropped in price, become more powerful, and become more accurate, as the technology has advanced. Now, it is time to take this to the next level, and get more out of these investments.
"Moving forward, the next challenge to tackle is making the data collected by drones more accessible through improved drone data analytics," add Saab.
That is the state of the construction jobsite today. The technology is here, offering new opportunities for construction professionals. Now, it is a matter of tapping into the data to be able to do more than ever before thought possible.