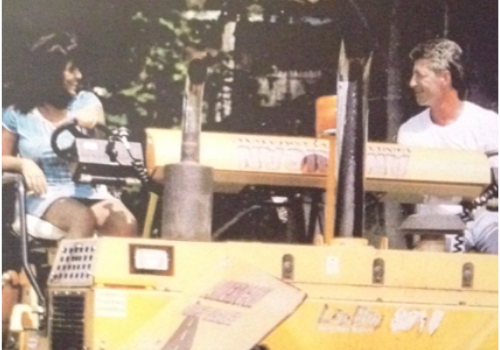 American Pavement Specialists remains a family owned and operated company. Based in Danbury, CT, it was founded in 1993 by Bill Stanley Jr. and his wife Colleen. The company services the entire state of Connecticut and Westchester County, NY. Known for its quality, service and speed, American Pavement Specialists does commercial and industrial paving, milling, reclamation and fine grading.
Bill grew up in the paving business. His father owned a small driveway company. Bill began working full-time for time for his father when he was 15 years old. At 28, Bill and his wife established American Pavement Specialists.
Unlike many similar companies, we do not sign a contract one day, drop off equipment another day and then come back another day to work the job, explains Bill. When we show up to the job, we have all the necessary tools, material and equipment and a full crew. We go to work and do the entire job.
Organization is critical to accomplishing this, he notes, and we have this down to a science. Plus, our crew is very experienced. On each job, every day, performance and productivity are measured and necessary changes are made for improvement.
Hiring for Character Over Experience
American Pavement Specialists has 17 employees. Among them are Bill and Colleen's four sons – Matt, age 27, Josh 30, Jack 33, Billy, 35, and nephew James Garron,40.
The company does not have a problem with employee turnover, says Colleen. But when it does need to hire someone, the preference is for a person with no industry experience.
They do not have any bad habits and we can train them from scratch, the way we want to, adds Bill. What's more, by giving a person the opportunity to learn to work in a new industry and gain new skills, they will usually give you more effort.
I feel like I am a good judge of character, he says. If I feel like someone has some pep in their step and grit, I can train them.
It takes a well-oiled machine to do what we do, he says. All of us must row the boat in the same direction and everyone needs to be able to multi-task.
Everyone is aware of the liability we take on when our 20 trucks and 30 pieces of equipment are out on the road and working on a job, Bill points out. Safety – to and from a job and on the jobsite – is paramount.
The company has never advertised for employees, Colleen notes. They have come from word-of-mouth and recommendations from our employees.
Preventative Maintenance Extends Equipment Life, Keeps Employees and Clients Happy
American Pavement Specialists has established a reputation for its clean, shiny, bright red trucks. First, the trucks get noticed, which helps with marketing, says Bill. Second, it makes for happier workers.
For people that only know our company from a distance, we are known for our shiny trucks, but that is really only a small part, he continues. The paving market in the Northeast is extremely competitive and there are many qualified contractors. We realize this and try our best to stay a step ahead, not only with our trucks and equipment but with our services.
Our clients our very savvy and expect a lot, observes Bill. No matter the circumstances or weather, if they need a project done, we get it done and we are known for that. Since day one, we realized our clients are our lifeline and we will do whatever it takes to keep them satisfied and coming back. No excuses.
Asphalt is a dirty job, notes Bill. Nobody wants to come to work the next day and have grease and asphalt on tools, trucks and equipment built up from yesterday's work. When a job is done, all tools, trucks and equipment are cleaned, wiped down and prepared for the next day's job.
The company understands the importance of effective preventive maintenance for its trucks and equipment. It is key to extending truck and equipment life, performance and safety, Bill says. In addition, preventive maintenance ultimately saves time and money because downtime is decreased and the number of major, expensive repairs are reduced.
At one time, the company had its own technician to service and maintain its fleet. But, says Bill, it made better sense to use a nearby, full-service shop – North American Equipment – which American Pavement Specialists has been using for 25 years.
Expanding the Brand Locally and Nationally
American Pavement Specialists is a small, local company well known in the greater Danbury area, notes Colleen, who serves on the Danbury City Council. We do a lot to support community organizations, donate to our police and fire departments and sponsor little league, football, basketball, soccer, etc. All of this helps increase awareness of our company's and services and make a positive contribution to the community.
This past February 2020, the company sponsored NASCAR driver Spencer Boyd #20 in the Gander Outdoor Truck Series. Our goal, she says, is to continue to expand our brand on a national level.
The company is big on marketing and using promotional merchandise like, pens, hats, T-shirts. etc. She says the marketing effort was taken to a much higher level when their four sons began using social media marketing – Instagram, Facebook, etc. This marketing is being used to increase American Pavement Specialists' visibility and awareness to a larger audience, promote its services and mission and build on the company's word-of-mouth reputation.
Colleen points out that majority of the inquires for service from the company are from recommendations and from people that have seen its bright, shiny trucks.
Keeping Up With the Latest Equipment and Technology
Bill says he has always been an "equipment junkie." He is constantly reading about new trucks and equipment and attends the tri-annual CONEXPO-CON/AGG – the largest construction trade show focusing on construction and construction material industries.
As for staying up to date new technologies and software solutions, especially for trucks and machines, Bill says his sons are top of that. If there is an emerging technology or solution that will work for us, and we can afford it, we want it, even if we have a good old one. What we do is extremely hard. So, when we see something that helps make our skilled operators work easier, faster and better, we will buy it.
Colleen added, jokingly, that the new, "smarter" machines also cut down on laundry. With the newer machines, the workers come home a lot cleaner.
Creating Repeat Customers
Our goal is to turn a one-time customer in a repeat customer, explains Bill. That means building trust, delivering on promises, providing quality workmanship and doing the right thing.This gives our customers fewer reasons to leave and builds loyalty, and that is a barrier to our competition.
By way of example, Bill says years ago his company got hooked up with a company that owns a lot of property in the Danbury area – including corporate parks and shopping centers. They had us come out to measure a paving job. We gave them the square footage and the price.
After completing the work, that company wanted to remeasure and reprice the job. They came up with a little less footage, recalls Bill. I thought I was right. They thought they were right. I did not argue. I said whatever you measured, pay me for that.
Long story short, he goes on, here we are eight years later and we are doing hundreds of thousands of dollars' worth of business a year for them and they do not even ask for a price. They just have us come and do a job and we send them a bill.
Our company has been truly fortunate to have about 20 "awesome clients" who keep us busy full-time, Bill notes. We still shop for work, but about 80 percent of the work comes to us.
American Pavement Specialists has built a lot of trust with customers over the many years it has been in business, he says. I do not even have to put numbers on a lot of our work anymore. When customers trust you and you trust them, a lot of paperwork goes away.
Want to learn more about the secret to the Stanley family's success? Listen to the podcast "Building Strong Relationships with Matt Stanley of American Pavement Specialists".