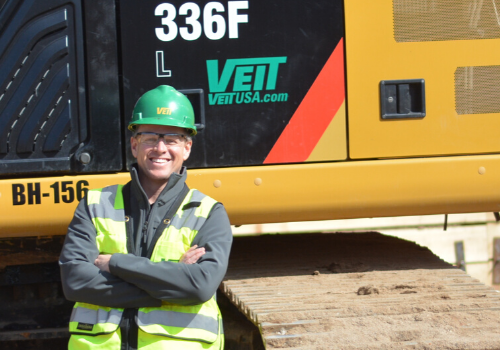 You may know him on Instagram as "Technology Sandbox" --- and Britton Lawson's day-to-day job is just that ---- working with current and emerging construction technologies from grade control to telematics to bring efficiency to the jobsite.
As director of construction technology at Veit & Company, Britton is the internal technology champion. He helps the organization get the best technology return on investment and evolve their processes for the future. Britton joins host Missy Scherber to discuss the current and future state of construction tech.
They also cover:
Moving from 2D to 3D grade control
Advice for implementing new technology
Troubleshooting technology problems
Communicating about technology with your field team
Highlights from CONEXPO-CON/AGG 2020
If you want to listen to more recorded podcasts, click below to see the CONEXPO-CON/AGG archive of episodes.
Listen on your favorite app: Apple Podcasts | Google Podcasts | iHeartRadio | Spotify | Stitcher 
Show Transcript:
Intro: 
Welcome to CONEXPO-CON/AGG Radio, highlighting the latest construction technology and trends to drive your business forward. Coming up in March 2020, CONEXPO-CON/AGG is North America's largest construction trade show. We bring you expert advice from your favorite brands, startups, and industry peers. For even more news, sign up for our weekly 365 E-Newsletter at conexpoconagg.com/subscribe. We've got another great guest on the show today, so let's dig in.
Missy Scherber:
Well hey everyone. Welcome to CONEXPO-CON/AGG Radio. I'm your host, Missy Scherber, and I'm thrilled to announce a new segment on the podcast called Contractor Conversations. Each month, I'll be talking to your favorite contractors around the country about their projects, workforce development, technology, and of course, equipment. I hope these conversations give you the expertise and support you need to thrive in the daily work that you do.
Missy Scherber:
I'm a contractor based in Minnesota, and I own a demolition and excavating company alongside my husband, Trevor. I'm passionate about our industry, and I want to recognize the hard work that you do every day to build the world around us. Please stay connected with me on Instagram, where you can join the conversation and stay up to date on all the exciting things happening at the show that you won't want to miss. Now let's get started with today's episode.
Missy Scherber:
You may know him on Instagram as Technology Sandbox, and Britton Lawson's day to day job is just that, working with current and emerging construction technologies from grade controls to telematics, to bring efficiency to the job site. As Director of Construction Technology at Veit & Company, Britton is the internal technology champion. He helps the organization get the best technology return on investment, and evolves their processes for the future. Britton has nearly 20 years of experience in the industry, so today we're going to tap into his expertise, and take a look at the current and future state of construction tech.
Missy Scherber:
Awesome. Well, Britton, thank you so much. Welcome to the show. We're glad to have you here.
Britton Lawson:
Yeah. Thanks for having me, Missy. I'm excited to do this.
Missy Scherber:
I know, this has been a long awaited interview. So many questions come in through social media about technology, and you've really become the tech guru out there, so we really appreciate you taking the time to be on the show today.
Britton Lawson:
Yeah, absolutely. It's a topic I thoroughly enjoy talking about, so looking forward to it.
Missy Scherber:
Awesome. Well, for those who don't know you, why don't you go ahead and tell the audience your background, how you got started in the industry, and what led you to where you are now?
Britton Lawson:
Yeah. I started my career at a tech school, and I just wanted to make my sandbox just a little bit bigger. My passion has always been heavy equipment and construction and things like that, so I ended up attending a tech school for 13 weeks. It got me just the basics, got me in a direction, got me some seat time and experience. I ended up at a road contractor in town, and while I was there I ended up visiting my tech school instructor, and he had showed me a video on GPS machine control [inaudible 00:03:13] out of Iowa had done. It really intrigued me, so I was able to talk to the company that I was working for at the time, and they ended up investing and saw the value in GPS machine control. I was able to run equipment for quite a few years with the GPS in, even old school a little bit too.
Britton Lawson:
Through that transition, I ended up getting moved to the ground and more of a grade foreman position so that I could help better support and champion the GPS program at that company. Throughout the transition of my other career, I went through some grading form and some site superintendent and some general superintendents, to following my passion when I got to Veit working in the survey department, to my role of all of it here in the last year or so. So, here I am kind of advocating for all technologies of Veit.
Missy Scherber:
When you say Veit, I want our listeners to understand just how big of a company Veit is. They're just down the road from us here and they've been in business for 90 years. I'd say they're one of the companies Trevor and I aspire to be one day because they're big, they do things well.
Missy Scherber:
You work for Veit and how big of a company is Veit? What type of size fleet are you responsible for integrating technology for?
Britton Lawson:
Veit is a $200 million company a year, annually. We've got six to 700 employees. Our service offerings are earthwork utilities, demo foundation, and dredging and diving. We also do some CITP cast in place pipe lining. Then, we also have a roll off division with landfills, C and D landfills that we also support. Our fleet consists of 350 plus pieces of yellow iron, if you will. We have about 35 machine control pieces and an additional 35 rovers or so as a general sense.
Missy Scherber:
That's quite a fleet to be responsible for integrating and implementing technology.
Britton Lawson:
Yeah, it's great. It's a challenge, but it's fun every day.
Missy Scherber:
I imagine you have a team supporting you with your role at Veit, is that correct?
Britton Lawson:
Yeah. We have a survey department that has three people in it and they are responsible for doing all the models, they're responsible for managing all the machine control, troubleshooting, supporting the field. We also have a fleet maintenance area where our shop manager, we just recently hired an assistant fleet manager that helps with a lot of the telematics and getting really into that data, dissecting that data, and getting some actionable decisions on it. There's quite a few folks at Veit that support the technology side of things.
Missy Scherber:
Very cool. Veit has a lot of projects going on across the Midwest. What's your outlook for the rest of the year when it comes to the work you guys are doing?
Britton Lawson:
Yeah, 2020 is shaping up to be a good year considering the situation that we're in. We're lucky to have a lot of carryover work. We've got some jobs, some interesting jobs up in Duluth with Grassy Point Drudging where our dredging division is drudging 280,000 yards of material, moving it from bay to bay. We're doing a campground, a major campground up at Split Rock Lighthouse up there. We've got some landfills in the Minneapolis and Milwaukee region. Then we've got some various commercial jobs that are going on around the Metro area, Minneapolis Metro area. So far so good.
Missy Scherber:
Very good. Well that's great to hear that, despite anything happening with the economy right now that things are moving forward and that you guys are growing and expanding because Veit is such a huge company to support, the infrastructure, the work, that a community can count on. You guys are just involved in really high level projects. I'm happy to hear that there's a lot coming in for you.
Missy Scherber:
Let's turn this conversation to what we've been most excited to talk to you about, which is technology that is your expertise and your background. Let's just be honest, the construction industry tends to lag behind in many ways. One of those areas is technology. What do you think is holding a lot of companies back from fully utilizing telematics and machine control technology?
Britton Lawson:
I think the easy one is cost right out of the gate. The margins are not real large on day to day projects bidding against each other. I think the biggest thing is cost. I think we have a tendency to look at it and an investment of how much is it going to cost me versus how much is it going to make me. There is an initial investment for machine control and that that number is hard to get over it in the initial onset of it. I think as you get into your journey, if you will, or path with machine control, I think you'll start to see those ROI's and how you can gain that money back.
Britton Lawson:
Some of the other things are just how we've always done it, just that aversion to change. I think we're very prideful of our work, so owners not understanding it, or not getting behind it, or just having a bad experience with it, I think are some other things that we struggle with in the construction industry when we're adopting technology.
Missy Scherber:
Okay. Britton, I'm so glad you brought up the sticker shock because I think that's what Trevor and I are working past right now as well. This is a big investment for our company. But, what I'm hearing you say is to not look at the price right now, it's to really look on how it's going to profit us long term. How many years would you say we should be looking at it from an investment standpoint of when the ROI starts to kick in?
Britton Lawson:
That ranges from company to company and it's a great question I think that we all ask ourselves. In some sense of the words, we can consider it paid for in a project, and how you guys justify your business, and how you're depreciating that out over time. I think it's fair to say that in a year or two you can start to see some of that ROI depending on, on what level of GPS machine control you go with.
Britton Lawson:
I think that's one thing to look at too is, there are different levels of investment. For somebody like yourself, you could go into just to try it out scenario and get into more of a 2D grade control versus a full blown 3D grade controller. Multiple components are used for that.
Britton Lawson:
I think it kind of differs for every company, and how they're using it, and the people that they have behind it.
Missy Scherber:
Yeah. That's great that you bring that up. Talk about that 2D. You're saying as a small business, we're working through that sticker shock and cashflow is always really important as you're growing a small business to a medium sized business. What you're saying is, Hey, we could get into it with the 2D, not the full blown 3D. Let's say we're seeing the benefits in a year or two, we're just kind of blown away. Wow. Talk about that transition from 2D to 3D. I want you to talk about that because I noticed on social media when you put out that we were doing this interview, quite a few audience members and social media followers were like, Hey, we want to know about the transition from 2D to 3D. The pressure is on, why don't you unpack that for us.
Britton Lawson:
Yeah. The 2D to 3D jump can be overwhelming for most, if you will. I'm not even going to say some, it's just for most. I would say once you get into that 3D system, I think the biggest thing is just take advantage of the on machine 3D models that you can create, the infield designs. No matter what product you have, they all have a great tool set across the board to be able to create some very simple designs in the field that you can take advantage of in a 3D sense.
Britton Lawson:
The next thing is, get an external model builder that you trust and just farm the models out. I feel like that's a big hurdle to get over is the model, if you will, or the data prep that you have involved in it. Not a lot of business owners actually have the time to sit down and build a model and then go calibrate the site, and get everything set up and transferred over to the machine. It's hard to justify a two or three hours set up of building the model, driving to the job, calibrating it to dig a basement that's only going to take you seven hours for instance.
Britton Lawson:
That initial thing of getting that infield design and on onscreen in machine design is great, and then getting an external model builder that's going to help you.
Missy Scherber:
Okay. So, that kind of makes the time more efficient and helps make it more sense as you start investing more in the 3D side?
Britton Lawson:
Yeah. Give the data to somebody that can do it every single day and then they can take that hour model that might take you... They can put it together in a half hour, 20 minutes, so that's great to take advantage of.
Missy Scherber:
Now tell me this. How has embracing technology made Veit a more productive and profitable company? I think that's a great thing for us to hear from you because you're at a company that's really ahead of the time, really maximizing, and being efficient with tech.
Missy Scherber:
How has that affect their bottom line of profitability?
Britton Lawson:
It's helped us in such a sense that it's just ingrained in our culture. Our field crews, they're the ones driving it. We're doing preexisting surveys, so now we're able to catch conflict early on if a takeoff error was performed by the engineer or something else. Now we can have a conversation early on and say, Hey, there's a bust in the design, or what do you want to do? Instead of having that conversation after we've hauled all the material off, or moving material and say we want to get paid, we're going to say, Hey, we'd like to come up with a solution so that we can either mitigate your losses or better use that material on site, or if we can raise the site so we can really have some proactive solutions in that scenario.
Britton Lawson:
Even progress quantities, we can have a lot of historic data at that point. When we're hauling material on a master for a job site where the scrapers are off roads, say a scraper is rated for 23 or 24 yards, but we're only getting 1920 yards on it just based on the material, based on how it's loading, things like that, we can actually get an accurate quantity based on our drone surveys or our fly over surveys, and progress quantities on a week to week basis. That's giving us a more accurate transparency or look at what we're actually hauling. That actually sets us up for future bids too, to say, this is what we're actually hauling in these scrapers with this type of material.
Britton Lawson:
Then getting into the obvious benefits of machine control. I think we're seeing that in terms of eliminating people, eliminating GR machines, eliminating and just getting it faster, getting to the finished product faster. I think they're all some things that we're doing.
Missy Scherber:
It gets more efficient, it gets more productive. Help me understand a little bit. When people say, it improves your profitability. I really hear that thrown around a lot when it comes to tech, but I've always just sat there and been like, "How?" How does that improve our profitability? What are your thoughts on that?
Britton Lawson:
Part of it, in jobs we'll model a spec surface for instance. If they're saying that we can only fill a to a certain height or anything over this amount of fill, we can actually model it to that. Or, in a soil correction scenario where we have to go down to an X elevation, if we create that model, now our field guys know exactly what we need to go to, so anything below that we'll have to have a conversation as far as getting paid for that.
Britton Lawson:
On the same token, we're going to take a job that was supposed to last a week and we're going to bring it down to say three or four days because we able to perform it faster. Now you're eliminating two or three days of labor, two or three days of equipment time, your quantities are going to be a lot more accurate because your grade is consistent throughout the entire project, so you're half an inch of accuracy plus or minus is going to be consistent, you can hold that up for the spec. Now you're paying for less engineered materials when you're bringing those in throughout the project. I think that's where you see a lot of your ROI.
Missy Scherber:
Then, I heard you bring up accuracy and it seems like that's another thing that I'm hearing a lot is, that even companies are selling that, hey, we use technology that gets us very accurate and that's a competitive advantage for us. Would you agree that that's a big selling point for upgrading to 2D and 3D?
Britton Lawson:
Oh absolutely. If you can get a, for instance in your business, you can get hole right done the first time, every single time, it's impact schedule because now the concrete guy is not trying to fit something in that their wall won't fit because the hole is not large enough, or the grade is correct. Even though the amount of concrete that they use. Those are all things that I think help with that customer service scenario.
Missy Scherber:
You bring up a big thing for a small to midsize business is customer service. A lot of times with how competitive the market is, we have one shot to really impress our clients, to do a good job, and to know that we've invested in something that is going to assure accuracy is fantastic. Then there's also the human error side that it protects you from. We're all human, we all make mistakes on the job site. Have you seen grade control really support the human error aspect of the industry?
Britton Lawson:
Yeah. I think it catches errors early on. It levels the playing field a little bit as far as your top operators for instance, down to maybe an operator that's not as experienced. You can kind of put them on the same level playing field. Obviously your more experienced operator's going to move that material faster, but the consistency should be about the same as far as what your grade should be. I've always said that GPS makes a good operator great and a great operator awesome, If you will. You know what I mean? It's always kind of leveling up that operator.
Missy Scherber:
That's such a great way to put it to where it's really supporting all experience levels of operators. I've never heard that before. I'm going to have to quote you on that one.
Missy Scherber:
We've talked about the benefits and you have me sold, we're already shopping right now for what we're going to invest into our fleet. What advice do you have for other contractors when it comes to investing in new technology? If you had a few quick tips, what would those tips be when they're ready to start investing in tech?
Britton Lawson:
Yeah, I think number one is dealer support. I think all brands make a great product. They all do the same thing. They all get to the same tolerances. I think at the end of the day, your best friend is going to be your dealer. How that initial conversation goes and throughout the sales process, I think you really got to focus on that. Have patience, it's a new product, you're going to have a learning curve to it.
Britton Lawson:
Then I would just empower a champion that's going to manage it and that's going to own it, and that's going to be passionate and excited about it, I think is going to give you your best ROI. After all, it's just one of those things that you manage it. You don't want to let it go. Just kind of willy-nilly and try out the business.
Missy Scherber:
That's such a great idea to have a champion internally that is excited about it, passionate about it, and we'll make sure that the team is using it. It's one thing to invest in it. It's another thing to implement and actually make sure everyone is on board. I know that's one thing we've been overwhelmed by is, okay once we do this then what? Because, Trevor and I as owners, don't have time to necessarily be as involved. That's such a great idea and a solution for us is, hey find a champion within the company that can really help implement and support everyone as it comes forward. Great, great idea.
Missy Scherber:
Let's talk about this though. When the technology goes down, that can be frustrating, especially for people who are new to it. Do you have any go to tips for troubleshooting problems?
Britton Lawson:
Yeah, absolutely. It's like anything, it's like a mechanical error. Your backhoe is going to go down, or your excavator is going to go down, things happen, and tech is no different. I guess the first thing I would do is simplify it. Start with the easy things.
Britton Lawson:
Start with your base station. Is your base station on? Are all the cables connected? Because nine out of 10 times it's usually something fairly simple. Don't always assume that the process has been followed. Make sure that you start from square one as you're troubleshooting it because a lot of times a step gets missed. Those are kind of my biggest thing for that. I think nine out of 10 times, like I said, it's something simple. It's not something complex.
Missy Scherber:
Then really, it's like we still love computers, right? And computer sales that at points, but we're not going to work without them because they just are a game changer for our efficiency in our everyday life. I thin tech is the same in the equipment. I like you're suggestion, keep it simple.
Britton Lawson:
Yeah. It's the age old, turn it off and turn it back on. That's usually the go to. Have you turned it off and turned it back on? That's always my first. A lot of times that's solves it unfortunately.
Missy Scherber:
I like it. What do you think now, we've talked about 2D, 3D, what do you think is going to be the biggest game changer in the next five years when it comes to tech?
Britton Lawson:
Yeah. This is always an exciting phase for me. I think it's kind of twofold. You've got your established users and your newer users, and I think they can be explained in both cases if you will. I think in established users there's going to be mapping productivity gains as far as machine mapping, drone mapping, they're really going to streamline that process and get it faster so we can get faster production quantities. I think the ease of use features on all of your OEM brands as far as the 2D assist and the scales, and some of that stuff is really going to start to scale a little bit in terms of being more accurate in a rough scenario, if you will. You would have some sort of reference and taking advantage of some different sensors on there. I think that's going to be a huge thing.
Britton Lawson:
Then getting into remote control stations, automation and things like that. I think remote control stations are really going to diversify our workforce to be honest with you. I think everybody at CONEXPO had an Operator station or a remote operator station that they were controlling a piece of equipment in a different state. think of it in a sense in Veit's case, we have offices regionally up in Duluth, in Milwaukee, in Minnesota; if our crew gets rained out in Minneapolis Metro area, all of a sudden now we can put them to work in the Milwaukee region with a remote operator station. I think it opens up that use of employees and workforce.
Missy Scherber:
Absolutely. When you say diversify workforce, are you talking about just, hey, one guy in one city will be there? Or are you also talking about just the demographic of our workforce?
Britton Lawson:
Just using your workforce regionally. I think you can go and use demographic as far as high school and a younger generation that might be used to following sensors on a screen and from a gaming standpoint. I think we will be able to maybe increase that learning curve or help that learning curve, if you will.
Missy Scherber:
I think it increases their excitement to join our industry. It looks exciting. What? I can really build the world around me with something that I'm used to doing, which is a control station. I think it's going to really excite the next gen of workforce.
Britton Lawson:
Yeah, absolutely. I think it'll be less intimidating to for newer operators.
Missy Scherber:
Yeah. Any other big game changers you see in tech after going to CONEXPO?
Britton Lawson:
Yeah, absolutely. Augmented reality I think is really going to change the game in terms of pre-construction. For instance, they got Trimble Sight Vision, they're a hollow lens. I think OEMs have some of the augmented reality out there. If you can start to catch those conflicts in a 3D manner in a real world so you can see the digital plan over laid on to real world and real life, I think that's going to be huge to communicate with the owner and catch conflicts early so you're don't have crews there sitting waiting saying, we can't get this trench and we have to use a trench box and being able to have that trench box there because you already know it's there.
Britton Lawson:
Also, that conversation around your crew and being able to visualize it to all the operators. They say good operators are able to visualize what the finished product looks like. Now, if you can show them that in a 3D sense before they even get started, now it helps them generate that thought process early on.
Missy Scherber:
Absolutely. I'm sure it also enhances the safety aspect. You're able to really walk through it. How can we do this efficiently, productively, profitably, but also safely? Because you can see it all right there.
Britton Lawson:
Yeah, absolutely. It's a lot cheaper to go through on a computer and in a conversation.
Missy Scherber:
That's so great. Now, you talked about what impact you see it having on a workforce development. What about the impact that technology has on customer service? I'm obviously very intrigued by that because I work on the customer service side of our business answering the calls of this is great, this is not, fix this, do that. I'm very curious from an investment standpoint, how does this help or impact customer service to have machine technology?
Britton Lawson:
Yeah. If you can get out there and you can bring out your backhoe and you've got a 3D model loaded into it, and you can get your owner of that house or that new house, or even the GC out there that's running your project, to get up in the excavator and go, here's your house, and they can go, holy cow, that's exactly what it's supposed to be. They can start to envision it. I think that really opens up that initial conversation. If you can bring in augmented reality and have it modeled in your augmented reality, and stand in their front yard and go, this is what your house is going to look like from the street, it's just going to be that wow factor. It's just going to go, I want to work with these people because they have technology and I can better understand what they're doing and how they're doing it. I can be assured that they're going to be accurate throughout the entire process and it's going to not affect my schedule throughout, and I can get my house on time or my project on time.
Missy Scherber:
Wow. Can I just bring you to my sales meetings and can you just say that? That was fantastic. I think that's a huge part is that wow factor, that it can bring not just within our company, but externally out on the job site for our potential customers. I'm so glad you touched base on that. Thanks. Anything else you want to say about technology? I know you get a lot of questions online. Anything else you wanted to touch on today as far as tech is concerned in construction? I just feel like we spoke for hours.
Missy Scherber:
How do we improve awareness? The awareness of the tech that's available. Tell me about what you've noticed or seen when it comes to awareness.
Britton Lawson:
We have equipment that has integrated technologies on it. It'll say grade control right on the side of it. You'll have a conversation with the foreman, they'll say, did you take advantage of the 2D grade control when you're digging this? The response is, it doesn't have antennas. Well, the entire time it had 2D grade control built into it or integrated into it and he didn't even know that he was able to use it. He's like, I would have taken advantage of that. It's the same with scales, same with E-sensing, 2D automatic, 2D assist. Case just came out with it. Caterpillar has it on all their NextGen Hex as a standard option on most of their models. I think a lot of these people run it and they don't even realize that the tech exists underneath them.
Britton Lawson:
What we're doing is ,we're putting stickers on the machine saying the machine is equipped with, and it's starting a conversation for the operator to understand how to learn or know how to use it. It's also for the foreman, are they using it? Then, it's also for the owner to go, this thing's equipped with a scale? That's crazy.
Britton Lawson:
I think it starts that conversation all the way through and builds that trust all the way through. They're able to take advantage of the tech on all of the equipment. From dozers with the 2D assist or slope assist, and excavators with the scales and everything else.
Missy Scherber:
So, you're going beyond what the manufacturer is communicating on the machine and actually putting stickers on there that communicate to the field teams what's on that machine, is that correct?
Britton Lawson:
Yeah, absolutely. At our safety day, we're having that same conversation, a session on, hey, here's the technology that's available too so let's use it. You've got a team of people here to support you. Let's really maximize the use of this technology.
Missy Scherber:
Tell me about that a little bit further. Let's say you've got the operator, he sees the sticker, he hears it at the safety meeting, but he doesn't know how to use the technology. What does it look like from a training perspective? Is it just finding that champion? What else have you seen out there when it comes to training? Maybe those seasoned operators aren't familiar with it, to get them to start using it?
Britton Lawson:
I think you hit on a very important piece there of training your people. That champion is going to be the one that's going to organically grow it. I would really lean on your dealer for training, especially in our region where we've got winters, our dealers are all having a lot of training sessions going. They're all very, very good. Local union halls have got a lot of good training programs. YouTube has got some great tutorials. They're a huge resource. Then, I would reach out to people on social media. I think talking to your peers and understanding how to use things is such a great resource in that scenario too.
Missy Scherber:
That's great. I think reaching out on social media is such a great idea. Let's give them them your Instagram handle because... I hope you don't mind me just volunteering you as a great resource. What is your Instagram handle so that are so they can reach out to you with questions?
Britton Lawson:
My Instagram handle is technology_sandbox on Instagram and Facebook.
Missy Scherber:
Awesome. Are there any other good resources that you would recommend out there in the social world?
Britton Lawson:
Yeah. There's a lot of great resources. I think Ryan at Rock Structures does a great job. He was on that show previously with just showcasing technology. The Dirt Ninja, Tom Gardocki, He does a great job on his YouTube channels of how tos and things like that. Even following some of Ryan Neal and Yield Map or Sam Meeker and Caterpillar's features. I think it's a great resource. There's just a plethora of them. That's about four of them that I can think of off the top of my head.
Missy Scherber:
Those are great resources. Maybe with your permission, maybe you and I can come up, make a list of all your top YouTube tutorials that you like, and your great follows, people that you like to follow, and post it out on the blog so that everyone can kind of have access to that information. Are you down for that? I'll buy you lunch.
Britton Lawson:
Absolutely. Yeah, absolutely. Let's do it.
Missy Scherber:
Awesome. Awesome. Well, before we close out, I want to talk about CONEXPO-CON/AGG. Just like myself and Trevor 2020 was your first trip to CONEXPO-CON/AGG. Give us the scoop. I have a hard time asking the question, what did you think? Because, obviously we were all like, wow.
Britton Lawson:
absolutely. Yeah. it was a bucket list item for me. I was ADD throughout the entire thing. I'd see some shiny object over here and over there, but it was absolutely awesome. I think the biggest part of bought it was just meeting everybody and talking to everybody was my highlight. That was the thing that I took away the most.
Missy Scherber:
It's the relationship. You don't expect you're surrounded just by so much iron, so many experts, it's absolutely incredible. Then, it really gets small with the people that you build a relationship with doesn't it?
Britton Lawson:
Oh absolutely. Everybody that I've met through Instagram and just over my career to run into old friends, it's just a bunch of people with the same passion for construction and technology as me. I was a kid in a candy store.
Missy Scherber:
When you went there, what products and technology were you on the lookout for at the show?
Britton Lawson:
I always like to stay up to date on what's going on in machine control. I've visited all three booths of Trimble, and Topcon, and Leica. They all have great products and they're all coming up with new and great things. Some stuff for the business, I was really looking at equipment tracking, small tools, attachments, things like that, some load scanning. Then even some integrated features that all the OEMs have out. Is Komatsu having the smart grade technology in terms of smart dozing or proactive dosing if you will?
Britton Lawson:
Case came out with an integrated machine on their 200 size machines. Top Gun and John Deere have the grade assist systems now. Those are kind of the things that I was eyeing up, if you will.
Missy Scherber:
You were looking for. What was your biggest takeaway from this show? I know you are probably learning a lot and getting a lot of information. There were a lot of education sessions on tech. What would you say your biggest takeaway from the show was?
Britton Lawson:
I see that all the OEMs are really trying to put ease of operator features in there. How does it make it easier on the operator for their day to day operations from scales or assist? Or object detection? From hitting things? Things like that. Even just that drive to one platform on a software sense of, how do I look at all of my data or digest all my data on one platform and integrating all platforms across a software suite for instance? I think are the biggest things.
Britton Lawson:
I think it's just a step in the direction for automation. All these ease of use features and the remote control stations, and things that are like that are just stepping stones to automation in the industry.
Missy Scherber:
Awesome. Awesome. Was there anything else you found that you weren't looking for? I imagine you had some specific goals when you were there, but did anything catch your eye that you weren't expecting?
Britton Lawson:
Spot The Dog and the Trimble booth is fun. The Boston Dynamics robot dog is pretty cool to see. [crosstalk 00:33:02].
Missy Scherber:
I agree.
Britton Lawson:
They saw some ground penetrating radar that would mark utilities without even taking the asphalt off. The John Deere integrated skid steer was pretty cool to see. I'm really intrigued by that and I'd be curious to get my hands on out. Those are just a few. There was so many there.
Missy Scherber:
Yeah. We were definitely caught off guard by Trimble's dog as well.
I didn't know it was a dog friendly show. All right. Let's just end this. This has been a great conversation. Again, I think it'd be really fun to create some followup tools for the community if you're cool with that. You're just a wealth of knowledge and I'd love to start just packaging that and getting it out to everyone.
Missy Scherber:
Thank you for just diving in, giving us a light dive into tech and how you were impacted at CONEXPO. Let's end it with a little fun rapid fire round. Are you okay with that?
Britton Lawson:
Yeah, Let's do it.
Missy Scherber:
All right. What was your first job? Very, very first job?
Britton Lawson:
Bagging groceries at a grocery store.
Missy Scherber:
What grocery store?
Britton Lawson:
Driscoll's in Glen Lake.
Missy Scherber:
Awesome. What was your very first car?
Britton Lawson:
A 91 Honda Accord.
Missy Scherber:
Nice. If you weren't doing this, what would you be doing?
Britton Lawson:
I'd be grooming mountains or ski hills, or a farming.
Missy Scherber:
I love it. What song gets you pumped up in the morning on your way to Veit?
Britton Lawson:
CONEXPO-CON/AGG podcast?
Missy Scherber:
Good one. [inaudible 00:34:42].
Britton Lawson:
No. All music genres. Calvin Harris gets me pumped up. That kind of job. Eric Church, things like that.
Missy Scherber:
I like it. Who is one person you wish you could have dinner with?
Britton Lawson:
Probably my grandpa Joe. He died before I was able to ever meet him. I've heard a lot of good stories.
Missy Scherber:
Oh, I'm sorry to hear that. It sounds like it was a great person to be able to meet, huh?
Missy Scherber:
Now, what was your favorite piece of equipment and why?
Britton Lawson:
Go two part question. I would have to say I would go back to my snow groomer, love running snow cats. It's so much fun. Dozers, into the dirt world, I would say dozers. I'd say they're the first one on the site, last to leave, and most of the time they are the finished product. When you're done with the job and you're driving down the highway, you can say, I finished that [inaudible 00:35:34] and that's exactly what you finished.
Missy Scherber:
That's great. So, definitely the dozer is your choice?
Britton Lawson:
Yeah, absolutely.
Missy Scherber:
Now, last but not least. What are you eating in that dozer? What is your favorite gas station food?
Britton Lawson:
My favorite gas station food is soft serve ice cream. I'm a sucker for any soft serve. If I could make a soft serve going to a gas station, no matter what, I will get a soft serve ice cream cone no matter what time of day.
Missy Scherber:
Wouldn't that be amazing to have one of those machines at the shop?
Britton Lawson:
I'd love it. That'd be great.
Missy Scherber:
That would be great. Well, I'm glad you didn't have a specific brand because as you know Ryan at Rock Structures said the Wiley Walaby licorice. I want to say they sent him like 500 pieces of licorice. I don't think we can send you gallons of ice cream.
Britton Lawson:
No, no. A close second would be Dots Pretzels. How about that?
Missy Scherber:
Okay, there we go. Dots Pretzels, we know what to send you to say thank you for sharing your time with us today. Well, I just thank you so much. This was awesome Britton. I think you're just a great resource online. You've always put out really good content. I hope we can start putting out more together this year. Thank you again for taking the time to join us.
Britton Lawson:
Yeah, absolutely. Thanks for having me. This was fun.
Outro:
That's going to wrap up this edition of CONEXPO-CON/AGG Radio. If you like the show and think other people should listen to, make sure to subscribe and maybe leave a review on iTunes. We'll be back next time with another great guest. Until that time, be sure to visit conexpoconag.com/subscribe to sign up for our weekly e-newsletter. More than 30,000 other construction industry pros are already receiving news and insights to move their business forward.