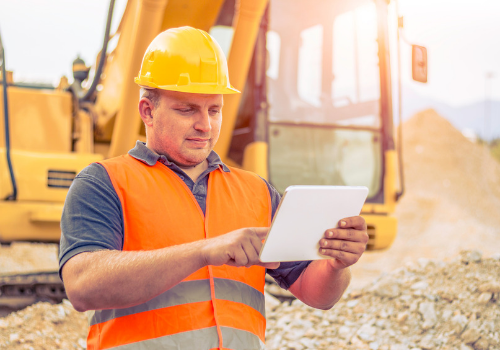 Fred Fakkema, vice president, compliance, Zonar, joins CONEXPO-CON/AGG Radio to dive into the topic of telematics—and how it can help improve safety and compliance on construction projects, answering if digital records do in fact help with audits. Fakkema and Host Peggy Smedley dig into the top areas that telematics can help a construction fleet become safer, as well as the barriers to adoption. They also identify what a construction company should look for when investing in a telematics solution.
If you want to listen to more recorded podcasts, click below to see the CONEXPO-CON/AGG archive of episodes.
Listen on your favorite app: Apple Podcasts | Google Podcasts | iHeartRadio | Spotify | Stitcher 
Show Transcript:
Introduction:                     
Welcome to CONEXPO-CON/AGG Radio, highlighting the latest construction technology and trends to drive your business forward. Coming up in March of 2020, CONEXPO-CON/AGG is North America's largest construction trade show. We bring you expert advice from your favorite brands, startups, and industry peers. For even more news, sign up for our weekly 365 e-newsletter at conexpoconagg.com/subscribe. We've got another great guest on the show today, so let's dig in.
Peggy Smedley:              
Welcome to CONEXPO-CON/AGG Radio, brought to you by the Association of Equipment Manufacturers. I'm your host, Peggy Smedley. This episode is brought to you by the International Construction & Utility Equipment Exposition. Utility professionals, do you want to make your operations better, faster and safer? Join your peers at ICUEE, North America's largest utility and construction trade show, to discover and demo the latest equipment and products from top manufacturers. October 1st through 3rd in Louisville, Kentucky. Learn more at The Utility Expo.
Peggy Smedley:              
And now for today's episode. We are going to talk all about safety. Most equipment companies can agree, safety is perhaps one of the most important factors on job sites across the country. Now here's the good news: Technology can help improve safety on projects. We will dig into this a little more on today's podcast. For instance, telematics can help a construction company become a safer place and more compliant. It can provide data and insights about vehicle diagnostics and driver behavior. The bottom line is to give us the information we need to operate our job sites as safely as possible. Even more, the use of this technology is projected to grow through the next few years. In fact, market research future predicts the global telematics market will expand 20% between 2017 and 2023.
Peggy Smedley:              
As always, we have a great guest who is going to dive into this topic with us today a little bit deeper. Please welcome Fred Fakkema, vice president of compliance at Zonar. Fred, welcome to the show.
Fred Fakkema:               
Well hey. Thanks Peggy, thanks for having us.
Peggy Smedley:              
Fred, we have a lot to talk about. You know there's been a whole lot happening and you've been knee-deep in all of these ELD mandates and you know the telematics industry is a great one. We've been talking about ELD for quite some time but I thought before we even start talking about that, let's really talk about what are the topic areas that telematics can help a construction fleet become safer and more compliant.
Fred Fakkema:               
You really talked about it at the start of the show and it's really about safety. It comes down to that and vehicle and equipment monitoring to vehicle maintenance for sure. Telematics can be used for inspections, particularly verified inspections where it ties into all these because of the accountability, it streamlines use so that you're not using paper anymore because it's that much more effective and there's a digital record that can be integrated into the maintenance systems. Telematics isn't only about where the vehicle is, it's certainly about more ... And doing those inspections that are required by OSHA regulations as well.
Peggy Smedley:              
It seems to me that as we look at all these things, there's a lot to overcome, right? I think that's something that a lot of people need to think about. I think if we look into that, there's a lot of barriers to adoption today, would you agree?
Fred Fakkema:               
Absolutely. There's a lot of old equipment out there that doesn't have the modern systems that you can just plug into and get the data, so there's also that standard resistance. That's a change when you have to learn new tools and how to operate them and thinking that it's probably Big Brother watching where really it's not, it's to the benefit of the company and to the operator. I always liken it to when I was in law enforcement years ago. When we first came out with cameras in patrol cars officers didn't want anything to do with that, but the first minute it saved someone's butt, they're right there wanting the next one. It's the same thing today with telematics.
Fred Fakkema:               
There's so much information that is right at the tip of the fingers for equipment managers, for operators and then for the owners as well that know and to be able to manage and extrapolate all that data to help be more efficient and certainly helps the equipment when it comes down to metered data or runtime, fluid levels or when things need to change. There's a lot that can happen. We really see it stronger right now, I think, in the telematics industry because of the ISO standard from AEM and AEMP, so each individual customer can get their data from their OEM but now you have many sources of data coming in where a third party can take all that data and put it in one platform so those managers can utilize that at realtime.
Peggy Smedley:              
When you just talked about that AEMP and those standards are really making a difference when you have communities coming together and all agreeing on what an industry needs to do to be more compliant, right?
Fred Fakkema:               
Absolutely. Imagine that the OEMs came together and agreed on how they're going to use the same language, if you will, for all those values that the customers need and make it available. They agreed to do that and there's those points that they do for each one of those customers so they can manage their equipment even much better.
Peggy Smedley:              
Let's talk about these things that come into play when we have pre- and post-trip inspections now because I think that's when we get into compliance and we look at telematics within the construction industry, that's really where I think a lot of people sometimes get tripped up and I think in a lot of cases they shouldn't because it's really not as difficult when you follow the rules and you follow the compliance inspections that you have to because there's really a lot of things now that you can do in telematics that we didn't have a few years ago but we really do now that make it a lot easier to follow the regulations and to make it easier and to follow specifically what you have to do.
Fred Fakkema:               
Yeah. If you do follow the rules you'll be its company. There's so many folks out there that for the longest time tried to spend their time trying to get around those rules when it's easier and more cost-effective just to follow those. A walk-around inspection of every piece of equipment prior to utilizing it, making those checkpoints on every list that needs to occur and then to actually have that data sent electronically to the back office integrate into your maintenance software so you know exactly when things need to be updated, when they're not, the utilization of that equipment, everything's right at the fingertips.
Fred Fakkema:               
I think there for a little while the construction space kind of got inundated with the terminology of telematics and so it kind of almost became a bad word a little bit just because it was such the start of the boom when it occurred that some of the folks kind of withdrew from it, but I think it's such a popular thing right now and it's so effective to utilize for your entire fleet.
Peggy Smedley:              
That's an interesting point because now if you really leverage all of these real-time insights that we have right now for safety and compliance, it's really almost like ... I don't want to say a click of a button, but it can be almost that easy because the technology is there, whether you're using a handheld device or you're using something more fleet-optimized, it's really that easy to do route optimization and vehicle tracking, asset optimization, utilization, all of those tools are right there today.
Fred Fakkema:               
Exactly. You know when equipment is due for maintenance based on the run time, fuel levels. You know exactly where your equipment is, who is operating the equipment. You can even know if that operator is trained to operate that equipment. Setting all those systems up and in place can be even more effective, certainly utilizing that up-to-date data for your JSAs or your safety briefings or your lunchbox briefings, whatever you call it in your organization. You have all that data right there, you know how long that equipment has been around for that day or if that operator has had too much time.
Fred Fakkema:               
We offer a system where a manager can actually look at their iPhone or their personal device and know where all their equipment is on a map and be able to figure out how it's best to utilize or move one piece of equipment to another, there's so much of that. And then you have the highway equipment that's subject to hours of service regulations that obviously the ELD mandate impacts and so that telematics today that is broader than just getting something off of this or to be able currently goes across the spectrum.
Peggy Smedley:              
I'm a big digital fan. I think things are intuitive, they become easier to use, but let me ask you candidly, is a digital record really truly helping with audits? Are you finding fleets saying yeah it does, or are they still struggling with it? What's your thoughts?
Fred Fakkema:               
It's interesting because when Zonar first started we had that electronic verified inspection report, which we still have, and that made it so simple during an audit for just those pre- and post-inspections having everything right at your fingertips, not only as the manager but also as an auditor. Now today, yes from what I even hear from state and federal auditors is it makes it so much more efficient that a two-week audit can now take two days or three days because it's right there at your fingertips, it can be well-organized.
Fred Fakkema:               
When they ask you for which vehicles they want, which drivers they want, you could pull that data immediately for them and, in fact, you could actually send it to them and ELD is going to do that too for hours of service audits when you do those audits on the specific bucket that they're looking at. Hours of service, you can do remotely because you can have the person's log sent to your computer and do those audits from that standpoint, so yes. I know FMCSA is planning more audits and I'm sure OSHA is doing the exact same thing because it's right there at your fingertips.
Peggy Smedley:              
Now C.J. Driscoll & Associates reports about 13 million wireless devices are used to monitor fleet vehicles and drivers today. In fact, they say by 2022 this market will expand to more than 20 million units. That's pretty incredible, are we really going to see that kind of thing when we look at the market?
Fred Fakkema:               
I think so. When you talk about it you talk about those light duty, medium duty, heavy duty trucks and then you roll that into the construction space where we have all the different assets from rollers to dozers to lifts to cranes to whatever. We can use telematics for all that. All that is still available and then think about actually utilizing that data and maybe drones for work site safety and what can be done with all those connected vehicles on one site to ensure the safety not only of those working at the work site but those transferring equipment back and forth.
Peggy Smedley:              
When we look at things like this how does, if we're looking at this, a paper subjects to mistakes or manipulation, is that what we're talking about? Is that really ... Do we see that today? When you're overall looking at that is that something we have to worry about?
Fred Fakkema:               
Yeah, absolutely. A mistake on how somebody writes ... Or a real prime example is for hours of service, when you look at the industry on how they respond to the ELD mandate. Yesterday FMCSA ... I was speaking at a conference on that this week where 99% of those that are required are compliant to the ELD mandate. The other thing that happened as HOS violation rates are going down across the board by 52%, but what those violations are that are going down are those that are written form & manner on a paper log. The driver wants to fill out a paper logbook correctly so when stopped by a roadside by enforcement they look at it and they site them for form & manner.
Fred Fakkema:               
Now that's all done electronically so there's no errors on the paper so all those violations have been cut in half. That's pretty significant just from an administrative standpoint. Hopefully that's going to play over into the safety standpoint as far as reducing collisions on the roadways.
Peggy Smedley:              
Let's go back just a little bit because I think this will be interesting for someone who is still trying to get their arms in. I think by now everybody has to know it, but let's go through the history a little bit. We know that back in December '16, 2015, the final ELD rule was published and I know there's probably not a whole lot of people who know this better than you. Talk about how Phase One started, and that was the two-year period following the publication of the ELD mandate rule and really what that was and walk us through that. For anybody who says, "Okay, help me know." Because we know Phase Three is the end of this year, if I'm correct, right? Walk us through a little bit of that.
Fred Fakkema:               
You are absolutely correct. Phase One when the rule came out basically it kind of gave the starting gate gun for everybody to be ready, set, go. That was for ELD vendors to get self-registered. All that means is that they go onto the website of the FMCSA and they say, "Yes, my product meets the requirements that stand fast in this rule." There's no testing done by FMCSA, it's just the vendors saying that they are self-certified.
Fred Fakkema:               
Now you have that product out there so that the Phase One was you can buy ELD product or you can continue to run your automatic onboard recording device, AOBRD, for the next two years, those are grandfathered in, or you can continue to use your logging software, which is not connected to the vehicle, or you can continue to use paper, but we really urge you to move over to ELD. It gave everybody two years to do that until this last December, that's when the Phase Two started and that was where everybody either had to be on an ELD or an AOBRD, there was no electronic logging software, there is no paper, everybody had to be on an electronic logging device or an AOBRD.
Fred Fakkema:               
Now you roll into this coming December, all those that are on AOBRD have to now migrate off of AOBRD onto ELD so by December 15th of this year, everybody has to be on an electronic logging device unless you're exempt from that rule.
Peggy Smedley:              
How would you say ... How has the industry responded looking at Phase One, Phase Two and now Phase Three overall?
Fred Fakkema:               
The industry has really responded well. There is really a big concern about who is going to push it to the limits and we're going to have drivers walk away because they don't want to do that. We haven't seen that, in fact driver retention has gone up. But yesterday it was mentioned here that it's a 99% rate of compliance for the electronic mandate. I think the industry has done well. The big game-changer though, it's a big disruptor this year with those on AOBRD moving to the ELD. All those early large truck carriers that are moving over, they're legacy, they've been doing it since 1988 so moving them over to ELD is really going to have a large impact on the industry and the transportation side of things as well.
Peggy Smedley:              
Are you pretty much saying most are complying right now? That's what we're really seeing, it's a really great opportunity for many to really understand that they're learning things about speeding, hard braking, engine idling alerts, driving efficiency. A lot of things are coming out that maybe they didn't, so by complying a lot of other things they're learning about themselves as well, I would say.
Fred Fakkema:               
Yeah, you're absolutely right. What ELD has done, it's really opened up that telematics world for everybody. Yes, you're going to collect your hours of service electronically but now you can do your inspections electronically. You can hook up cameras front-facing to see how they're driving. You can get speed reports, seatbelt reports, how you utilize VR most, how you utilize personal commands for your vehicle.
Fred Fakkema:               
All of that is really at the tip of your fingers and it makes it that much simpler. It's just not in ELD, you want to use it to optimize your entire fleet, just don't do it for hours of service, do it for everything else. In the construction space what we have is customers really looking at their entire fleet. What really needs the ELD, what doesn't, what do we want to put other technology on to really get the bang for our buck when we're outfitting our entire fleet.
Peggy Smedley:              
What should ... I mean, we've just talked about a lot of things, but what really should construction companies, fleets, there's a whole lot of things happening in the space and we're seeing a lot of dramatic changes as a result of telematics, look for when investing in these telematics solutions because it seems like we just talk a lot about them but you're getting a lot of great information that you never had before. There's a downside, you're getting maybe too much that you don't know what to do with, you're following regulations but you've got to balance a little bit of both, I think, when you're collecting all of this. Is there a way of knowing how to juggle what you have to do for government, what you've got to do for the mandate, but is also with knowing how to manage all this data that's coming in.
Fred Fakkema:               
Yeah, you're absolutely right Peggy because I'll tell you what, we have customers that say, "Hey, I want to be notified. I want alerts. I want to know everything that's going on in my fleet. Three days later they've been inundated with pings and emails and texts on their entire fleet and they're, "Okay, slow the data down. I don't need to know absolutely everything, I only need to know those things that are important to me."
Fred Fakkema:               
I think what those need to do is sit down and say, "Okay, what are my pain points? How can I address that pain point through technology to make it that much simpler and that much easier? Because what we do in telematics can address all those pain points. And then is it a portable product? Does it fit into what we do as an organization and how we respond to the needs of our customers as well and take those ... Zonar has some plug and play offerings, other competitors do as well. Is that what you're looking for or is it a hard mount on those really highway vehicles that you've identified with the other ones you can utilize in a different manner. Really laying that out and understanding what is out there to make you more efficient. There's things that people don't know that we can offer them and so ask those questions and certainly share those pain points that you're trying to solve.
Peggy Smedley:              
Is that what's going to happen to really make this fleet market and telematics market grow will be not only what's happening but in the future we're going to see a lot more partnerships and be able to see ... Because you're going to have to connect this with a lot of other systems. I mean, we're talking about interoperability because there's just so much information you now can gather as we talk about connectivity and 5G and knowing so much about your assets that that's going to be overwhelming for the construction space but yet you're going to want to get the most out of all your assets, that's going to be the key with all of this, right?
Fred Fakkema:               
Absolutely. It is the key. To be the most efficient, to utilize that equipment in the most efficient manner. That is understanding where your equipment is too so you don't have to move it from one area to another when you know that there is a piece of equipment that can do the job right. Yes, having realtime information at your fingertips to make that realtime decision I think is vital. And you're right, the ELD mandate is a great example. There's over 400 devices listed on the self-certification list of FMCSA, 400. Two to three years ago there was only about 14 or 15 of us that were offering electronic hours of service, now you have over 400 devices out there. A lot of those companies are being bought by bigger companies so you see a lot of merging and acquisitions taking place, you see a lot of different partners taking place, partnerships to make it that much more effective for the customer as a whole. We partner with so many different third parties to bring whatever resources available to make it effective.
Peggy Smedley:              
Is there some piece of advice, Fred, that you would give the market overall to say here's what I would suggest when you're first getting into it or as you continue to grow that you would tell somebody listening today and say, "Here's what I think you want to consider."
Fred Fakkema:               
It's really about doing your due diligence. Know what the requirements are, know that when you're trying to meet those regulations there's a way to do it and do it efficiently, but then you take that ... Such as a pre-trip, when you're doing a verified inspection and you know that the inspection has been done and done in maybe 15 minutes and done right, not only do you have that mind safe feeling that it's done right, you have all that data right at your fingertips and that's just one pre- and post-trip inspection. When you expand that to what is available out there, certainly know what you need.
Fred Fakkema:               
I think the biggest thing when I sit down with customers and we evaluate fleet and what type of equipment they want on a particular fleet, it's really what's the best to optimize that operation. One, what's required by regulation and then two, what will really save you money and provide that ROI for having that equipment installed. That, I think, is the biggest driver for equipment managers.
Peggy Smedley:              
Fred Fakkema, vice president of compliance at Zonar. Thank you so much for spending time with us. Is there a place that listeners should go for this podcast to learn more about the ELD mandate and anything they haven't complied before the end of the year?
Fred Fakkema:               
Yeah. They can actually go to zonarsystems.com and look at the experts and the whole team is listed on there. We have a ton of information that's available for anybody. The other site that I would recommend is FMCSA, just Google FMCSA, go to their ELD website. There is FAQs that are listed there, there's checklists listed there, a lot of great information on the FMCSA website.
Peggy Smedley:              
Well thank you again. Hopefully everyone has learned something about the role of telematics on the job site and how it can help create a safer construction operation. As we've learned, inspections play a role in compliance, realtime insights can play a role in compliance and everything else in improving safety and digital records can help with audits. Also we've given you a few tips on what to look for when investing in telematics solutions. Thank you for joining us today. I'm your host, Peggy Smedley.
Announcer:                     
And that's going to wrap up this edition of CONEXPO-CON/AGG Radio. If you like the show and think other people should listen too, make sure to subscribe and maybe leave a review on iTunes. We'll be back next time with another great guest. Until that time be sure to visit conexpoconagg.com/subscribe to sign up for our weekly e-newsletter. More than 30,000 other construction industry pros are already receiving news and insights to move their business forward.