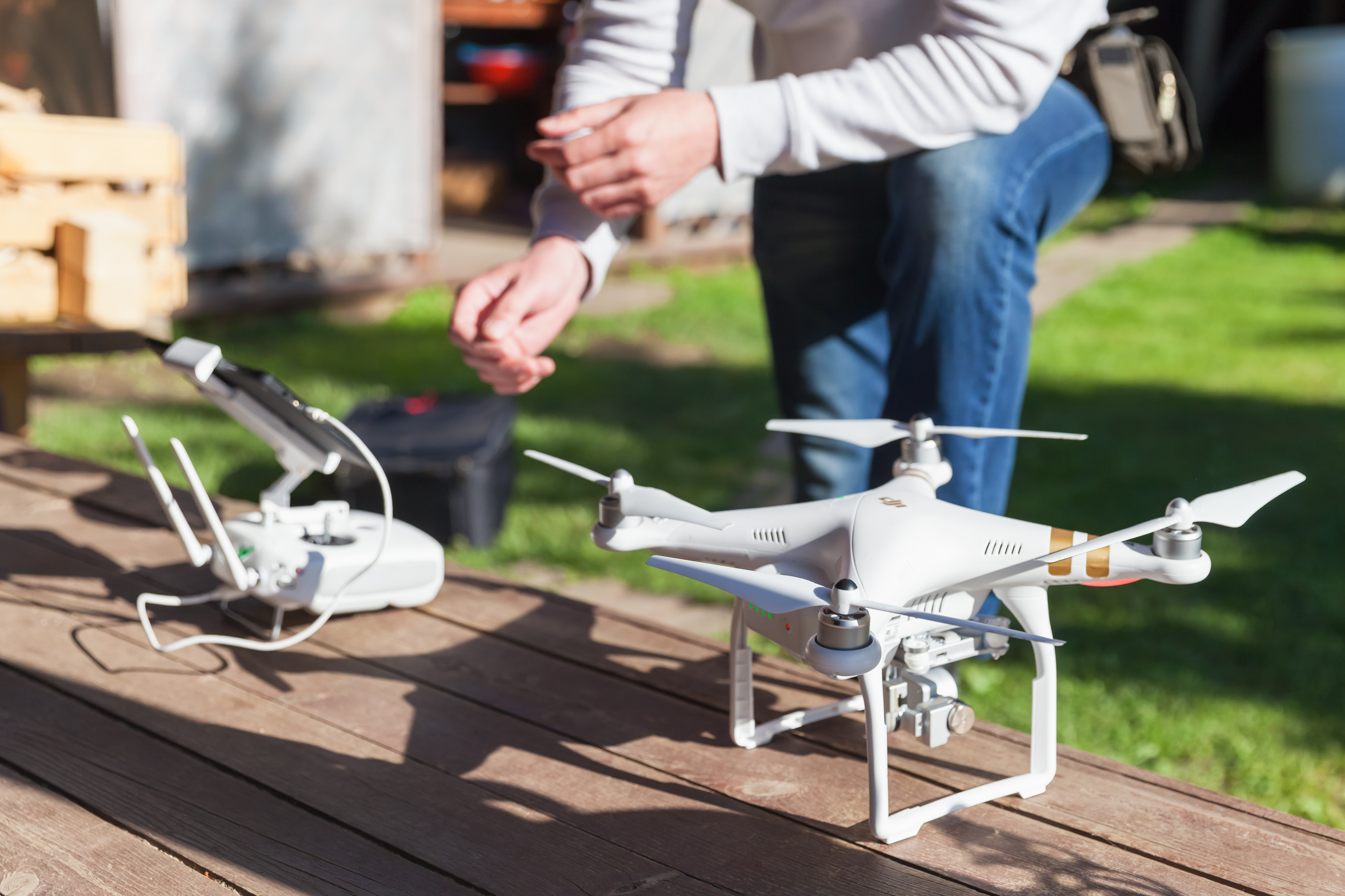 If you're a construction professional, you know the importance of tracking a project's progress. Without this information mistakes can go unnoticed and will be costly to fix later on. Regularly taking photographs and videos of your work can also be used for promotional purposes.
Unmanned aerial vehicles or systems (UAV or UAS), most commonly referred to as drones, can be particularly helpful in your surveying efforts. If you are learning how to use a drone, starting a program for your company, or simply need some drone flying or safety tips, we've got you covered.
How to Get Started with Drones
So you've heard about this new technology, and you want to embrace new tools for your business. The benefits of drones in construction are numerous but going forward you have to ask, what exactly do I want to achieve? The answer may vary with the size of your company, but you need to decide what kind of information you want to collect. You might use a drone as a tool for mapping, tracking progress, monitoring productivity, or shooting marketing materials. All of these uses will increase efficiency and deliver a substantial return on investment for your business. 
Next, you should look into the types of software available to store and translate your data into meaningful formats; for example, cloud-based systems that can hold a tremendous quantity of information and make it easily accessible across devices and locations. Other programs allow you to import to CAD or BIM for immediate markup or presentation purposes.
You should determine who you want to fly the drones and how many aircraft you will need. At this point, you will also be considering whether in-house or outsourced operators make sense for your current needs and funds. Research the types of drones that suit your needs because they vary for general land surveying, inspection, or surveillance.
In-House vs Outsourced Drone Pilots
If you want to establish an in-house program, you will have full control over the entire process and can initiate immediate flights. However, you will be held solely responsible for any breaches of laws or liability concerns. The start-up is costly – personnel is required to complete comprehensive training, and you will likely be purchasing the drones outright. If this is your choice, the upfront expenses will be lowered by frequent use and increased efficiency in the long-term.
Third-party drone services provide lower upfront costs, especially if you only need them for occasional work. You are ensuring that you get trained professionals who are up-to-date on Federal Aviation Administration (FAA) regulations and rulings. Liability is also on the operator and their company, not you. Many drone services also include access to their platforms for data storage and mission planning. You must consider if the cost, ease, and lack of culpability are worth the time spent planning and communicating flights paths, arranging appointments, and being potentially unsatisfied with the results.
Putting your Drone Program into Action
Now that you've narrowed down your goals, chosen your pilots or drones, and created your infrastructure to handle data, you're ready to take your company to the next level. Prioritize establishing an internal committee that determines how frequently you need footage, what videos or photos you must have, and when you expect to receive and implement this data.
This committee will direct your in-house or outsourced pilots on their objectives. They will also be responsible for researching, testing, and integrating the equipment and data management systems you choose, so your team can adapt and take advantage of these innovations.
Drone Flying Safety Tips
Whether you've gone the in-house or outsourced route, you need to know the proper flying practices. Here are some general drone flying tips to ensure your pilots are responsible and safe:
Before flying, inspect your drone for correctly functioning parts or any damage
Remove your battery when the drone is not in-use, or you are doing maintenance
Keep your fingers and clothing clear from the propellers
Consider delaying flights in poor weather conditions including rain, snow, and extreme wind because they can damage your drone and affect the quality of shots taken
Plan your flights extensively and understand the area to be covered and the restrictions on where you can stand while piloting
Be aware of animals or people in the area you are shooting
Follow the Drone Line of Sight Rule, which means ensuring you always have a visual of your device, are aware of obstacles and dangers, and limit your distractions
Have a complete understanding of the FAA rules and keep yourself updated
Be Aware of Drone Regulations
Drones used for business purposes has grown incredibly over the past decade. Accordingly, the government has set policies to regulate when, where, how and by whom they can be operated. The FAA recently ruled on a comprehensive list of terms. When implementing your program, consult the full FAA regulations. The following are some rules that you or your third-party provider must comply with:

Training and Registration
Complete an Aeronautical Knowledge Test, pass a Transportation Safety Administration (TSA) security screening, and receive your Remote Pilot Certification through the FAA
You must be over 16 years old and be of sound mind and body to operate permitted drones
 With medical exceptions, you need to speak, read, write, and comprehend English
Register your drone with the FAA, which costs $5 or can cost up to $250,000 in penalties
Before and During Flight
Drones must weigh less than 55 pounds
Your drone must not exceed speeds of 100 mph or a flying height of 400 feet
Adhere to the Drone Line of Sight Rule, which includes flying in daylight
To respect the privacy and safety of citizens, you cannot fly directly over people
Fly in Class G airspace. If you plan on inspecting areas near airports, you must notify the authorities in advance, and if you are given the go ahead, you must always yield to manned aircrafts
You need to follow these rules to avoid penalties, practice safe and smart flying, and establish an effective program for your company.
Make sure you carefully weigh all the options before buying any drones. Define your goals for using this technology, and whether in-house or outsourcing suits your needs, and adjust as your company grows.
Most important is making sure your drones are registered, your team is appropriately qualified, and they follow the safety protocol. Now you have all the drone tips that you need to invest in your business and get your drone program off the ground!
Join over 32,000 industry peers who receive construction industry news and trends each week. Subscribe to CONEXPO-CON/AGG 365.