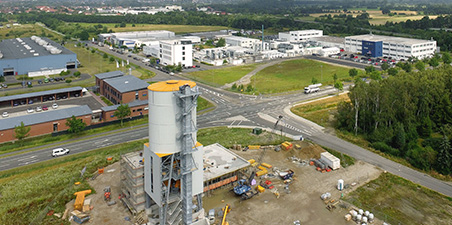 Drone usage on construction jobsites is growing—as is another trend related to drones. Many construction companies are foregoing training their workers on how to operate drones, and as a result, they are outsourcing the task.
Drone Outsourcing Options
One new example of this comes from DroneDeploy, which recently announced its Drone on Demand solution, which lets customers plan a flight mission using DroneDeploy's cloud platform and then request a certified professional pilot from DroneBase.
The company will then go to the site, perform the flight, and collect aerial data. After planning a flight and requesting a pilot, photos, maps, and 3D models appear within 72 hours. This enables construction companies to make informed decisions based on the data—without actually having to fly the drone themselves.
As another example, Measure, a drone-as-a-service company, is providing turnkey and toolkit commercial drone solutions to acquire, process, and deliver actionable aerial data to enterprise customers.
Looking even further down the road, perhaps construction companies won't need to outsource this area of the business at all, rather the drones will fly themselves autonomously. Skydio recently announced a self-flying camera for consumers. A service like this just might be invaluable to the construction industry as well.
Until that time, there are a number of services available for construction companies that want to outsource flying drones on projects.