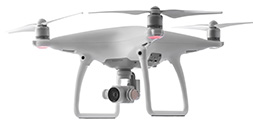 An interview with Kevin Grover, Principal with Stantec
An enterprise drone program has enormous opportunities for companies to access data, increase efficiency, improve worker safety, and identify new business possibilities. But implementing a drone program is a significant process—from researching drone requirements and obtaining executive buy-in, to properly managing the technology and using the data effectively across the company. Edmonton, Alberta-based Stantec, is one of the top-three design firms in the U.S., specializing in engineering, architecture, interior design, landscape architecture, surveying, and implemented a drone program three years ago.
Kevin Grover, principal and unmanned aircraft program manager at Stantec, spearheaded the effort to use drones for more efficient surveying and mapping. Soon, however, the global company saw even greater business potential. In this interview, Grover explains how its drone program moved from the wish list into the sky, and the lessons learned along the way such as ensuring safety and regulatory compliance, how to educate operators, how to manage the technology, and effectively leverage the data.
Q. The appeal of drones and their multiple uses is one of the biggest challenges for enterprises—as various groups within a company may take interest in implementing a commercial unmanned aerial system (UAS) program into their workflow, how do you recommend companies get started with the evaluation process?
Grover: "We have always embraced new tools and technology in our work. At first, a drone was just another new tool, bought on a whim three years ago for survey and mapping. We knew nothing about them, but quickly realized the potential value. But at the same time, with 23,000 people in 400 offices, we knew it wouldn't be feasible to put drones in every office. As interest grew throughout the firm, we decided to form a UAS Governance Committee to look at how we could pursue UAS opportunities.
We learned a lot through that process. Every sales guy was willing to sell a drone, but they didn't provide guidance about navigating the legal hurdles needed to operate multiple drones. We spun our wheels trying to figure out the aviation regulations in Canada and implementing training, and it turned into a large learning process for us.
From there we took our time in researching, testing, and buying software and equipment. We are still working on a better process for determining which drone hardware should be purchased, but we tend to approach things from the opposite direction: Find out what data is needed, what type of sensors will give us the data we need, and then determine which system will work for us.
We have so many needs for data collection in our firm, from survey to GIS to wildlife monitoring to gas detection, so we had to carefully select the areas we wanted to invest in commercial drones. We decided to focus on a few areas that we knew would make sense, and we took our time to really understand how to use the technology in a safe way, focusing on the end data products and the software that we needed to obtain that data. Our goal was to put the right systems into place, while doing so safely and legally."
Q: Operating an unmanned aircraft comes with risks, and therefore safety regulations, unlike any other new technology implementation. What systems did you put into place and how did you introduce these new processes to your organization?
Grover: "As a large firm, we have always been a bit risk averse, however, our leadership team quickly realized the potential drones could offer a commercial design firm and we knew that if we didn't get into this space at all, we would be left out in the long term.
It is an ongoing commitment to education in our firm, and that has been a huge part of my role. We have had to make our staff aware of the technology, aware of the data that can be derived from it, and most importantly, educate staff on the various regulations involved in the commercial use of drones. This has been a challenge, but we are constantly sending reminders to educate and update our staff as much as possible.
Moving forward, we are continuing our UAS Governance Committee, but also developing a UAS Operations Committee that will manage ongoing operations of our drone fleet. Any new operators or pilots will be part of this committee, which will be responsible for safe UAS operations within the company."
Q: As you have discussed, an enterprise drone program goes far beyond the hardware. What are the most important tools you use to run your program now?
Grover: "There have always been huge misconceptions about what drones can do, as many of them have very basic sensors with point-and-shoot cameras, so we really focused on leveraging software to determine what type and quality of data we could collect.
For us, the most important tools are:
Spatial tools like Google Earth and Bing Maps for site planning (determining terrain and obstacles).
Cloud data survey solutions to process images, maps, and models. Our recent purchase with Skycatch is a great fit for our survey needs.
Flight planning, logging, and reporting tools for up-to-date airspace information. We started using Skyward as a flight planning tool because it is one of the only platforms with current airspace information in Canada. We expanded to leverage the Skyward planning tools; the Take Flight package has been essential to us and we are formalizing our Operations Manuals with them. We hope to work on furthering their functionality over time.
Building an internal website to educate and share information. SharePoint allows us to share information with Stantec employees on services, processes, and plans, and is a great way to get our teams across the company to share information.
We have many other initiatives underway now that will require different cloud-based solutions and different drones, so it will be an exciting year ahead of us."
Q: As with any investment, showing the financial return of a drone program is an important consideration. How do you demonstrate ROI to your executive team?
Grover: "We had great corporate support from the beginning to ensure we started safely with a compliance policy and operations manual and proper operational training. We continue to invest to ensure we have proper cloud data solutions like Skyward as well as Skycatch for our data processing and analytics needs. These are just our first steps into this business, and we are focusing on the data analytics side of things to give us faster and more actionable data, and eventually, many of our staff will have a drone in the field just like they will have a tape measure or camera. Our firm realizes the importance of investing in new technology, and drones have been a logical area of growth for us."
Q: What advice would you give to someone championing a UAV division within its company? What would you do differently if you were to start again?
Grover: "For Stantec, there isn't a lot we would change if we were to start again. We didn't rush the program, we took our time and thought it out, and we will continue to do so moving forward. Since we are a large design firm with multiple business lines, there are many offices and people who still don't know how far along we are, nor what it even takes to get into the drone industry.
Prioritize what your end goal is for the service you want to offer. Just wanting to start a drone program isn't going to work in the long run unless you can map out the steps needed to achieve your goals. Once your goals are outlined, look at the data you want to collect, how it will be managed and the software that will be needed, then pick a drone or several. But also realize drones are an ever-changing space, so realize there will be continuous changes even after the program is in the air."