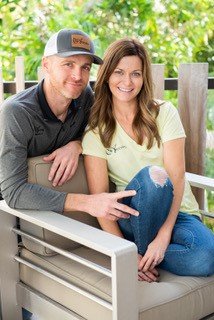 Auman Landscape is a husband and wife owned landscape/hardscape/construction business that specializes in custom designed landscape and outdoor space. Based in Carroll, OH, which is about 20 miles from Columbus, OH, it serves the Fairfield county region, Lancaster, OH, and select Columbus clients. Services include paver installation, retaining walls, outdoor living spaces, landscape lighting, landscape consulting, landscape plantings, landscape maintenance, drainage solutions, water features and pool areas.
In addition, the company does commercial stormwater management work all over Ohio. Another part of the business is its Hardscape Academy – an online resource for professional hardscape training and education.
There are benefits to workforce development and upskilling one's industry, stress Auman Landscape owners Caleb and Brittany Auman. Among them, improved retention and a more knowledgeable and productive workforce.
The Academy grew out of the company's social media following, explains Caleb. Its social media channels "have grown very rapidly and we were constantly getting questions about how to do hardscaping, like how to install retaining walls, brick pavers. Things like that. We started to produce training videos and that lead to the Hardscape Academy."
The Academy is where the company hosts its training courses and content that it sells. It continues to provide a lot of training for free on its social media channels.
As for developing its workforce, Auman Landscape takes advantage of online training material, Brittany says. Plus, its workers "participate in the creation of our own training videos which incorporate industry standards and best field practices. In doing these videos, we all cross train each."
Caleb has been involved in the industry for more than 20 years, running his own company for the first 10 years. In 2009, he and Brittany founded Auman Landscape. While Brittany had been working in the insurance industry, she notes that she has always had an interest in landscaping and took several landscaping courses in college.
BLURRED TRADITIONAL WORK-LIFE BOUNDARIES 
Running a business is a daunting undertaking. Running a business with one's spouse adds unique challenges and additional complexities, concur Brittany and Caleb.
"It is a partnership and some partnerships can be really challenging, Caleb observes. "But having our business is a huge connecting point for us. We both enjoy running the company and dealing with the challenges that come with it.
"The problem is some of those challenges also go home with each of us. I joke that on days when things are good, it is great. On days when things are bad, it is terrible."
Partnering with one's significant other can distort traditional work-life boundaries and blend business and personal roles, says Brittany. That can potentially create all sorts of problems. "Good communication and having mutually agreed upon specific business objectives and goals can avoid many of those problems."
Problems can also be dodged by having a clear understanding of who is responsible for what, Caleb adds. Job duties and responsibilities are well spelled out and defined.
"However," notes Brittany, "because we work together most of the day, I can see that if he is getting behind on something or seems overwhelmed with a project, I can step in and fill his shoes and he can do the same for me."
She says it can be difficult to separate work time and family time and to not always talk about work at home. "We have to be very diligent with our time, especially now that we have three kids. We try to have a for-sure quitting work time for the day. Before we had kids, we would talk about work until we went to bed and then begin again when we got up at 6 a.m."
SECRETS TO A GOOD WORKFORCE
Auman Landscape has four full-time employees and some part-timers. There is little turnover. When the company does need to hire, it relies on networking by finding good people through other good people.
The company is "big on branding" because it differentiates Auman Landscape from the competition, points out Caleb. "We have a unique company logo and we have that on our vehicles and equipment and on job and yard signs. We sponsor baseball teams and have logoed banners out on sports field. Anything to build local brand recognition."
Brittany prescreens job applicants over the phone. To get hired, the applicant works onsite alongside the company's workforce. They offer their input on whether the applicant is suited for the job.
"When hiring new people, especially young workers, it is really important to educate them as best you can on whatever they will be doing," advises Caleb. "Do not just put them on a machine or a project and then get mad at them when they come up short. Generally, any failure of a team member is a failure of management, not so much the individual.
"Some worry about training workers and then they leave. What is worse than that is when you do not train your people and they stay."
As a small company that is continually learning and growing, "good communication is paramount. It is crucial that you make certain you are understanding your employees and they are understanding you."
One of the things that has been "incredibly beneficial" for the company is having an employee manual, he adds. It clearly communicates such things as Auman Landscape's policies, procedures, guidelines, paid time off and benefits.
THE VALUE OF CONTINUAL LEARNING
Both Caleb and Brittany emphasize the importance of continual learning because the workplace, equipment, technology and the landscaping industry are constantly changing. That is one reason they attended, for their first time, CONEXPO-CON/AGG in 2020. A massive event held every three years in Las Vegas, it is North America's largest construction trade show.
"It was awesome," recalls Caleb. "We thoroughly enjoyed it. It was a good chance to not only learn but to meet with so many equipment manufacturers and technology suppliers. We also got to meet with people we knew from across the country but had never talked to in person."
"There was so much for us to see and learn at the show," Brittany adds. "On our  social media channels, Caleb tries to provide as much value and good information as he can, even if it is not directly related to the landscaping or lawn care industry. He would post more than 100 stories a day while we were at CONEXPO-CON/AGG."
They both agree there is "true value" in attending CONEXPO-CON/AGG. Along with the opportunity to see new products and innovations, there is the benefit of building relationships face-to-face and the many networking opportunities, both of which can be mutually beneficial, they note.
For more landscape design and hardscape construction tips, follow Auman Landscape on Instagram.
Join more than 40,000 industry peers who receive construction industry news and trends each week. Subscribe to CONEXPO-CON/AGG 365.