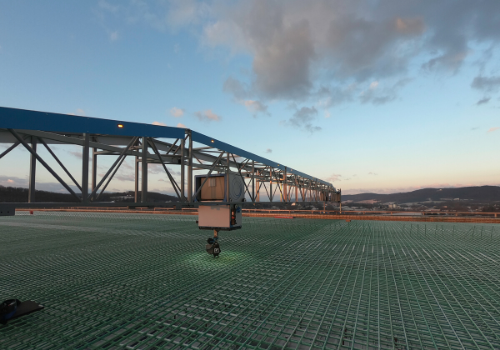 The number of new technologies for construction exploded over the past few years and investment in U.S.-based construction technology startups reached an all-time high of $3.1 billion in 2018, compared with $731 million in 2017, according to Crunchbase data. This year, adoption of disrupting technologies is expected to accelerate as start-ups transition from testing to full commercialization of their products. Driven by cost-overruns, schedule delays and labor shortages, the construction industry is overdue for investment in technologies that can create competitive advantage.
Jay Snyder, Technology and Innovation Practice Leader for construction consulting firm FMI, believes that contractors have begun to recognize that they need help developing a tech road map and that they need to be more deliberate in how they are spending tech dollars. "The conversation around leveraging data for insights across the industry is really catching on. The challenge is that many people don't have an integrated technology stack, a data strategy, or data stores," says Snyder.
Three technologies that are promising for 2020 are artificial intelligence, robotics and virtual/augmented reality. For each technology, we've highlighted solutions that are commercially available and identified construction firms that are already employing those solutions.
ARTIFICIAL INTELLIGENCE
Artificial intelligence (AI) promises to create new efficiencies a wide range of applications such as project management, fleet management, documentation and estimating. According to a 2019 KPMG Global Construction Survey, more than 52 percent of the industry's innovators (those who scored within the top 20 percent on a future-ready index) believe that within five years, machine learning, cognitive machine learning and AI will be commonplace. Twenty-four percent of these innovators have already adopted AI. 
Companies to watch include:
Alice Technologies
Briq
Disperse
InEight
OpenSpace
Togal
Uptake
"Any solution that is going to create capacity is a win," says Snyder. "AI doesn't need a lot of assessing. Contractors don't need to understanding the back end of AI platforms. Instead they should appreciate enhanced awareness that drives practical use cases." According to Snyder, AI solutions don't cost any more than legacy solutions, but they have an intelligent back end that can alleviate much of the manual burden for superintendents and estimators, for example. The challenge will be creating the huge data sets needed to leverage the technology.
The global market for artificial intelligence (AI) in construction was valued at USD $398.6 million in 2018 and is anticipated to exhibit a compound annual growth rate (CAGR) of 34.0 percent from 2019 to 2025, according to GrandView Research.
VIRTUAL REALITY AND AUGMENTED REALITY
Virtual reality makes it easier for project owners, contractors and designers to visualize the built environment before construction begins, and for equipment operators to learn skills in a no-risk environment. 
Augmented reality provides a digital overlay to a construction site, offering data or information to help improve quality and productivity. Collaboration is easier and less time consuming.
Safety training is yet another important application that becomes more interactive and effective with VR and AR. In the 2019 KPMG Global Construction Survey, 59 percent of innovation leaders in construction reported implementing virtual reality while 45 percent have implemented augmented reality.
According to a study by Kenneth Research, AR and VR are expected to grow into a $409.99 billion market by 2020– with a CAGR of 54.91 percent. While the strongest demand for the technologies currently comes from gaming, live events, video entertainment and retail—adoption is expected to spread to a diverse mix of industries including construction, real estate, healthcare, education.
Solutions to watch in construction include:
Dalux Field
IrisVR
Serious Labs
Trimble
vGIS
Visual Vocal
ROBOTICS
While just 10 percent of construction industry innovators are currently using robotics, 2020 is likely to be a pivotal year. "According to Research and Markets, the construction robotics market will be valued at $190 million by 2025, with an annual growth rate of more than 20 percent.
Tight labor markets, an aging workforce and low margins are driving contractors to look for more efficient ways to automate many aspects of the construction process, from excavation and building layouts, to rebar tying and brick-laying.
The companies to watch in construction robotics are:
Built Robotics
Construction Robotics (SAM and MULE)
Dusty Robotics
Holobuilder
Scaled Robotics
Tybot
"I think 2020 is the year for robotics," says Snyder. "Instead of people looking at robotics as an R&D effort, construction companies are beginning to realize the technology is mature and safe enough to deploy on real projects among workers. With the advent of 5G technology, latency, and to a degree poor connectivity, will be completely eliminated." According to Snyder, the industry has reached its maximum capacity and efficiency using traditional tools. Process optimization and new technologies will be needed to meet increased demand in a market with a flat or declining workforce.  
COMPANIES TO WATCH
Technology

Company

Application

Company Notes*

Contractors Using It

 

 

 

Artificial Intelligence

Alice Technologies

Construction planning software uses AI to help firms understand the impact of key decisions on project cost and duration

Reduce project costs by $30 million on a typical $500 million project

 

$13.4 million in funding**

 

 

AF Gruppen
Parsons

Briq

Data analytics software powered by AI, machine learning and blockchain technology, helps contractors predict the success of projects as well as identify demand for new projects

$6 million in funding**

McGowan Gordon Construction
Schuchar
Mortenson

 

Disperse

Software takes 2D and 3D visual data from construction sites and uses AI to create a digital twin and provide actionable insights.

Reduces schedulers time by 60% and project manager's time by 25%

 

$16.7 million in funding**to support North American expansion

Meyer Bergman
Lodha
Mace and Canary Wharf Contractors

 

InEight Schedule

 

AI captures insights and learnings from prior projects and uses the stored knowledge to make informed suggestions during the planning process

30,000 users in 700 companies

 

Acquired Basis Software and QA Software in 2018

 

Kiewit (Wholly-owned subsidiary)

 

 

Open Space

Creates navigable 360-degree photos of construction sites with camera attached to hardhat.

Maps images to project plans with no corrections or location pinning.

20x faster than manual photo capture

 

$17.5 million in funding**

Suffolk Construction

DPR Construction

Level 10 Construction

 

Togal

 AI-based automated takeoff software platform that uses flat PDF files.

 

 

Coastal Construction

KD Construction

 

Uptake

AI platform for fleet management aimed at equipment dealers helps fleet owners utilize preventative, predictive and prescriptive maintenance

CNBC Disruptor 50 Honoree 2019, 2018, 2017

 

No. 3 on Forbes inaugural AI Top 50 List

 

 

Blanchard CAT
Ohio CAT
Virtual Reality/
Augmented Reality

Dalux Field

A supervision, quality assurance and safety inspection augmented reality app for construction. BIM models are uploaded, and when the jobsite is scanned using a smartphone camera, a 3D map is created, anchoring the model in the physical world.

15 of the 50 largest contractors in Europe are using Dalux

 

Multiplex

Straybag International

Ferrovial

IrisVR

 

IrisVR Prospect allows building designers and contractors to take 3D plans and blueprints and turn them into VR experiences viewable on devices like Oculus Rift, HTC Vive, GearVR and Cardboard

Iris Scope converts panoramic images into VR experiences for smartphones

$13.7 million in funding**

Mortenson

Thorton Thomosetti

HDR

Black & Veatch

Serious Labs

Combines instructional design, game mechanics, virtual reality and simulation technologies to train employees on jobsite safety, operation of cranes, mobile elevating work platforms, and forklifts

$7.9 million funding**

United Rentals

Industrial Training International

 

Trimble

Site Vision is an outdoor augmented reality system that allows users to explore complex 2 and 3D models with accuracy, both above and below the ground

Trimble XR10 with HoloLens 2 is compatible with a standard hardhat

Trimble Connect for HoloLens connects project data from field to explore and interact with BIM models

 

 

Site Vision:

Skanska

ONEC Group

Fletcher Construction

 

Trible Connect:

Acciona

BP

Consolis

AECOM

Gensler

CSCEC

 

vGIS Construction

 

Enables users to place BIM designs in the real world

90 percent of users were able to detect clashes faster

 

Skanska

Stantec

Tighe & Bond

vGIS
Utilities

 

Transforms GIS data into augmented reality displays and holograms overlaid on a view of a physical job site

 

Visualization of water pipes, sewage systems, gas and electrical lines, improves safety and productivity

Toms River Municipal Utilities Authority

Robotics

Built Robotics

An AI guidance system that can be installed on existing construction equipment from any manufacturer, turning excavators, bulldozers, and skid steers into fully autonomous robots

Unveiling at ConExpo-Con/Agg 2020 in Las Vegas with remote demo

 

$48 million in funding

Mortenson

Independent Construction

Sunstate Equipment Co.

Construction Robotics

SAM

SAM (Semi-automated mason) is a brick-laying robot designed and engineered guided by laborers

Lays bricks six times faster than conventional methods; reduces lifting by 80%

 

$75,000 in funding**

Barton Malow

Leidal & Hart Masonry Contractors

Wilhelm Construction

Avila Masonry

Clark Construction Group

Berich Masonry