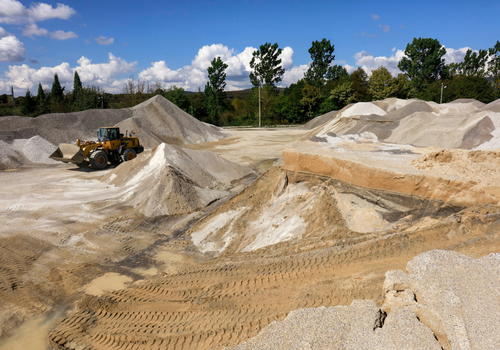 A few years ago an article on construction site sustainability would have been a review of the basics. Not today. Sustainability has gone beyond the next level and leapt into a form that is far more comprehensive and demanding. Contractors are now expected to be up to speed with these new standards. If you need a review of the basics, the EPA has two relevant pages. The Sustainability page gives a good overview and has links to many subtopics. There's also a page specific to the management of construction and demolition materials.
We spoke with Tommy Linstroth, CEO of Green Badger, about the current state of sustainability. The company provides a SaaS (software as a service) product they say is "Your comprehensive green construction compliance platform." Linstroth says that the new demands of sustainability are found in the acronym ESG, which stands for environmental, social, and governance. ESG has been of interest to investors since a company with good ESG data is more likely to succeed and prosper. But ESG has spilled over into other areas, including construction. "If you haven't been asked about it yet, you soon will be," says Linstroth. He expects 2023 to be a year where ESG greatly expands and establishes a powerful influence in construction. ESG is proactive and supersedes earlier efforts, such as Corporate Social Responsibility (CSR), which was reactive and became prominent in the early 2000s.
ESG closely defines a company's sustainability in the three areas cited. "It's not intended to be critical or a rating system," says Linstroth, "but simple accounting." Contractors can outsource their ESG compliance monitoring or do it in-house using tools such as those available from Green Badger.
ESG flows both ways from the contractor. Contractors must know the ESG information of suppliers, subs, and other entities involved in a project. Contractors will also be asked for their ESG information, especially by customers seeking to project a green image or those receiving funding related to their environmental or social performance.
While ESG is rapidly evolving in the construction marketplace and is expected to advance even more quickly soon, it is still in its early days right now and little has been formalized. "It's okay to say you don't have all the information, or that there are gaps you're still trying to fill," says Linstroth. "It's not okay to shrug your shoulders and say, 'ESG…what's that?'"
To clear the air, here is an overview of the components ESG.
Environmental
Linstroth says the big issues here are energy consumption, waste generation, carbon generation, and water usage. Challenges include the lack of standards given variations in project types, geographical locations, and other factors. Waste can be readily quantified, but others not. Not even energy? "What if you're connected to a power block that serves all contractors on site? How do you know how much of that total electrical usage is yours?" And accurate energy consumption includes fuel used by employees in their commutes. That is, after all, part of your carbon footprint because those persons are making those drives solely because it's required by you, their employer.
The environmental aspect is the one most closely scrutinized and also with the most intricate components. An Environmental Product Declaration is one example. An EPD is a type III environmental declaration that complies with the ISO 14025 standard and evaluates a product's environmental performance over its entire life cycle. Products in some categories are open to certification by standards groups such as UL and FM. This information from your suppliers, whether of sand, gypsum, dimensioned lumber, or any other product, will be essential to establishing your ESG profile.
One resource that can be used by contractors, their suppliers, and their customers is the Embodied Carbon in Construction Calculator (EC3) tool, developed by the Carbon Leadership Forum with input from nearly 50 industry partners. The CFL website says that by using EPDs, "the EC3 tool can be implemented in both the design and procurement phases of a construction project to look at a project's overall embodied carbon emissions, enabling the specification and procurement of the low carbon options."
Social
1. One important factor here, says Linstroth, is showing diverse participation throughout the construction team. "You should be able to document your team composition with minority- and women-owned business enterprises," or MWBE. This applies to subs, equipment, and material providers, and other entities with whom you do business. While this is commonly tracked in publicly-funded projects, ESG makes this an even higher priority.
2. You should also show local participation, "and you get to define 'local,' whether that's office distance from the jobsite or a geographic region." Project-based philanthropy, whether in dollars or hours of labor, are good examples. You may support a school's football team financially. Your workers may participate in lakefront cleanup days. It all counts.
3. The third component of social sustainability is worker wellness. "Show that you have taken actions to improve ergonomics, isolate workers from noise and dust, ensure they get breaks, and remain hydrated." Equipment manufacturers have gone to great lengths in recent years to improve the operator's environment and they've been quite vocal about it. You can bring in their accomplishments as part of your story.
Governance
"This is simply having plans and procedures in place," says Linstroth. You've already been doing things that fall under Governance if you've been providing eye wash stations and a shelf for SDS binders. Governance expands on those to include such things as procedures for limiting engine idle time, which can be as simple as enabling that feature on equipment so equipped.
"Governance is organizational, policy-centric and of the three topics is the least discussed in the field," says Linstroth.
Don't be dismayed. ESG seems daunting and in some ways it is. But there are tools available to help with ESG and embracing ESG as part of company policy now will prove far easier than ignoring the matter until compelled to comply and trying to play catch-up later.
Read Next
Steps to a More Sustainable Jobsite
Podcast Episode 89: Advancing Cement & Concrete Sustainability with Connected Devices