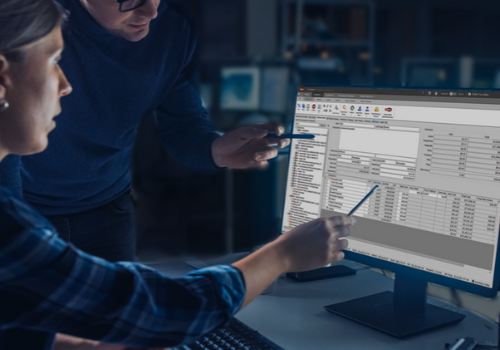 Put down your pencils, your paper and your Excel spreadsheets. It's time to get serious about how you put together construction bids. In the high-risk and low-margin construction business your success depends on not only the accuracy of your bids, but how many bids you are able to complete.  More bids submitted generally translates into more bids being won.
Use Construction Bid Software for Greater Efficiency and Accuracy
The two biggest benefits of cost estimating software are efficiency and risk avoidance. "Good software can help two estimators do the work of five," said Tom Webb, vice president of Products for HCSS, which offers HeavyBid cost estimating software for heavy construction.
"Software makes the process of creating a bid faster and easier to replicate," said Patrick Reitz, product manager for B2W Software, an estimating and bidding software provider for heavy construction. Templates enable users to build cost estimates based on existing projects and centralized cost data, which saves time and improves accuracy.
Webb said that once you have more than one estimator, you run into problems with using spreadsheets. "The estimator using the spreadsheet may not understand the calculations and that can lead to mistakes," he said. 
When using software, calculations are offloaded to the computer for greater accuracy. "There is intelligence built into the system that prevents you from making errors," said Reitz.
Streamline the Construction Bid Process with a Single Platform
The days of getting bids from subcontractors via fax may be over, but email isn't much better at helping you manage a process with many different pieces. "When everything is in one place you streamline the whole process," said Caitlin Stern, who manages product marketing for Procore's Preconstruction Software that includes prequalification of contractors and bidding. Subcontractors bid off the most current set of documents, users can filter by qualified bidders, add bidders and send invitations to bid. "It makes the process easier for both parties," said Stern.
When subcontractors submit bids directly into a platform, the general contractor removes the risk of making data entry errors. While you can't force subcontractors to adopt technology, Procore has seen usage grow from the first year to the second year.   
"Even if you still have to enter some bid information manually, there is still value in having all the information in one place, especially when you can then convert your winning bid to a subcontract or purchase order with just a couple of clicks," said Stern.
Use Field Data to Improve Construction Bid Accuracy
It has only been in the past few years that estimators have been able to access actual production history to help them prepare bids. Software is helping to facilitate that. Estimators can see what the field has accomplished. They can compare construction methods and try to figure out an easier way to get something done so they can lower the bid. "Now that estimators have access to field data, they can make better decisions," said Webb.
Michelle Turner, product market manager for Procore believes preconstruction has traditionally been one of the most siloed areas of construction. "If the preconstruction team is working in a different system than the production team, they don't have access to information on subcontractor performance," said Turner. "Working on the same system facilitates selecting the best partners."  
Tips for Selecting Construction Bidding Software
When it comes down to selecting bidding software it's easy to be overwhelmed by the choices. If your work is focused in a single area, you can narrow your options by directing your attention to software geared to a specific market such as highway/heavy construction or building. These options are likely to have templates that are specifically designed for your type of work.
"Ease of use is the number one thing you should look at," said Reitz. "You want something that serves both advanced users and those less computer savvy."
Another important factor is how well the bidding software works with other programs your company uses such as project management software, accounting software and field technology. "Determine whether data is easily accessible from other parts of the application without manually copying files," said Reitz.
If you are still working in spreadsheets, it's time to give your estimating team the tools it needs improve their efficiency and accuracy. Here's a recap of the three providers we spoke to for this article:
Construction Bid Software

Markets Served

Differentiation

Firms Using

All heavy construction sectors and specialties

Advanced features, ease of use and seamless integration with operations, accounting, DOT and other systems.

Not available

Crew-based Infrastructure Construction

The depth to which you can build templates makes the software more efficient than others in the industry.

4,000 contractors
50K users

General Contractors, Subcontractors and Owners

 

A single platform that connects owners, general contractors and specialty contractors.

6,000-7,000 companies*
** includes all products, not specifically bidding software