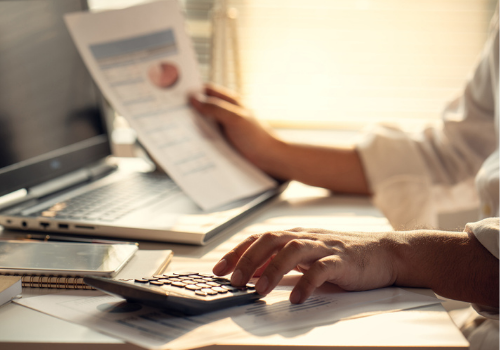 You can only build your construction business if its financially sound. Being financially sound begins with good money management. Improve your management with a great accounting software.
Finding an accounting software can be as daunting a task as completing your taxes, so here are tips on finding the right construction accounting software followed by descriptions of the top software for construction.
 1. Identify your accounting needs.
Only after you've identified the features that are the most important to you, can you find the solution that's right for you.
"You'll want to have financial tools that help you keep track of billing right down to the last penny," says Nick Pitsch, Customer Success Training Coordinator, Buildertrend. "Buildertrend is the place for managing all aspects of an individual project, so not just scheduling, to-dos and daily logs, etc., but all financial elements from the original estimate down to job costing, and we provide a number of ways to invoice off of related job costs (estimate, selections choices, change orders and bill and purchase order payments) so Buildertrend clients can effectively manage their cash flow."
 2. Look for compatibility.
Ensure that you have the system requirements to run the software and that its compatible with software that will interact with is, such as a project management software or bidding and take-off software.
"It's important to look at usability and the software's ability to integrate with other products you're currently using or might use in the future," says Dustin Anderson, Vice President of Construction and Real Estate, Sage.
 3. Find one that's easy to use.
Demo the software if you can. Read reviews to learn which software people find easy to use.
 4. Look for flexibility.
Accounting software companies offer different packages to meet the needs of different types of companies, but they're not tailor-made for your company. Choose an accounting software that can be customized to meet the particular demands.
 5. Information on the go.
You're probably not sitting at a desk for most of the day, so you will want to access information from your phone.
"In today's environment, a solution that provides flexibility and remote access is essential," says Anderson. "Consider whether you want a native cloud, hybrid cloud, or on-premises solution along with what your options are for cloud hosting and mobile integration."
6. Consider the relationship.
"When purchasing new software, not only should your vendor be someone you "like" but also someone whose long-term goals align with your own" says Steve Antill, Chief Revenue Officer at Foundation Software. "You're buying a relationship with your vendor as much as the product itself."
Here are the top accounting software for construction companies:
With Buildertrend, the schedule is the backbone of the program and it has the ability to link items to it. Users can view updates from daily logs right on the schedule, within which client and subcontractor communication can take place and be documented. Owner invoices and PO payments can be schedule based on job progress creating a bridge from field schedule to office accounting. And the app allows users to manage finances via a mobile app.
CMiC offers features purpose-built for the construction industry that provides real-time job costing reports, budgeting, corporate and project forecasting, general ledger, accounts receivable and accounts payable. Users also have complete control over the software's Human Capital Management and Asset Management and integration between these many functions creates a single source of data for all of a company's financial activities. Two features that make this solution stand out are its features: automated financial controls, which automates mundane and repetitive tasks, and corporate risk management, which addresses compliance.
With COINS users can easily and securely handle discounts, charge-backs, pre-payments, partial payments, and voids; easily and securely, enter and monitor contract labor; and generate lien waivers. They can automatically update job costs with billings and cash receipts, access to customer history and account information, and determine job profitability. They can retrieve costs, quantities, or productivity measurements, automatically calculate invoice amounts (based on multipliers, price schedules or billing rates) and bill and track change orders separately from the base contract.
Foundation is job cost accounting software built specifically for contractors and the construction industry. It combines what you'd find in a standard accounting package with construction-specific features like job costing, payroll, project management, inventory tracking, equipment use, and more. With fully integrated modules, data flows as needed between teams and areas of the software, eliminating the need for double-entry and creating a centralized source for accurate reporting. Paired with Foundation mobile, users can also submit and approve timecards and sync job data to the office right from the field.
This accounting solution streamlines workflows and connects a company's accounting team with the project management team. It gives users the ability to access more than 50 reports and provides customizable, professional financial reports in real-time. The software decreases time spent processing accounts payables and automatically generates accounts payable invoices when subcontractors submit pay apps online. Premier enables users to merge all of the costs and pending accounts payable invoices within a billing cycle and is part of suite of Jonas Premiere products.
Sage accounting products give users complete visibility into, and control of, all project financials. They help users easily stay on top of job and labor costs, change orders, accounts receivables and payables, as well as purchase orders, work orders, and invoices. Customizable alerts warn when compliance issues or insurance issues arise. While automated payroll functionality manages multiple unions and pay scales, along with state and federal requirements. Sage solutions are user-friendly, scalable, and easily integrate with the other top industry solutions.
Join more than 40,000 industry peers who receive construction industry news and trends each week. Subscribe to CONEXPO-CON/AGG 365.