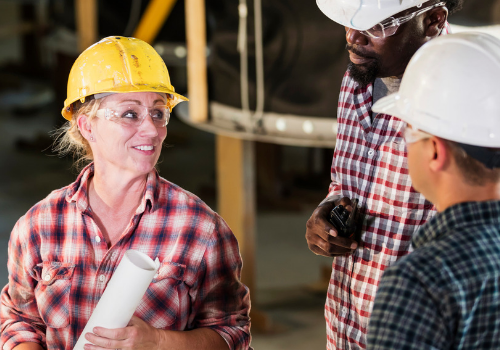 Your skills may get you started in construction, but math is going to ensure you can make a profit. It's a high-risk, highly competitive business where the average net profit margin is just three percent to five percent. "You have to know and track your costs," says George Hedley, a construction business coach and author of "Get Your Construction Business to Always Make a Profit." Having grown his own commercial construction company from $5 to $50 million, Hedley shares financial expertise acquired in over 30 years working in the business.
Hedley estimates that 80 percent of contractors don't know their real costs. This includes labor and equipment costs per hour, their overhead or fixed costs of doing business, and their profit markup on jobs.  
"The market and competition determine the actual markup allowed to win the bid," says Hedley. "If your competition is getting 10 percent for total overhead and profit markup, that's all you're going to get."  If your annual overhead is 10 percent and your profit goal is five percent, you must increase sales to achieve your goals and make more money.
"For example, if your annual overhead is $1 million and you want to make a half million net profit, that equals $1,500,000. If you can only get 10 percent gross margin, you will need $15 million in annual sales to reach your goal. "It's just math," says Hedley.
If you can increase your sales without increasing overhead much, you can improve your net profit margin. That's because these overhead costs remain relatively fixed when you take on more work.
Hedley's Formula for Success:
Know and track your costs.
Bring projects in on budget without profit margin fade.
Do enough sales to cover your job costs, overhead and profit goals.
"Many contractors just lower their price to win work," says Hedley.  "But if you lower your markup you also have to increase sales to cover your overhead and make a profit."
One strategy to get higher margins is to seek customers and projects which require higher standards, qualifications, and requirements. "When there is a higher barrier to entry, fewer contractors are qualified or take the effort required to bid or propose on their work," says Hedley. "Focus your time going after jobs and customers where there is low competition and higher margins versus jobs where anyone can get on the bid list."
Negotiated work with private companies also can earn higher profits than low bid public construction work.  But, it takes time and diligence to build loyal customer relationships to win these opportunities.  
Stop Blaming Your Competitiors
"Contractors often want to blame competitors for low margin work, but Hedley says they have to look in the mirror. "Focus on becoming more professional, improving your marketplace perception, and seeking better customers."  That could mean preparing accurate estimates, knowing your costs, increasing sales, improving field productivity or going after more profitable and difficult work.
Most companies grow for about four years and then stop growing because they get to the level of what the owner can control, manage and do themselves," says Hedley.  "The ones who continue to grow get it – they hire people, delegate, train, cultivate great customers, market and sell. They grow because the owner is not the valve which shuts off growth opportunities and holds back their company's potential."
To improve your financial knowledge, Hedley recommends joining the Construction Financial Management Association (CFMA), reading construction business books, taking online courses, and working regularly with an accountant who specializes in helping contractors.
"The successful contractors know their numbers," says Hedley. "You might do great work and work hard, but what does it matter if you are not making money?"
Join over 32,000 industry peers who receive construction industry news and trends each week. Subscribe to CONEXPO-CON/AGG 365.