Historical data can guide the project budgeting and estimating process, and a thorough understanding of equipment costing and jobsite variables can help ensure the profit margin you desire.
When developing a construction project budget, there is no better information than historical information. "If your company has been around a while, chances are that you'd done a similar project in the past," says Gil Gilbert, CEM, CASS and fleet director of Henkels & McCoy's Pipeline Division. "Then you can go back and look at that estimate and compare it to the actuals once the project was completed. In the pipeline and civil construction businesses, you can break those costs down by the mile or foot or however you choose."
That historical data is definitely a great starting point. Gilbert says there are also countless resources available to help construction companies get a feel for standard industry benchmarks with respect to things like material costs. "It's known data and it's pretty reliable," Gilbert says.
Still, developing a truly accurate project budget requires some additional finesse. For instance, consideration must be given to unique project and jobsite variables such as environmental conditions, regulations and labor proficiency.
"The labor situation is getting really challenging, especially if you're a union company," Gilbert says. "In the pipeline world, the union halls are empty; anybody that is any good is already working. So we have an environment where there are more 'green' operators and laborers than usual."
Project budgeters need to take that into consideration when projecting labor costs. In addition to the increased likelihood of inefficiencies and mistakes, the presence of inexperienced labor can result in higher equipment costs due to damage or maintenance neglect. "These variable costs can change exponentially in a single week," Gilbert says.
Keys to Proper Equipment Cost Allocation
First things first, to properly allocate equipment costs to a project, budgeters need to understand a given piece of equipment's ownership costs. This includes proper depreciation over the useful life of the machine, taxes, interest and insurance. These annual costs should added up over the course of a year and averaged by the month, week and even hour.
Second, budgeters need to factor in equipment operating costs. This includes expenses like fuel, oil, filters, lubes, tires, parts, maintenance and repairs. Again, these costs should be added up and averaged by the month, week and hour.
It's important to recognize that as a machine ages, operating costs typically skyrocket. This is simply due to the fact that maintenance and repair needs escalate as a machine racks up hours. Gilbert has created a spreadsheet that helps him forecast both ownership and operating costs by the year and hour over the useful life of a machine. Tools like this help budgeters to quickly and accurately allocate equipment costs to an individual project.
The third step to equipment cost allocation is where it gets tricky for many construction companies. This is where a variety of jobsite variables—including labor proficiency—must be taken into consideration.
Gilbert has created what he calls a damage rate estimator. He scores 10 different jobsite variables on a scale of 1-10, with 10 being the highest level of risk. Those variables are:
Environmental conditions (i.e. slope or grade)
Fixed hazard or working area (i.e. material being handled)
Weather conditions
Operator experience and ability
Conscientious management, employee training and oversight
Maintenance (proactive vs. reactive)
Congestion (buildings, trees, rocks, other fixed objects)
Ground-engagement tools (teeth, edges, hard facing)
Visibility (obstacles, light conditions)
Site security to thwart vandalism and theft
After scoring each variable, Gilbert tallies them up to arrive at a composite score that measures total jobsite risk. A composite score of 0-20 equals a 10 percent risk, 21-40 equals 20 percent and 41-60 equals 30 percent. This helps Gilbert recommend how to allocate equipment costs to a given project.
For example, let's say an excavator's baseline ownership and operating cost is $10,000 per month. If that excavator scored a 50 on the damage rate estimator for an upcoming project, that warrants a 30 percent risk assessment. The budgeter should actually allocate $13,000 a month for the use of this excavator.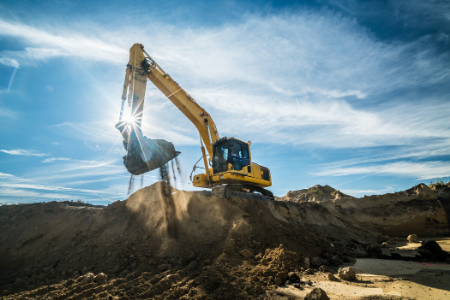 "This helps ensure that you aren't slapped with a huge, unexpected repair bill at the end of the project," Gilbert says. "This is especially important if you are renting equipment because you have to return the equipment in the same condition as you'd first rented it."
Accurate Budgeting Requires Brutal Honesty
Gilbert says that proper cost allocation requires key stakeholders in the budgeting process to be honest with themselves. Sometimes an estimator or company owner really wants to win a bid. They might feel compelled to hold back on certain cost allocation for fear of driving their bid up too high.
"That's OK when company executives make that decision," Gilbert says. "At least the decision is being made strategically with no surprises. It's my job as fleet director to make sure there are no surprises—at least where equipment costing is concerned."
At Henkels & McCoy, Gilbert has several opportunities to weigh in as the project budgeting process unfolds. He immediately begins working with estimators to start assigning equipment to the project. "I like to challenge whether or not we really need X machines on a job or if we could get by with a couple fewer," Gilbert relates. "I also like to look for ways to utilize technology such as telematics to improve utilization and productivity."
Once the first draft of the budget is put together, Gilbert and several other company leaders go through it again to begin refining. This is where he likes to apply his damage rate estimates. The goal is to create a bid that is both realistic and competitive.
"Fleet management is not a glorious job," Gilbert relates. "Everyone looks at fleet management as a cost center, but I like to say we are margin makers. Most construction companies want to bid a job with a 15-20 percent margin. If we can help add a few margin points back by cutting equipment costs by 10 percent—through best practices and increased productivity—that's a good thing. But it starts with accurate equipment costing that takes all variables into consideration."
Join over 32,000 industry peers who receive construction industry news and trends each week. Subscribe to CONEXPO-CON/AGG 365.