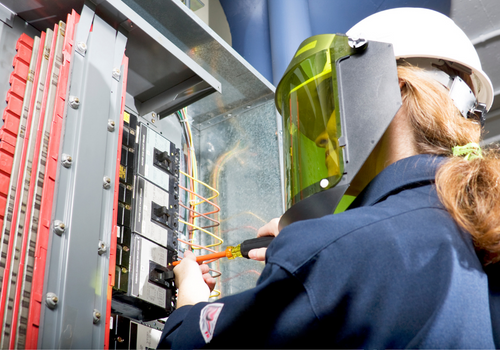 With the wrong safety habits, it makes it much easier for a person to make an incorrect decision and that can have effects that are impossible to undo.
"I never thought that one day I would be seriously injured," says Brandon Schroeder, an electrician for more than 20 years and now a motivational safety speaker. "I used to think that safety was just common sense."
Schroeder admits he did not take safety programs seriously. For one thing, he had been doing electrical work for many years. "I knew my job and I was very good at it. I thought I made good decisions. When you are very good at something you don't think something bad will happen to you."
Then there were the numerous safety meetings he attended that "had absolutely nothing to do with what we were working on," he adds. "There was a meeting about welding and we had no welder on the jobsite. There was a meeting about excavating and no one was digging.
"It was the kind of safety program where you open up a binder and whatever topic was next on the calendar was discussed. It didn't matter if the topic was relevant to the job or not."
On August 24, 2011, Schroeder survived an arc flash explosion "that without a doubt should have killed me," he says.
In his Believe in Safety education session at 2023 CONEXPO-CON/AGG, he will further discuss the vital importance of developing the right safety habits early, making certain a company's leadership believes in and values safety, and the need for an effective safety management system.
Building excellence
Because of the serious injuries to his hands caused by the arc flash explosion, Schroeder could no longer work as an electrician. To his surprise, the company he was working for asked him to be its safety director. "I said: 'Are you kidding me? I am not qualified for this.' But at the time I really didn't have a lot of options so I took the job."
Schroeder threw himself into his role as Safety Director. At the time, the company had 12 OSHA recordable incidents. For the size of the company, "that was worse than bad," he says. "While they were small things, like cuts and debris in the eye, they add up."
Because the company did not have an effective safety culture, he began a deep dive into each incident to make sure they would not happen again. In about a year, the company went from those 12 OSHA recordable incidents down to three. The next year there were none, "which was his goal," he says.
He then labored to make the working environments as safe as possible. He met with companies that were much larger than the one he worked for and asked about their best safety practices. "They gave me a road map of what they did and I implemented as many of the practices as I could."
Spreading the knowledge
One day Schroeder was invited to speak at a safety conference about his workplace accident. He says he did not want to do it but his boss pushed him to do it.
"I didn't think I gave a good presentation," recalls Schroeder. "But this man from Halvorson Trane came up to me and complimented me, saying mine was a very powerful presentation. He asked me to present to three of his groups. I wasn't interested but he gave me some compelling reasons why he thought my story would make a difference."
It was not long before Schroeder was getting more requests to speak about safety. He eventually left his job and became a full-time motivational safety speaker.
Many companies have people working for them that have been doing their jobs for a long time and are very comfortable working as they do, he says. They don't think that bad things are going to happen.
"Poor safety habits rub off on people that have very little experience. Eventually, those workers are going to develop poor safety habits as well and things are going to go wrong."
About the speaker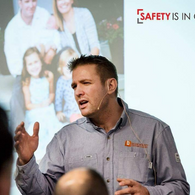 A farm kid, Schroeder grew up in rural Iowa. He says he did not really think about safety because he had been an electrician for many years without any accidents. One day he made a conscious decision to take a shortcut.
"I made a mistake that I think many other people might make and it almost cost me my life," he says. "I got lucky. Not everyone will."
As a motivational safety speaker, Schroeder talks about the importance of safe practices at all times as and the dangerous risks of taking shortcuts.
With 150 sessions, CONEXPO-CON/AGG's comprehensive education program is the leading source for contractors, business owners, construction material producers, and end-users to obtain cutting-edge, timely, and actionable information for today's challenging economy and a changing and global industry. Click here for more information.
Read Next
5 Myths and 5 Tips: Digging Safety