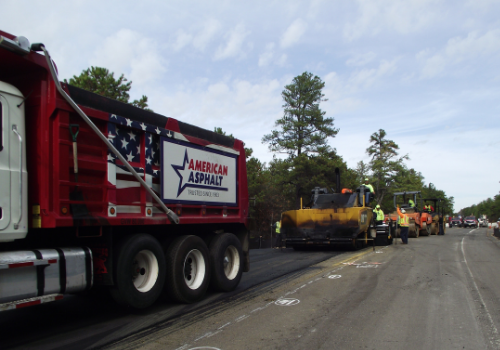 American Asphalt Company handles all aspects of commercial paving; manufactures hot asphalt at its three plants; is a distributor for EZ Street Company, manufacturer of high-performance cold asphalt; and provides a multitude of parking lot maintenance services. Headquartered in West Collingswood Heights, NJ – about 5 miles east of Camden, NJ, its service area is primarily Southern New Jersey.
Two of the things that set the company apart from others in its field is "our commitment to our core values of what is R.I.G.H.T. and to providing the best product and service to ensure the satisfaction of our customers," says its founder, president and CEO Bob Brown."
Those core values are:
We are performance driven and treat others with Respect.
We do what we say, demonstrating Integrity.
We are accountable, our actions honor God.
We always deal fairly, safely and Honestly.
We care about our customers and each other, earning Trust.
Brown developed those core values after reading the book The Advantage by Patrick Lencioni. He was introduced to the book through his membership in C12, the nation's largest network of Christian CEOs, business owners and executives.
"The book is all about having alignment in a business and how important it is that everyone understands things," explains Brown. "It is based around six simple questions, the first of which is: Why do we exist?
"I didn't know why so how could I expect my people to know why? Finding the answer became a team exercise."
He bought a copy of the book for each of his managers and they all deliberated on how to answer the question. After months of discussion, the group concluded the answer was "to help others and we defined the behaviors as core values to do this," he says. "We do asphalt for a living. The asphalt allows us to have profits. The profits allow us to help people."
Gaining Employee Buy-In 
The challenge then became how to get employees to learn, understand and use core values to guide them in their work. Those values were posted around the offices but Brown did not feel this was enough. He started randomly questioning employees about them and gave everyone who knew them $5.00. "Real quickly everybody wanted the reward."
Taking the learning process a step further, American Asphalt managers are given $5.00 Wawa (regional convenience stores) gift cards to use to reward employees for performing the behaviors outlined in company's core values. The goal is to give out 600 of those cards a year.
"Appreciation for a job well done goes a lot further than say a $1 an hour raise," maintains Brown.
"We continue to measure the core values. The managers have to report who they gave the gift cards to and for what behavior."
In 2018, the company became an Employee Owned Company (ESOP), "creating a sense of accountability for each other."
Unlikely Beginning 
Looking for a business to buy, Brown was made aware of a small asphalt business, American Asphalt, that was for sale. Despite not knowing anything about the asphalt business, he took a "leap of faith" and purchased it.
"I learned the business from the ground up and worked hard every day with knowledgeable coworkers who had integrity and strong principles," he recalls. "Slowly, year after year, the company has grown and we continue do better year after year. We now have 170 people and revenues of $60 million."
Pursuing Technology
Employing new technology helps do away with business inefficiencies and increases productivity and profitability," Brown observes. "The challenge is to keep on top of it and that is a team effort that we are working very hard at. We are active in industry associations, attend industry events like CONEXPO-CON/AGG and read trade and industry publications."
While the company has been using estimating software for years, it has begun incorporating software solutions for such things as project management, field operations, fleet maintenance and business intelligence. It is also implementing GPS asset management systems to better control its large fleet of vehicles.
To support the company's operations, American Asphalt has a fleet of some 40 heavy duty trucks, 40 light duty trucks, 20 cars and 100 pieces of equipment.
Brown points out that his membership in the CONEXPO-CON/AGG Asphalt Paving Executives Peer Group is helping his company keep pace with changing technology. "We compare notes about what technology, systems and software we are using, what they do and how they are being utilized. There is always a good exchange of ideas and thoughts among the Group that brings value."
Employee Retention Not an Issue
While employee retention is problematic for the construction industry, such is not the case for American Asphalt, notes Brown. "We are an employer of choice in New Jersey. We treat our people well, pay them well, provide a full suite of benefits and have an ombudsman in the HR department for employees.
"We want to be a place where people get out of bed with some enthusiasm and want to come to work instead of having to go to work."
The company is big on rewarding and appreciating. There is low turnover overall and the small amount of turnover is mostly in entry level positions where people find that the work does not suite them, Brown explains. There are employees that have been the company for more than 25 years.
Finding employees, on the other hand, "is extremely difficult and is an industry-wide problem."
In addition to the typical ways of finding employees – Internet, job boards, newspaper ads, etc., American Asphalt is going after people leaving the military and has considered hiring prisoners to give them a second chance.
"If you come in with no skills and a willingness to learn, we can train you to be proficient and productive in a couple of weeks and have a good-paying starting job," says Brown. "But you have to be willing to do asphalt work, which is hard, outside and not for everyone."
He notes that American Asphalt is working with the Associated Builders and Contractors (ABC) – a national "merit shop" trade association of construction and industry-related firms – to create a construction industry apprenticeship program in New Jersey. ABC, which Brown and American Asphalt are actively involved in, is also attempting get school guidance counselors to tell students about the many rewarding, high-tech and well-paying careers available in construction.
Investing in Peer Groups
At present, CONEXPO-CON/AGG has four Construction Peer Groups: Heavy Civil Executives, Asphalt Paving Executives, Excavation Company Executives and Aggregate Executives. Each group consist of six to eight construction professionals in non-competing markets. Member share experiences and gain new perspectives and ideas on solving problems and growing their business while by developing long-term professional relationships.
Brown has been a member of the Asphalt Peer Group since its inception about two years ago. He says he has always been involved with groups and organizations of like-minded industry people that "are good solid citizens who want to build business relationships."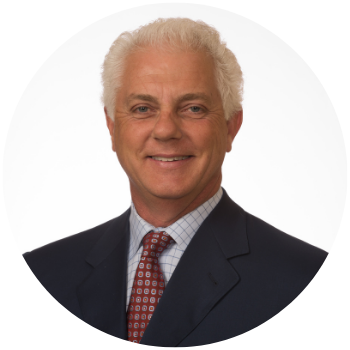 The Asphalt Paving Executives "is not a business-to-business sales environment. It is a help-one-another environment.
"The nice thing about a peer group is that you are with a group people that are all in the same business. Some of them have faced challenges I have and have come up with solutions that I am trying to figure out. That saves me a lot of time and effort."
When the Covid crisis began, the Asphalt Peer Group had a phone call every week, relates Brown. "We did this for the first three, four months. We discussed what was going on, talked about how things were in our states and  shared what precautions we were taking. We got great information, including getting information from the government on the latest rules."
Have a Little Faith
Brown notes that American Asphalt is "a Christian-based company and we put that out there. This has drawn employees to us that are like-minded and aligned with our company core values.
"Many of our customers have told me they admire and respect us for standing up for what we believe in."
Share experiences and gain new perspectives by joining a construction executive peer group. Meet with industry professionals throughout the year to grow business ideas and expand your network. Learn More
Join more than 40,000 industry peers who receive construction industry news and trends each week. Subscribe to CONEXPO-CON/AGG 365.