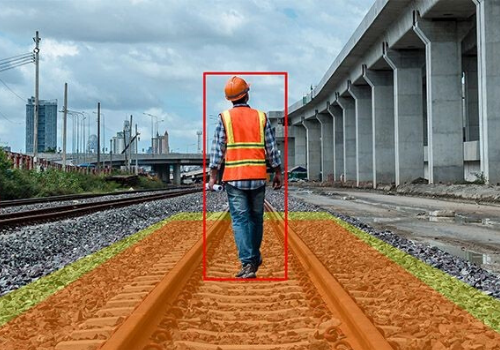 Risk management and safe working environments are fundamental in construction, waste, rail, and warehousing industries. The core of workplace health and safety is people and equipment interaction and separation.
The ability of the operator to identify and avoid pedestrians and other obstacles in a tight fast-moving environment when using heavy equipment such as loaders, waste trucks and excavators is critical. Pedestrians and obstacles in the path of heavy equipment pose the most significant risk to workers in these industries, and as technology advances, the need for more advanced and reliable safety solutions in the workplace is becoming more urgent.
To protect workers and pedestrians, many workplaces have implemented safety software that alert operators or site employees when the equipment is being operated near other vehicles, buildings, objects, and people. Due to the nature of construction jobsites, the current technology available on the market sounds alarms regularly and often unnecessarily, causing operators to ignore them or switch off safety systems.
This behavior has created a need for more effective and innovative safety systems that accurately detect critical risks and hazards to those operating in these working environments.
PRM Engineering Services is a Brisbane, Australia-based control, and engineering solutions firm. The company's new product, Sentinel VISION AI, was developed in response to the growing legislative and cultural safety impetus.
 "Sentinel VISION AI uses Artificial Intelligence (AI) to monitor danger zones and alerts safety breaches in real time. What sets Sentinel VISION AI apart from traditional safety systems is its dual operator and pedestrian warning approach. Currently, the majority of safety systems available only alert either the machine operator or those in surrounding areas, which does not effectively mitigate all risks," said Mike Davis, Director of PRM Engineering Services.
Artificial Intelligence for the Construction Industry
While artificial intelligence is traditionally used within the automotive and autonomous vehicle industry, the development of Sentinel VISION AI has demonstrated the advantages of extending its use to other machinery and industries.
"Our advanced AI neural network is trained using machine learning and information input algorithms to process images in real time and solely detect human interference. This human-only detection approach ensures alarms are only being triggered when there is a critical risk of a pedestrian being struck by a vehicle," said Davis.
"This ensures the alarms are not picking up non-critical items and ensures the alarms are more meaningful to the operator; significantly minimizes the likelihood of them tuning the alarms out."
The introduction of advanced safety technologies will set new standards of risk management in heavy equipment environments and demonstrate the need for precautionary practices to protect operators and bystanders alike.
Adapting To Changes
The current global pandemic has impacted all industries in different ways and completely changed the way the world operates. While we all continue to live and work cautiously, many longstanding changes and opportunities have already come out of COVID-19.
Physical distancing measures seems to be a part of the new normal which businesses are expected to adapt to. As more industries and businesses reopen, this has created the challenge of monitoring the number of people in a certain area, including jobsites.
"While Sentinel VISION AI was originally developed to monitor the safety of workers and pedestrians around heavy equipment, our team has recognized the ability for this technologically to be adapted for enforcing physical distancing. Sentinel VISION AI can monitor an area and alert people when an extra person transgresses into the zone," said Davis.
Rather than sounding an alarm for everyone, it would be triggered remotely notifying the assigned staff member that there has been a safety breach. This will significantly reduce the added responsibility of staff members and minimize the risk of human error.
"Though PRM Engineering expertise lies within the construction and mobile machinery space, the current market demand for advanced safety measures has allowed our team to adapt to the environment and emerging needs that have come of COVID-19," said Davis.
The PRM Group of Companies have been providing safety solutions, hydraulic service expertise and niche excavator attachments to Tier 1 construction companies and OEMs for over 20 years. With a team of talented engineers, together with a support staff of electrical, hydraulic and installations specialists, PRM can offer an end to end innovative and customised solution to our wide range of customers.