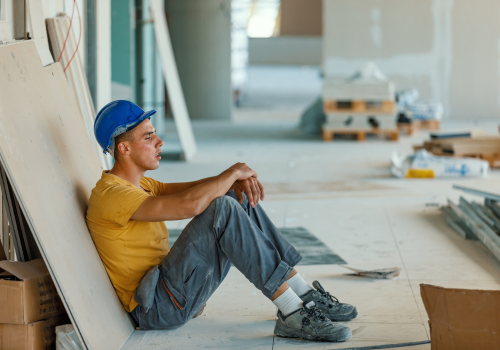 Construction workers have a tough job that presents its share of risks. One safety risk that cannot be overlooked is mental health. While not as obvious as the many physical risks that are out there, mental health issues among construction workers represent a trend that has long been heading in the wrong direction.
One research study presents data suggesting that, on a general level, 90% of people who die by suicide have a pre-existing mental health condition. At the same time, construction workers face numerous challenges that can further strain a person's state of mind. The stresses of long and irregular hours, difficult weather conditions, demanding deadlines, sometimes abrasive work cultures, etc. can take their toll on a person—even a tough, hardworking construction professional whose instinct is to just bottle things up and continue pushing forward. When you add in all of life's other stress inducers, it's easy to see how construction workers can quickly find themselves in a very fragile state.
Unfortunately, suicide is the outcome in far too many cases.
According to data from the Centers for Disease Control & Prevention, roughly 40% of U.S. adults have reported struggling with mental health and/or substance use. Roughly 11% said those struggles led to suicidal thoughts. Tragically, in some instances, those thoughts led to action.
Suicide is more prevalent in construction than in other industries. In addition to the stress inducers mentioned earlier, it should also be noted that nearly 90% of the construction industry's workforce is male, and males have a much higher suicide rate than females. The construction and extraction industry has a male suicide rate that is nearly double the average for all occupations. Furthermore, the chances of a construction worker dying from suicide are roughly five times greater than the rate of all other work-related fatalities in the construction industry.
Make no mistake: Mental health and the risk of suicide is an industry-wide epidemic that must be addressed. Thankfully, it already is.
How the construction industry is addressing the suicide crisis
Just like with physical safety, construction industry stakeholders have been making some concerted efforts to address mental health and suicide prevention.
OSHA has developed a webpage dedicated to suicide prevention in the construction industry. The page includes links to resources that help raise suicide awareness, as well as provide tools and tips to help both employers and employees address mental health-related issues.
The Construction Industry Alliance for Suicide Prevention also offers effective resources designed to help raise awareness. As this great organization points out, it's important for each individual construction company to make mental health a focal point. Simple things like wallet cards, posters, and hardhat stickers help keep the topic of mental health front and center. Education and training tools like videos and toolbox talks help to further build awareness, while also arming construction professionals with knowledge of how to watch for warning signs and handle certain situations.
One of the biggest challenges is creating an environment where people don't feel ashamed of how they are feeling. Construction workers must know that their employers and co-workers are there to support them, creating a lifeline for struggling individuals whether in the office or on the jobsite. Resources like the Construction Industry Alliance for Suicide Prevention provides help organizations build a strong culture of empathy and trust.
One powerful industry initiative that started back in 2020 is the annual Construction Suicide Prevention Week. This year it's being held September 4-8, 2023. Like other industry efforts, the goal is to raise awareness about the mental health challenges workers face, along with what can be done to prevent suicides.
Construction companies looking to participate in Construction Suicide Prevention Week can register on the website. Resources are available to help companies plan and execute activities with their workers. Participating companies will receive an OSHA-recognized, industry-endorsed certificate of participation that can be displayed on websites and social media. That seemingly simple symbol helps to further build awareness and demonstrate a company's commitment to tackling this industry epidemic head-on.
The best thing any construction company can do, from the c-suite to the jobsite, is to make sure every single employee feels like they will be supported in their struggles. Make sure employees are aware that they can talk to certain people within the company. Employees could also call or text 988 to reach the Suicide & Crisis Lifeline. Struggling employees can even online chat at 988lifeline.org/chat. They could also call the National Suicide Prevention Lifeline at 1-800-273-TALK (8255).
Mental health might seem like a very private thing. But it doesn't have to be. One person's struggles are an entire company's struggles. That's why mental health is the entire construction industry's problem to solve—and it will take every ounce of planning and compassion to continue solving it.
Read Next
Take A STAND: Addressing Suicide Prevention in the Construction Industry