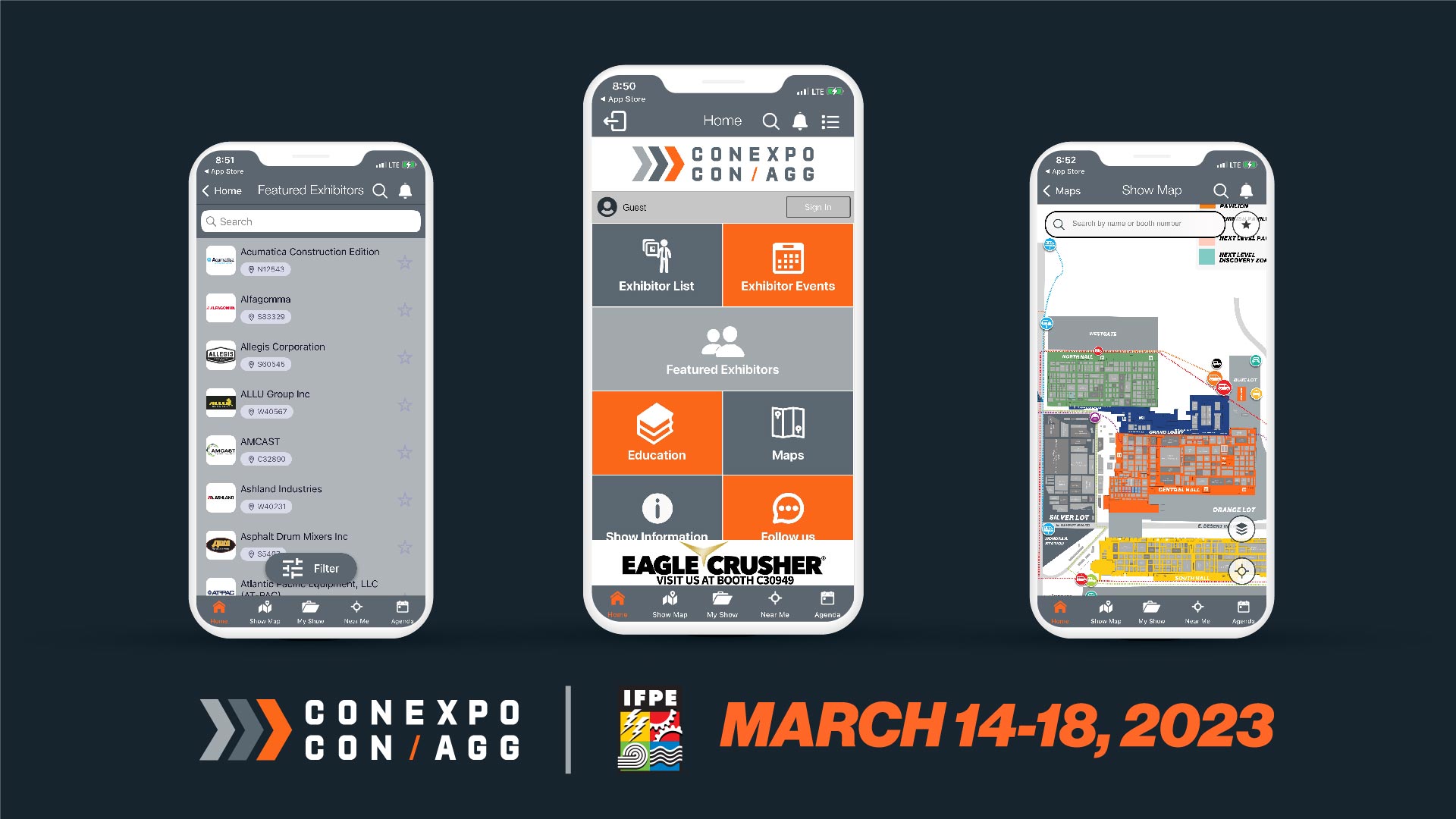 MILWAUKEE – With more than 64 acres of exhibit space at North America's largest construction show, attendees can have a challenge finding their way around the show floor. Enter the CONEXPO-CON/AGG and IFPE mobile app for both iOS and Android, a free download for attendees to help them find their way around the show and catch what they came to see.
"There are more than 1,800 exhibitors spread out over 64 acres of indoor and outdoor exhibits and only 5 days to see it all," said CONEXPO-CON/AGG Show Director Dana Wuesthoff. "The app really helps attendees find the exhibits they're searching for. Less time searching means more time discovering."
The app, launching publicly today, connects the exhibitor directory with the show floor map, lets attendees make a plan for what they want to see when they get there, and lets attendees keep notes on what they saw to review when they get home.
Additionally, for those attending education sessions at either show, the app will allow users to view sessions and check on their educational experiences. Also, with there being so many events going on at the shows, users can see what is happening, when, where, and make sure they get there.
"We spent a lot of time listening to feedback people who came to the show in 2020," said IFPE Show Director John Rozum. "When combined with all the transit options in and around the show, CONEXPO-CON/AGG and IFPE 2023 will be the simplest, easiest to navigate, most attendee-experience-focused show we've ever put together."
Registration for CONEXPO-CON/AGG and the co-located  International Fluid Power Expo (IFPE) is currently 20 percent off with code MEDIA20 for construction and fluid power pros that get their badge by March 13, 2023.
About CONEXPO-CON/AGG
CONEXPO-CON/AGG is the largest construction trade show in North America and the premier event that connects professionals from every major construction sector. Held every three years, CONEXPO-CON/AGG takes the construction industry to the next level by helping construction professionals elevate their industry expertise, experience the newest equipment and products through demonstrations and industry-leading education, make new professional connections, and grow their own marketability within the industry. The next CONEXPO-CON/AGG will be held March 14-18, 2023 in Las Vegas, Nevada. For more information on CONEXPO-CON/AGG, visit https://www.conexpoconagg.com.
About the International Fluid Power Exposition (IFPE)
IFPE, the International Fluid Power Exposition, is the leading North American exhibition bringing together the fluid power, power transmission and motion control industries. The next IFPE, co-located with CONEXPO-CON/AGG, will be held March 14-18, 2023, at the Las Vegas Convention Center.
About the Association of Equipment Manufacturers (AEM)
AEM is the North America-based international trade group representing off-road equipment manufacturers and suppliers with more than 1,000 companies and more than 200 product lines in the agriculture and construction-related industry sectors worldwide. The equipment manufacturing industry in the United States supports 2.8 million jobs and contributes roughly $288 billion to the economy every year.