MILWAUKEE – CONEXPO-CON/AGG continues collaborating with the industry during its second major, free Live Tech Talk session, Telematics: Diagnostics, Operational Efficiency & Training, slated for 1:30 p.m. CDT/11:30 a.m. PDT April 22. The event will give an inside look at the operations centers of several different contractors and companies who are using telematics and equipment data and taking advantage of the technology to support their field and business operations.
"The technology behind equipment telematics isn't new, but it's developing at an accelerated rate," said Megan Tanel, senior vice president, CE & Utility Sector at the Association of Equipment Manufacturers. "This Tech Talk will help companies understand how to gain valuable insights and to see what's next from telematics data."
Hosted by Aaron Witt of BuildWitt, participants will gain insight into how their peers use data to reduce costs related to idle time and increase efficiency. They will also see how companies are using telematics to coach employees on improving productivity and job site safety. Aaron's curiosity about this topic is thanks to his love of dirt and BuildWitt's mission of "making the Dirt World a better place."
Under the banner of the largest construction trade show in North America, CONEXPO-CON/AGG Tech Talks continue to be a leader for live and on-demand educational opportunities for contractors to hear firsthand from equipment industry experts.
"We know your business is unique which is why we are committed to providing a suite of telematics tools and resources to fit every customer's business," said Fred Rio, Caterpillar Worldwide Product Manager - Construction Digital & technology. "By transforming data into insights and placing it into the palm of your hands we empower you to make the best business decisions."
The free event is made possible by Caterpillar.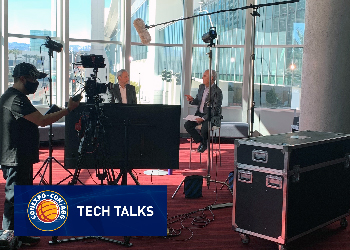 This event is the second in a three-part series, following February's successful Tech Talk that focused on machine control at the Las Vegas Convention Center's new People Mover project, which described how technology was used to complete the project safely and with minimal disruption. The People Mover project will carry CONEXPO-CON/AGG & IFPE attendees around the 2023 show.   
About the Association of Equipment Manufacturers (AEM)
AEM is the North America-based international trade group representing off-road equipment manufacturers and suppliers with more than 1,000 companies and more than 200 product lines in the agriculture and construction-related industry sectors worldwide. The equipment manufacturing industry in the United States supports 2.8 million jobs and contributes roughly $288 billion to the economy every year.
About CONEXPO-CON/AGG
Held every three years, CONEXPO-CON/AGG is the must-attend event for construction industry professionals. The show features the latest equipment, products, services and technologies for the construction industry, as well as industry-leading education. The next CONEXPO-CON/AGG will be held March 14-18. 2023 in Las Vegas, Nevada. For more information on CONEXPO-CON/AGG, visit https://www.conexpoconagg.com.