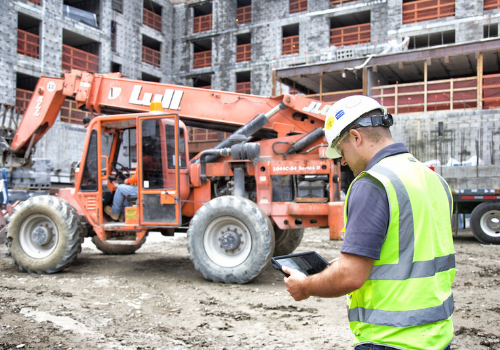 Construction sites can be dangerous. According to OSHA, 21 percent of workplace fatalities take place in the construction field. 
To combat death, injury and unplanned labor downtime, the construction industry has been employing wearable devices (hard hats, glasses, safety vests and boots) for decades. As construction companies access the internet from mobile devices on their jobsites, the above personal protective equipment (PPE) are now smart.
Smart PPE—or wearables—take the connected jobsite to the next level—the connected workforce. With the data, safety personnel can react more quickly to safety incidents and investigate them more thoroughly.
Wearables passively collect, store, transmit and/or receive information about worker location, biometric signs, nearby hazards and other jobsite data. They aid in at least one of the following four initiatives:
Track worker location
Provide jobsite information to decrease operational risk
Monitor vital signs and environmental risks to worker health
Reduce the risk of musculoskeletal injuries
"Jobsites have inherent increased risk, liability, and potential inefficiencies. It can be difficult to verify that workers are in the right place and on pace. Decisions that could avoid delays and costly diversions are not made when management doesn't have full visibility. Without measurable data and transparency, there is no way to validate the accuracy of time and labor estimates," says Hahna Alexander, CEO, Sole Power.
According to an August 2018 report published by independent research and consulting firm, Verdantix, 88 percent of respondents to their most recent study indicated that technology is "either essential or valuable for the success of [environmental health and safety] management".
"Construction safety technology is seeing exponential growth in the amount of technology that is available and the number of offerings that target the construction industry," says Peter Schermerhorn, President and CEO, Triax Technologies. "I think we're seeing a clear acceleration and exponential change in the availability in safety technologies and the safety solutions that they generate."
Smart Hats and Vests Protect from Equipment-Related Injuries
Scan-Link is one of the original wearables companies. They have been around for 10 years.
"Our technology helps keep workers safe around mobile equipment," says Johnathan Fava, President, Scan-Link Technologies. 
The Scan-Link System is an RFID based personal detection system that detects people—rather than objects—behind mobile equipment. The ground workers are tagged with passive RFID tags in their vests and hard hats, and the mobile equipment is outfitted with an antenna/reader. When a worker wearing the tagged apparel walks behind a machine, the operator is alerted with an audio and visual prompt letting them know that there is a person behind the machine, as opposed to a random object. Additionally, upon detection, an external alarm is activated alerting the ground worker they are in the danger zone. One of the many advantages of the system is that there are zero false alarms.
"The advantage of RFID technology over other systems is that it will alert the mobile equipment operator only to the presence of people, rather than random objects. Obstacle detection systems detect any and every solid object including gravel, pile of sand, safety barriers and cones etc. These false/positives detections will alert the driver each time, which can be annoying, so the operator learns to ignore it, which can be dangerous. Our system alerts the operator to the presence of people—no false alarms, no "cry wolf," says Fava.
Fava says the technology leads to changes in behavior. "Our system allows certain data to be collected. We can capture how many times the system detects someone and who in the reversing zone. Over time, the number of detections decreases, thereby decreasing risk on the jobsite."
Connected Safety Solutions
Triax Technologies has developed a "clip" that workers attach to their belt.
On a macro perspective, Spot-r emits evacuation alarms and through the company's Cloud dashboard gives supervisors the ability to see where workers are located by floor and zone, so not only can you get people out faster, but you can monitor evacuation progress.
On an individual level, with a push-button on the wearable device, workers are able to communicate that they need help and the system automatically pushes a notification to designated personnel so that help can get to them quickly.
Falls cause nearly 2/5ths of all injuries on a jobsite. The Spot-r system identifies falls by identifying any quick and significant decreases in elevation and then alerts the appropriate person. In the same manner, this system also identifies jumps from height, which is a risky behavior.
The personal clips can also interact with equipment clips to identify unauthorized use of potentially dangerous equipment.
"What makes our solution unique is the underlying network – the backbone communication platform – that collect and transmit data from workers, equipment, tools and more. While we target safety issues, there is so much more capability built into the system in terms of improving risk mitigation, visibility and communication on site. The Spot-r system has the ability to grow and scale as the industry evolves," says Schermerhorn.
Work Boots Get Smart
Sole Power is a construction technology start up that has designed a boot with multiple technologies. Not yet available on the market, SmartBoots are being tested this spring with a group of select companies.
"SmartBoots are part of a footwear-based program that aims to increase jobsite visibility and establish metrics from which workflow and safety improvements can be made," says Alexander.
"Embedded sensors and communication technology enable real-time location and accountability inside and outdoors. For field service inspections or equipment checks, embedded RFID tags can automatically verify that tasks are complete. With consistent monitoring, there is no more guesswork about who is on site and where they are at any time."
The pilot version of the boots includes:
       GPS (global positioning system)
       Ultra wideband
       RFID
       IMU (inertial measurement unit)
       Sub-GHz RF
       Thermocouple
       Wi-Fi
       Altimeter
Sole Power's technology has the functionality of multiple stand-alone wearables combined into a single, compact, self-charged platform. At the core of the system is an Army-tested, patented kinetic charger which uses walking motion to sustainably charge sensors embedded inside the boots.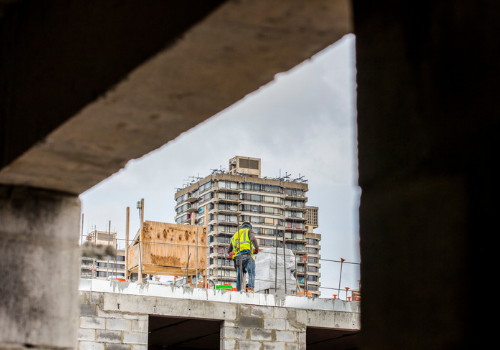 "With SmartBoots, workers will see their own stats and be empowered to work with their managers to identify areas for improvement," says Alexander. "It is important to pilot these new technologies with managers and teams who have an open mindset and follow a 'bottom up' approach involving the workers and integrating feedback versus a 'top down' approach.
Adopting these types of tech will require some level of disruption, but there are many use cases such as truck and vehicle telemetrics that have resulted in significant savings and safety improvements."
Successfully Implementing Safety Technologies
When adopting new safety technologies, listen to the objections and concerns of your workers. Educate them on how the data is used.
"The success of any wearables or PPE program depends on the mindset of the managers, workers and subcontractors," says Alexander.
There is safety on the individual level and then there is overall site safety. As you explore these different areas and examine how these products are evolving in these industries, keep in mind both of those things need to happen to advance overall safety goals.
Also, initiatives that require less change on the part of the worker will be more successful, so technologies embedded in something they are used to wearing will have greater success than creating a new wearable device.
Subscribe to the CONEXPO-CON/AGG weekly newsletter to receive more construction industry stories like this.