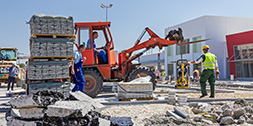 The Internet of Things (IoT) brings digital connectivity to everything. Sensors and software use analytics to process the data in a manner that generates alerts when appropriate. This technology is rapidly being applied to many application on the construction jobsite.
Worldwide IoT markets are poised to achieve significant growth with the use of sensors, cameras, equipment, telematics, and platforms that are used to help implement precision digital control and send alerts for the management of devices and machinery. Visualization and digitization let people better control devices and mechanical things.
Providers of IIoT (Industrial IoT) aim to implement asset efficiency solutions. The explosion of data comes from the IoT digital onslaught of streaming information so quickly that it needs to be paired and processed in realtime to look for anomalies, changes, set alerts, and provide automated service and response to shifts.
Transparency is a key benefit of IoT. Use of IoT sensors and cameras represents a key milestone. Digital controls are further automating flying and driving. New materials and new designs are bringing that digital transformation forward.
The uses of the IoT are quite diverse and powerful. Digital connectivity can be very useful on the jobsite for those that respond quickly. Taking equipment, people, and materials and connecting them will all jobsite personnel to make realtime decisions about materials, supply chains, telematics, and ultimately, the construction project.
Connectivity in Construction
Some problems have been identified that can be solved through connectivity. Jeffrey Cohen, vice president, asset & security solutions, Telogis, says the challenges at the top of the list for contractors are visibility, standardization, and lost administrative time at the jobsite.
The good news is the jobsite is becoming more connected—and providing a means to create the visibility needed in the field.
Tim Last, vice president and general manager, IoT line of business, Iridium, says as technology becomes cheaper and more prevalent, we are seeing construction professionals put connectivity into more things.
At the jobsite, for example, the ability to keep track of "things," is becoming more prevalent. He says tracking tools to equipment is growing. Being able to locate items improves efficiency and makes the jobsite safer, explains Last. He adds, knowing where everything is keeps the jobsite moving. Projects in remote areas have unique needs and the ability to keep track of everything makes for a more efficient jobsite.
Even though the benefits are apparent, adopting the IoT can take some time and there can be some push back.
Cohen says adopting technology in general and getting away from traditional behavior or "what was done in the past" always seems to cause stumbling blocks for adoption. Cohen explains while there are many ways to slice and dice the data, It can take time and it forces everyone to think about their business and create a benchmark of what they holistically want and how they want to achieve it.
Additionally, he adds, there is always some hesitation on the part of contractors to adopt all this new technology right away, which is holding back widespread adoption.
Iridium's Last goes on to say, adopting new solutions comes down to the use of technology in the industry. "It isn't exactly in the DNA of the owners and contractors, but it is getting easier because people are getting used to the amount of technology they use."
Still, the cost of the tech is also a challenge. For most construction companies it has to make sense from a return on investment perspective. Most contractors want to know exactly what the ROI will be and when. However, on the flip side regulations can create drive technology innovation or it can do the opposite and it can slow down progress because it has to be monitored and reporting systems can be much more complicated. "Contractors need to find the right companies," says Cohen.
Benefits Realized
Despite the opposition, the benefits of having a connected jobsite are numerous.
Technology solves three challenges:
Visibility
Standardization
Administrative Time
Cohen says, "Technology solves three challenges: visibility, standardization and administration time. There is increased visibility, the standardization of the data, and lower administrative time, which ultimately optimizes your work."
Additionally, there are some ancillary benefits that come along with this technology such as heightened safety and lower costs, as data is more readily available to the contractor.
Last says, "A project can move along faster with technology. With any business solution it will help the jobsite. A company can keep track of their entire fleet; there is satellite vehicle telematics to monitor the equipment. Push-to-talk service with the use of satellites in a no cell service area is useful. Lone worker protection, for a utility worker for example, in a remote area can benefit from the tech."
When it comes to the digital connectivity market, there are things that contractors need to know. Case in point: implementing new technology requires and investment in both time and money.
Cohen says, "They need to realize this is an ongoing process. There is an infinite amount of data that can be pulled from the equipment. They need to focus on one issue and solve that and then go from there."
And this trend toward greater connectivity on the jobsite is only going to grow, as the opportunities continue to expand.
Last adds, "It's big. It's growing. There is a lot of innovation. A lot of technology and companies weren't around a few years ago and they now are changing the landscape of the field. Technology can really help the industry."
Having connectivity at the jobsite will improve the project and the productivity for contractors. Construction companies that leverage the Internet of Things and other connectivity solutions will have an upper hand in the industry and will be better equipped for collaborative projects at the jobsite.