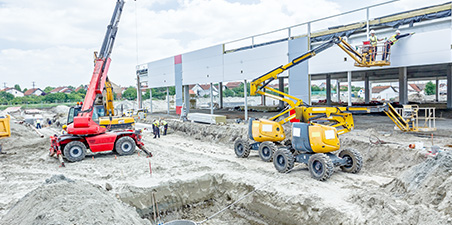 Consider this: a project with technology that can track the worksite and fleets that can be monitored with telematics. All of this technology is already here today, and it is changing what the construction jobsite looks like—and will redefine how work is done in the future.
There are a few key areas that are evolving at the jobsite today: tools and equipment. An inside look at each of these areas can help machine operators and construction professionals understand how to leverage all the latest emerging technology to the fullest.
Tools Get Connected
Technology is key for construction companies as they construct projects. The history of tools demonstrates this. At one point, hand tools were replaced by corded power tools. Today, the industry has cordless power tools—and now many of them are also becoming connected.
For example, DEWALT offers Tool Connect, which is an inventory management solution designed to connect, track and customize tools across multiple jobsites. The app automatically updates the Inventory Manager portal at the office or tool crib.
Another example comes from Bosch Power Tools. The company offers a number of different ways to connect tools including Bluetooth Low Energy, built-in connectivity, plug-in connectivity, and the Bosch Toolbox App, which allows for control and customization of power tools.
With all this emerging technology available to construction workers, they need to best determine how to adopt the newest advances in everyday processes.
Eli Share, IoT and mobile lead, Bosch Power Tools, says there are four main areas where technology is starting to impact the construction industry:
safety
jobsite sensing
project tracking
jobsite networks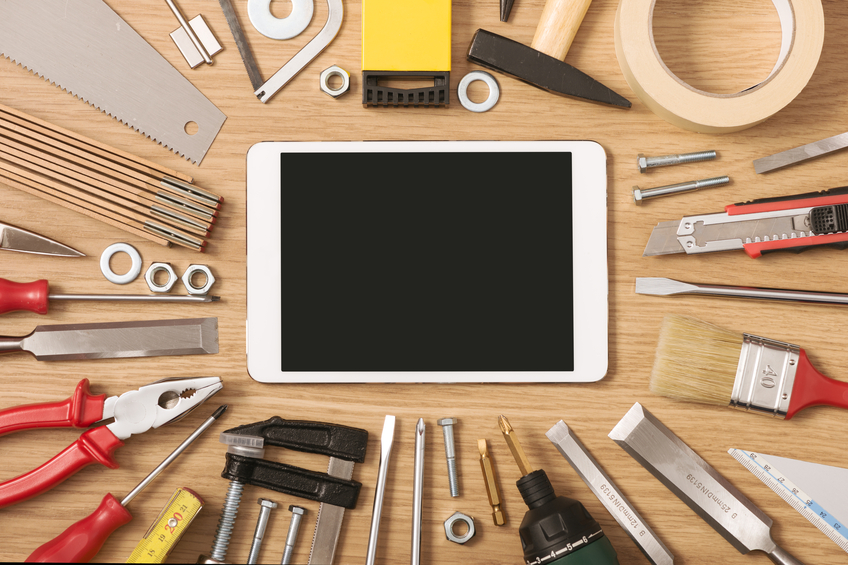 "The key to all of the technology implementation is to address the common theme of communication on and off the jobsite," he explains. "When dealing with multiple stakeholders, companies having a central place to communicate is key. This is why we're starting to see software solutions around data collection and storage."
He specifically points to the importance of having network availability on projects. With this in place, photos, videos, notes, measurements, and status information can be easily captured and reported to everyone involved on a project.
Additionally, hardware is advancing, enabling the capture of the data. This includes tools, cameras, drones, 3D scanners, connected measurement devices, sensors, and more.
For construction companies, this type of technology will enable better productivity and improved communication and record keeping. This will lead to reduced downtime, budget, and schedule delays.
Share explains that many companies are already implementing this technology, and suggests that the key is looking at these tools the same way as companies would view an excavator or rotary hammer.
"Training needs to be coordinated to allow for peer-to-peer knowledge sharing and integration into standard operating procedures," he says. "If the training cannot be conducted during the daily "stretch and flex meeting" then the solution is not intuitive enough to be adopted.
Finally, he recommends taking a holistic view regarding the impact of any new tool incorporated into the construction job site.
Smarter Fleets
Looking beyond tools, the second area of a project that is becoming increasingly connected are fleets of equipment at the construction jobsite.
MarketsandMarkets indicates that the IoT fleet management market will grow 21.26 percent between 2016 and 2021. This is because of increased demand for optimized business operations and government mandates for greater fleet safety.
This trend is having a ripple effect on the construction industry. Ryne DeBoer, vice president, Morey, believes construction companies that adopt this emerging technology will jump ahead of the competition in the coming years, as they will become faster, more agile, and bring more value to the table.
There are a few key areas where technology is transforming fleets in the construction industry today: 
Smart sensors and devices: connect large assets to data centers and leverage smaller devices with Bluetooth or GPS capabilities. The benefit is the ability to easily analyze fleet performance. One example is telematics devices that can use the data to provide predictive maintenance.
Electrification: Assets are becoming more efficient, as they move from fossil fuels to electricity. However, since fossil fuels' cost has not increased, making the switch hasn't caught on as quickly. In the long run, converting to electric machinery saves operation costs and is more sustainable.
Telemetry: Telematics and data analytics have many benefits for construction. One unique example is protecting equipment from severe weather. This is because using predictive maintenance can alert them of potential failures, meaning they'll have a better understanding of their fleet's ability to weather the storm, including engine and battery performance.
DeBoer explains that telemetry can also be useful in natural disasters, like hurricanes, for a number of different reasons. For example, when people are evacuated and fleet managers can't locate their equipment, they can use the telematics to find them.
Implementing all this emerging technology starts with good, solid strategies for workers. In many cases, construction companies might want to partner with specialized tech companies. This can help fleet managers better understand their fleets and make better decisions.
"It is important to have strong partners supporting fleet managers in their technological endeavors," explains DeBoer. "They can provide them with everything they need to successfully implement technology solutions in their operations."
Another suggestion is to look at the younger demographic who have more background with technology and a natural technical aptitude.
"Fleet managers need to enable those who are technically strong and cross-train their employees, while working with partners that can deliver the solutions they can use," he concludes.
At the end of day all this emerging technology—from tools to equipment—can give construction companies a competitive advantage. It can also help improve business process, safety, and quality on projects. However, it all starts with having a good strategy.
Share of Bosch Power Tools says, "All solutions geared toward improving the construction job site have to take into consideration the influence of all parties. Jobsites do not function on their own, but are a central hub of many different activities. Technology solutions have to have positive or neutral impact across the whole chain from warehouse to project close in order to be effective."