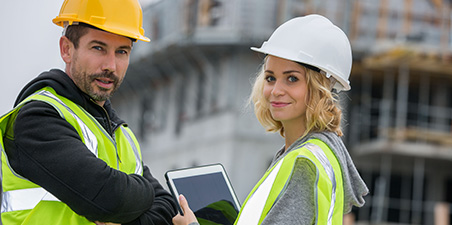 With the prevalence of technology in our everyday lives, we have grown accustomed to using it to simplify tasks and streamline our work. There are tasks that can now be automated and performed by simply deploying technology. New innovations pop up daily and these advances never cease to amaze all of us.
Using new systems at the construction jobsite has been met with resistance by some construction professionals. In fact, construction has often been considered one of last industries to embrace these amazing new solutions. However, that is all starting to change, as construction companies are looking for new ways to change the mindset of those working at the construction jobsite.
Bringing in New Blood
Enter the younger generation, otherwise known as millennials. They have grown up with apps for that and solutions to solve just about any system problem that arises. As a result, the ability to attract millennials to the jobsite needs to be based on leveraging technology as well as understanding the rapidly changing needs of the construction industry.
Some of the emerging technology that millennials appear to be comfortable with that they might leverage on jobsite include:
Drones
Artificial Intelligence
Augmented Reality/Virtual Reality
Smartphone Apps
Tablets
Wearables
Chad Hollingsworth, cofounder and president, Triax Technologies, says, "Millennials have grown up attached to technology. Jobsites today are so far removed from what millennials have come to expect in their daily lives. They expect new solutions to do their job better, to get rid of manual processes."
One of the challenges is closing the gap between the more seasoned construction professional that might be more hesitant to leverage new systems, and the younger, more tech-savvy generation that might not have as much experience with traditional construction methods.
Barry Peyton, product manager, Intelliwave Technologies, says, "I think the millennial construction worker differs from other construction workers in the way they attack problems on the construction site. Millennials have grown up in a world surrounded by technology and modern day solutions where other construction workers may be a bit more stuck in their ways and not open to new digital solutions."
The approach and mindset that something has been done a certain way for many years and it works so why does it need to change is the attitude that will turn away new blood at the jobsite.
Paul Gomori, application engineering manager, JCA Electronics, says millennials want the tech that they know tied into their job. New technology is commonplace for them and they will be more comfortable using it.
Fresh Thinking at the Jobsite
Creating a jobsite environment that will capture and keep the younger generation at the jobsite often revolves around innovation. New solutions are being introduced that are making the work better aligned to what millennials have come to expect from their digital lives.
Introducing them early to these technologies can get them excited about careers in construction. Peyton of Intelliwave Technologies says, "Millennials are innovative thinkers and jobsites can leverage this type of new-age thinking to increase the efficiency and productivity if they just listen to what they have to say."
Typically, millennials aren't afraid of new innovations, and they are willing to try things out and if it doesn't work, they find a newer, better solution that will. Millennials also provide a personal touch when it comes to new solutions.
Imagine a jobsite where a new piece of technology was forced onto an older construction team without any real training or fresh young face behind it to help them navigate and learn the new processes required to operate it. Millennials can take the lead on the introduction of the tech. Then the more seasoned generations can become more open to using it. Gomori of JCA Electronics says, "Older generations look to millennials for how to incorporate the tech into the jobsite."
Moving Construction into the Future
There are advantages to having more software and devices on the jobsite besides attracting a younger workforce. Peyton says it really boils down to improvements in efficiency and productivity compared to older manual processes. These types of enhancements can be measured and traced back to bottomline improvements across the construction site.
Antiquated procedures still in practice on construction sites can be shocking to millennials new to the industry. These highly manual, outdated procedures are inefficient and unsafe.
Hollingsworth of Triax Technologies adds, "The right construction technology can centralize information and communication, improve safety, and reduce the amount of time spent on non-value-added tasks. It is something that they can use to develop their skills, streamline daily tasks, and ultimately become better at their jobs."
By bringing the younger workforce to the construction jobsite, the industry can benefit in many ways. Peyton says, "I think millennials—whether they are dealing with technology or other aspects of their everyday work life—tend to be more innovative. That's just their nature. They are not afraid to take risks and try something new. Millennials are also a much more diverse group; they come from all walks of life and a wide variety of different backgrounds."
The attitude and outlook that they have towards their life and job can help entice them to work in the construction field. Hollingsworth says, "Millennials want to add value, make an impact, and find meaning in what they're doing. This carries over to their professional lives. What can be more meaningful or rewarding than helping to turn a dirt pile into a 30-story high-rise?"
As the industry evolves, it will have to embrace more innovation in order to entice and appeal to millennials—and those even younger.