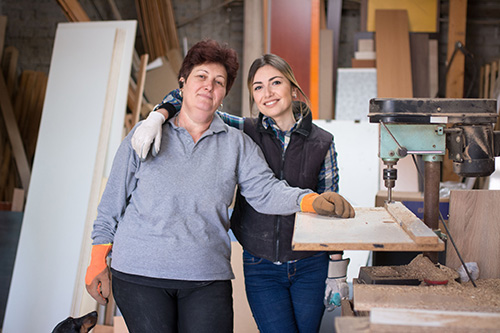 As a company leader, you may be thinking about transitioning out of day-to-day operations, or turning things over completely. In most succession plans, the legal and financial sides are usually considered carefully. However, the 'people' side is often not planned and executed effectively. A comprehensive succession plan must be executed in a practical way with your people in mind.
At CONEXPO-CON/AGG 2017, Tery and Linda Tennant shared tools to help contractors develop leaders and organizations to their full potential and help successful people move to the next level during a business transition.
Succession Plan Elements
Without people, a plan is just a plan. The following elements must be included to ensure a smooth transition, with an emphasis on steps five through seven:
Comprehensive written plan
Legal business structure
Financial and tax considerations
Roles and structure
People development and motivation
Agreed upon values, vision and goals
Proper execution
Despite your efforts, even the best-laid succession plans have the potential to fail under the following circumstances:
Lack of a clear, comprehensive picture of the desired goals
Possible obstacles and solutions not identified up front
Not devoting proper time to plan or implement
Lack of proper execution measurements
Not identifying and correcting ineffective systems and processes
Lack of process documentation and transfer of information
And the top reasons succession plans fail are:
Not planning for the people side: communication, coordination, gaining commitment and buy-in
Not developing leaders and other people effectively
All the pieces not integrated or well-coordinated
Identify and Develop Roles and People
Once you have the basic elements of your plan in place, it is time to start identifying the people who will lead the change. If you are planning to transition your business in the next five years, what will the new structure look like? Who will fill what roles and who will report to whom?
First, develop and organizational chart defining employee roles now, during and after a transition. Don't forget to identify your own goals and how your time will be spent. Second, define the high payoff activities (HPAs) for each role. High payoff activities are the six most important prioritized activities where you or the employee should spend at least 80 percent of their time. Identify your leadership HPAs first, then help each employee identify his or her HPAs. Lastly, identify the employee's ability to perform each HPA and identify any gaps in skills that need development.
Oftentimes in construction environments, there is a strong emphasis on technical skills and a lack of focus on leadership, time management and communication skills. Proactive training is key to getting the new business structure off on the right foot. When sending employees to development classes, make sure to set specific training outcome goals, implement the training over a period of time, provide written reference materials and resources after training and determine if the training was effective based on the goals.
Develop and Execute the Plan
The final step of the process is developing and implementing a practical plan that will be easily understood by management on down. Bring as many members of your team together as possible to get them on board and engaged with the transition. Consider involving the following personal and business resources:
Family
Company leaders and employees
CPA or tax planner
Valuation consultant
Corporate or legal structure attorney
Facilitator
Use this big change as an opportunity for feedback about the past, present and future of the business. By getting everyone engaged, the burden of the transition will not lie only on the founder or current leader.  
Brainstorm with your team about the following:
Accomplishments: How did you get where you are now?
Company Values: How do we define our values, vision and mission?
Key Performance Indicators: Where do you stand now?
Market Outlook: What are your business's strengths, weaknesses, threats, opportunities and possible goals?
It is important for the founder or current leader to have honest discussions with the next owner or manager. Understand that some of the values of the next generation of leaders may not be the same as the existing one. Let the incoming group of leaders decide if they need a new set of values to drive the business forward over the next 10 to 20 years. For example, a daughter taking over her father's construction business may decide some of her new core values for the company are change and innovation.
After you have these discussions, make sure all of the stakeholders agree upon the priority of goals. Establish action steps, identify who is responsible, set target dates for completion, define how you will track progress and measure the results. Have regular meetings to hold everyone accountable and keep the moving the plan forward.
Most importantly, understand that developing and executing your transition plan isn't going to happen overnight. Don't rush the process and make time for team building along the way.
Want More Information?
CONEXPO-CON/AGG's comprehensive Education Program is the leading source for contractors, business owners, construction material producers and end users to obtain cutting-edge information for today's challenging economy and business model.
For those unable to attend the education sessions or who would like a copy of what was presented, recordings are available for purchase on a USB drive. There are over 130+ unique sessions from all ten education tracks: Aggregates, Asphalt, Concrete, Earthmoving & Site Development, Cranes, Rigging & Aerial Lift, Safety & Regulation, Technology, Equipment Management & Maintenance, Management: Business Best Practices and Management: Workforce Development.
For more information and to purchase education program recordings, visit education.