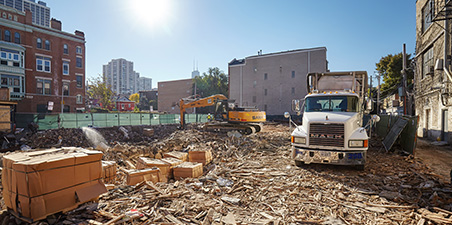 Sustainability is becoming a buzzword around all aspects of construction—from design, to construction, and all the way to operations.
Minimizing energy usage is one of the highest priorities. The U.S. Environmental Protection Agency (EPA) estimates 30 percent of energy used in the built environment is inefficiently used or wasted. Improving energy efficiency by 10 percent would result in a savings of $20 billion a year and prevent greenhouse gas emissions equivalent to those generated by 30 million vehicles.
According to the EPA, building-related construction and demolition activities account for nearly 26 percent of non-industrial waste generation in the U.S., totaling about 160 million tons per year. Although 20-30 percent of building-related debris is recovered for processing and recycling, the opportunity exists to recover more than twice this amount through better planning and management.
Most sustainable strategies start in the project design. As the project moves into the construction phase, a few key construction efforts—erosion and pollution control, waste management, and indoor air quality management—are consistently implemented, but there are more opportunities for contractors to explore.
To be sustainable during construction of every project, companywide policies can help guide project teams and streamline the process. Contractors can develop customized programs that target sustainable opportunities within the scope of their responsibilities, while considering cost, schedule, site utilization, and safety.
A holistic approach to sustainability on the project site can produce a measurable reduction in the carbon footprint and environmental impacts of construction. It can also produce new benchmarks and replicable practices that can be shared across the industry.
An energy use analysis can be performed before construction begins to customize the project's approach and actions for conservation. Temporary lighting is one of the more demanding energy-consuming requirements during construction. The use of LED lamps can help.
Construction sites are inundated by water connections and hoses that leak or are left running. By providing closable nozzles for all hoses and assigning a field employee to inspect connections and hoses daily, the construction manager can make an immediate, positive impact by eliminating unacceptable water wastage on the construction site. For sites that do not have temporary water sources, rainwater collection and reuse can yield measurable results. Water collected in rain barrels can also be used as a tool or boot cleaning station.
The next step—and perhaps one of the more challenging—is then to commit to implementing, educating, and continuously improving sustainability efforts at the construction jobsite. By keeping this in mind, contractors can work to create a more sustainable jobsite.