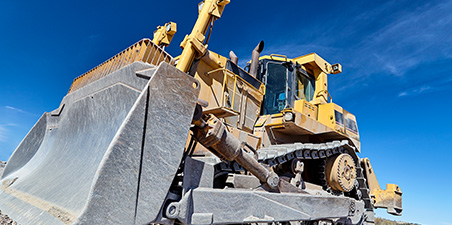 There are pros and cons to both renting and buying construction equipment. Here is a list of things to consider when making that important decision.
Renting: The Benefits
Renting keeps equipment up-to-date: A current model will have the latest features and the newest technologies, enabling greater productivity, safety, and ultimately a better bottom line.
Also, consider the project length or the frequency of jobs on the calendar. With a short-term job, or a need for a specialized piece of equipment, renting makes more sense, since the piece of equipment is only needed for a short period of time.
One big reason many construction companies choose to rent is because there is a predictable monthly expense with a rental. The pre-determined monthly line item can help with budgeting.
Another factor to consider is the transportation costs of that equipment. Costs to move equipment sometimes hundreds of miles between jobs add up quickly. Depending on the location of the job, renting can save on excess costs.
In some cases, renting can lead to more accurate job quotes. This is because the cost of renting goes directly into how much each job costs the company to perform.
Finally, renting is a good option because then companies don't need to store construction equipment. Paying for storage space costs considerable money.
Buying: The Benefits
On the flip side, working on a long project, or if several jobs are on the horizon, buying is better since rental costs add up the longer a job goes on.
Another benefit is having a multi-purpose piece of equipment can be used for various projects, which is a great asset on any jobsite.
Also, in the long run, buying can often be more cost effective. Buying may be a larger one-time financial outlay, but contractors can see a return on your investment when they sell.
Construction companies also need to consider the impact of managing the equipment. In some cases, buying the equipment can save money since contractors can take care of maintenance in house.
Perhaps one of the biggest advantages of buying is the fact that equipment is available anytime a construction company needs it. Construction companies can react to unexpected changes in projects or project schedules, take on jobs at a moment's notice, and complete projects with less downtime.
Finally, buying equipment is deductible. When doing company expenses and taxes, the equipment owned can be deducted.