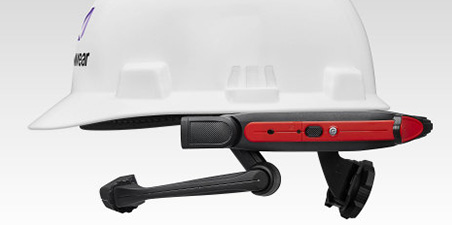 Augmented reality (AR) technology and wearables have been gaining a lot of momentum lately—but construction professionals need to consider how the new technology will perform in potentially dangerous conditions.
Some construction workers complete tasks in potentially explosive atmospheres and some technology have an ignition risk that could pose a dangerous situation.
One new example that combats this challenge comes from RealWear, which offers ruggedized hands-free AR wearable computers for heavy industries. One of its most recent wearable devices—the HMT-1Z1—presents no ignition risk in explosive atmospheres.
This means construction workers everywhere can be connected—and safe on the jobsite. In this case, the technology is intrinsically safe—which is a design and protection technique for secure operation of electrical and electronic equipment in hazardous locations by restricting the electrical or thermal energy to limits that cannot cause ignition of explosive gases, even under a fault condition in the device.
Use cases for these types of wearable devices include remote mentoring via video collaboration, hands-free document navigation, guided workflow, and IoT (Internet of Things) visualizations from process control systems.
With AR and wearable technology continuing to advance, construction companies will have more options for staying connected—even in potentially dangerous jobsite conditions.
Join over 32,000 industry peers who receive construction industry news and trends each week. Subscribe to CONEXPO-CON/AGG 365.