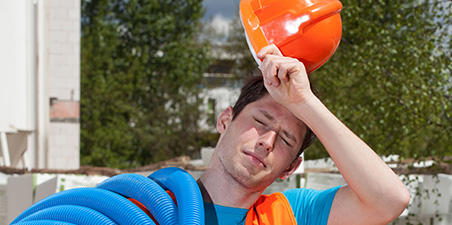 Summer is a great time for construction work, but a brutal time for construction workers. Excessive heat and sun exposure pose significant dangers, such as sunburn, dehydration, heat cramps, heat exhaustion, and heat stroke. Every year, construction workers become ill on the job and some even lose their lives due to heat exposure.
To protect its workers from the extreme summer heat, Western Specialty Contractors manages a heat illness training program and a safety hotline for its employees. As part of the program, training is provided to all employees and supervisors who work in high temperatures. Training topics include: how heat affects the body, how to identify signs and symptoms of heat-related illnesses, and what to do if a coworker is experiencing a heat-related illness.
Here are some tips for preventing heat-related illness for those on a construction jobsite:
Drink water frequently and drink enough water that you are not thirsty.
Wear light-colored, loose-fitting, breathable clothing made from natural materials such as cotton.
Gradually build up to heavy work. Do the hardest work during the coolest time of the day.
Take more breaks in extreme heat and humidity.
Keep an eye on your coworkers and be alert for signs of heat exhaustion. Early symptoms include lethargy, disorientation, stumbling, dropping tools, slurred speech, or unresponsiveness.
Leverage technology.
Technology can also help workers at the jobsite. There are several apps to aid in keeping cool. Occupational Safety and Health Administration (OSHA) has produced one called OSHA-NIOSH Heat Safety Tool. A low tech option to aid in keeping cool is a personal fan; there are some that can be connected to your phone that work off of its power to keep you cool. Implementing safety technology through wearables or apps can also monitor heat levels and alert others to possible dangers a worker may be facing.
Still, by training employees on the early signs of heat exhaustion, taking the proper precautions, and following proper protocols, workers will greatly reduce the risk of heat-related dangers.