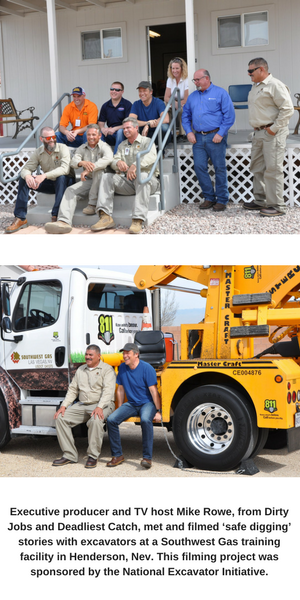 Over the past 10 years there has been steady promotion of 811 – the national "Call Before You Dig" phone number to request to have underground lines (electricity, natural gas, water, sewer and pipelines) marked prior to digging.
However, despite the simple phone number (and option to submit requests online), according to CGA's 2015 DIRT Report, more than 30 percent of excavators still are not contacting 811 before digging.
The damage caused by excavating is one of the most common causes of pipeline and utility accidents. And in most cases, it is preventable.
Contacting 811 before digging is the single most critical action an excavator can take to ensure their health and safety are protected.
Before you dig, drill, blast or move dirt (which includes excavating, landscaping, installing fence, pools and everything in-between) you must always contact 811 before you dig. Contacting 811 is generally free and required by law.
Calling 811 puts you in touch with a local one call center where you'll be asked for information including the exact location of the dig site, the type of work being done and project start date. The one call center will then coordinate to have operators out to mark their lines using paint, flags or stakes. This step is important to keep yourself, your crew, the surrounding community and the environment safe. For large spaces, pre-marking (white lining) the intended job site beforehand is also recommended.
Wait the required time to have lines marked. Depending on state law, the wait time to have lines marked is typically two to three business days*.If a facility operator hasn't marked lines, or if the markings are unclear or damaged, you will need to contact 811 again. No digging can start until all lines have been marked, or an 'all clear' has been given.
Every digging project requires contacting 811 – even if you've excavated at the site previously.
Respect the marks and dig with care: Always use caution near underground facilities; obey safe excavating practices and state law.
Remember:
Always contact 811 before digging
Wait the required time to have underground lines marked
Respect the marks and contact 811 again if necessary
Follow state laws and dig safely
*Consult specific state laws to determine the exact wait time required between contacting 811 and digging.
About The National Excavator Initiative
Founded in October 2016, the National Excavator Initiative is a new, and first-of-its-kind collaborative effort that strives to reach excavators and contractors with damage prevention messages, especially the importance of contacting an 811 notification center before digging. Members include utilities, oil and gas companies, one call centers across the country and other supporting organizations with an interest in keeping excavators informed on how to dig safe.
Visit: www.safeexcavator.com.
The National Excavator Initiative continues to look for company support and financial sponsorship – please contact us today to learn more and get involved.