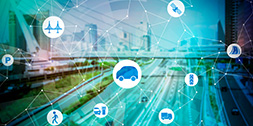 Increasing vehicle ownership, growing traffic congestion and unpredictable hazards due to natural disasters are leading to a worldwide increase in road accidents, forcing governments to adopt smart technology in roads and bridges. 
Smart roads help drivers understand events happening up the road. Traffic congestion, breakdowns and repair situations are communicated in advance.Smart bridges alert maintenance departments of any uncertainties prior to them happening.
Smart roads and bridges are expected to become one of the emerging markets in the next five years. Sensors and GPS (global positioning system) trackers are the primary products used in the construction of smart roads and bridges. As a result, there has been a big increase in the number of companies investing in technological innovations in the industry. There is also an increased interest by governments in adopting smart technologies in building roads and bridges.
There are a number of smart roads and bridges projects in the pipeline. Some are:
I-80 SMART Corridor Project, California, US
I-5 North Coast Corridor Project, California, US
Gordie Howe International Bridge, Canada
Mersey Gateway Project, Cheshire, UK
A160/A180 Port of Immingham Improvement Project, North East Lincolnshire, UK
Hisingsbron Bridge, Gothenburg, Sweden
Rohtang Tunnel at Lahaul-Spiti Valley, India
Thompsons Road Upgrade Project, Melbourne, Australia
Southport-Burleigh Road Network Improvement Project, Queensland, Australia
Danjiang Bridge, Taipei, Taiwan
As the benefits of smart roads and bridges become known, they will become the standard in the construction and infrastructure sector.