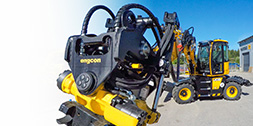 As construction equipment continues to evolve, so too do the tools and accessories for the market. For instance, a tiltrotator is an excavator's wrist. It allows the bucket to tilt and rotate. But it can also poise some safety concerns on the construction jobsite.
As such, companies are enhancing tiltrotators. Case in point: Engcon has been busy in Europe and will now expand to North America, and recently debuted new products that have some unique safety features for the jobsite.
With Engcon's Q-Safe fitted to an excavator, the bucket or tool must have ground contact that exerts a given pressure. This mean that buckets, tools, and attachments cannot be removed while in the air.
When the Q-Safe quick hitch lock makes contact with the bucket or attachment's first axle, the area around the machine is warned by sharp audible and visual signals, and the machine's turn function is blocked. The audible and visual warnings will continue until the bucket or attachment is properly locked on both axles.
This creates additional safety on the construction jobsite, which is essential when operating heavy equipment.