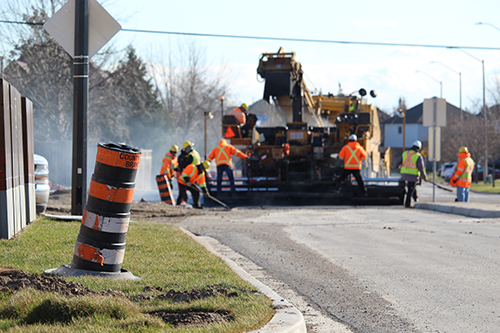 The results of a paving operation are a lot more difficult to measure than many other construction applications. Until recently, the tools to determine mat quality were tenuous.
Best practices for many road operations today still include measuring the quality of a road by taking core samples and testing their densities. However, these samples can't be used to accurately represent the entire mat because, with core to entire mat ratios of up to 1 to 1,000,000, it is like asking 20 people their opinion and stating that their collective opinion represents the collective opinion of every resident of the state of Florida. Plus, irregularities in temperature and rolling patterns means that the location of the core samples can give results that aren't consistent with the majority of the mat.
Poor quality roads results in higher road and highway maintenance costs, as well as shorter road and highway lifespans. To improve mat quality, paver equipment manufacturers have introduced several new technologies into their latest paver series.
Some of the latest paver technologies that improve mat quality, include:
Advanced screed engineering
High-density screeds
Automated grade and slope control
Sensors and infrared cameras
"Department of Transportation (DOT) agencies are now mandating some of these technologies get used on DOT projects. "Many state DOTs mandate thermal mapping behind the paver, says Vijay Palanisamy, Product Manager Pavers, Dynapac. "Minnesota, for example, is the first state to mandate thermal mapping on 100 percent of DOT projects."
Advance Screed Engineering
The asphalt directly in front of the screed is called that material head, and the correct amount, combined with proper material temperature and a consistent paving speed, are the most important factors affecting mat quality. Screeds lay that material into a smooth mat.
Modern screeds have gone through numerous changes in order to improve mat quality. Recent advances in screed technology have led to smoother surfaces, more consistent surface textures and improved joint quality. As well, the deterioration of the surface now takes longer, which relieves some pressure on compacting timelines.
In some new screeds, material deflector plates and strategically positioned auger flights allow for better material consistency in front of the screed. Non-contact auger sensors control material delivery to the augers, which feeds the material head.
"The Dynapac screed has gone through multiple changes," says Palanisamy. "It now can better accommodate thin lift paving, such as a two-inch top coat, and thick lift paving, such as a new highway six inches deep. It's important for today's pavers to deliver quality mat in both scenarios, so contractors can do both jobs with just one paver."
High-Density Screeds
Pre-compaction is the compaction achieved by the paver. Traditional vibratory screed pavers achieve some degree of compaction. In order to achieve greater pre-compaction, some screeds come equipped with tamper bars that strike off the hot mix as it passes under the screed. Cat F Series pavers, for example, can be equipped with a tamper bar. As material flows under the screed, air is squeezed out. 
Achieving greater mat density from the paver means that there is less work for the rollers and less chance for sections of the mat to be out of spec. Screeds that can achieve a high level of density are called high-density screeds.
"Most contractors in North America use a vibration screed. Some add tamper bars. The next step will be the addition of a pressure plate," says Palanisamy. "This idea is migrating from Europe to North America. It works well when paving thick and slow". The pressure plate (or pressurized bar screed) adds additional weight on top of the screed plate and compacts the mat after the screed trailing edge.
"High-density screeds can get compaction up to 95 percent behind the screed and lower the number rollers needed," says Tim Kolowski, Application Support Manager, Wirtgen America.
Automated Grade and Slope Control
Paving surfaces aren't always even or flat. Sometimes, contractors are expected to pave on grades and slopes, which can make it more difficult to achieve specification and lay a good mat.
Automated grade and slope control systems level out both long and short irregularities in the base. They can accurately measure the angles, relationship of the position of the paver to the surface to be paved and material laid.
Vögele highway class pavers, for example, are equipped with the Niveltronic Plus automatic grade and slope control. With Niveltronic Plus, the screed's elevation is precisely controlled over the entire distance being paved by tracing a GPS- or GNSS-determined reference—not the base.
The system increases road smoothness while using less asphalt than with traditional paving methods, especially in complex designs such as transitions, super-elevated curves and frequently changing cross slopes; it also eliminates high and low areas in the area to be paved early in the paving process.
"3D paving is automated. It can change the grade, slope and even steer the paver—all without operator intervention," says Kolowski.
"Pavers are getting more information to the operator regarding how much material is going through the machine, how much is in the hoppers, etc. This is what we call intelligent insight solutions," says Palanisamy. "Next, we will link the asphalt plant to the asphalt pavers, so the contractor can know how much material is available at the plant, what its temperature is, and how many trucks are en route.
Sensors and Infrared Cameras
Sensors and infrared cameras are used to provide real-time data to the operator or to automate certain functions. They allow operators to see the quality of their work.
Some pavers now come equipped with automatic feed systems that use sensors to automatically regulate the proper delivery and flow of material in front of the screed to ensure smooth and consistent paving.
MOBA, on the other hand, has developed a solution for continuous measurement of layer thickness (at the rear of the machine). Via color displays, operators can view key data and then take corrective action if needed. Called MOBA Pave, the system solves the problem contractors face when choosing a paving depth—pave to specification and risk areas with too little asphalt or be on the safe side by using more material than specification, but at a higher cost. With MOBA Pave, contractors can have the confidence they are delivering a quality mat that is to specification.
Vogele has introduced an infrared camera that measures the temperature of the mat directly behind the screed. "It provides thermal imaging of the paved mat behind the screed, so we can detect when we have temperature segregation in the mix, because Thermal segregation significantly and negatively impacts density, which causes a lot problems down the road," says Kolowski. A color-coded image lets you know whether the mat temperature is what you want it to be.
Seeing the Quality
A better mat doesn't just decrease road and highway budgets; they can also put more money in contractor's wallets, because contractors can now accurately prove the density of the mats they lay, and this can translate into density bonuses for achieving high density on state DOT projects.
"Don't be afraid of these technologies," says Kolowski. "And, don't use them only when it's required; in order to become efficient with them, use them always. The more you use these technologies, the easier they become to use."
Join over 32,000 industry peers who receive construction industry news and trends each week. Subscribe to CONEXPO-CON/AGG 365.