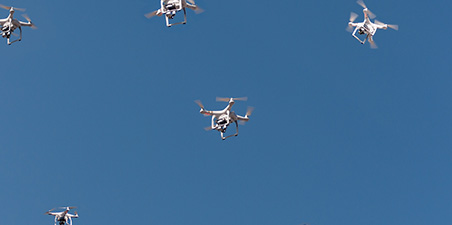 Using drones on the construction site is becoming more common place. That means there are some rules and regulations that need to be followed. Drone pilots must get certifications to operate them on the jobsite—which varies from state to state.
As one example, all of Woolpert's eight unmanned aircraft systems (UAS) pilots certified by the Federal Aviation Administration (FAA) have earned their North Carolina UAS Commercial Operators Permit. Each earned these state licenses under the FAA's 14 CFR Part 107 rule.
Two of these pilots can fly under the FAA's Section 333 Exemption. The Section 333 Exemption is granted on a case-by-case basis, allowing UAS pilots to perform commercial operations. The FAA notes that this exemption process "provides operators who wish to pursue safe and legal entry into the National Airspace System a competitive advantage in the UAS marketplace, thus discouraging illegal operations and improving safety."
Woolpert has nine commercial pilots who can serve as pilots in command with any of these eight North Carolina UAS operators. North Carolina state regulations require a UAS permit for commercial and government drone operations.
Woolpert was the first surveying and aerial mapping company to be approved to fly a UAS commercially in designated airspace, earning an FAA Section 333 Exemption in 2014. This is just one example of preparing for the future by obtaining certification to operate drones, which will be a necessity on the jobsite.