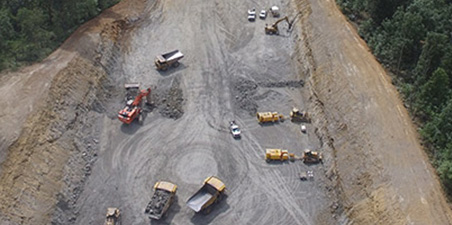 Beaver Excavating, an earthworks and heavy civil construction contractor, recently tested an earthworks grade control platform on several real-world projects.
The construction company started by installing Trimble Earthworks—an integrated 3D aftermarket grade control system—on three track excavators. The platform includes intuitive software, is customizable, and allows each operator to personalize the interface to maximize productivity, regardless of their experience or skill level.
Training on the new platform is easy, as operators generally can learn on their own and ask questions. The learning curve is shorter because operators can customize the software to present the most commonly used options in the most convenient way possible.
Beaver started by leveraging the technology for work on the Portsmouth Bypass project, also known as the Southern Ohio Veterans Memorial Highway. The new highway will be a 16-mile, four-lane divided highway that bypasses approximately 26 miles of U.S. 52 and U.S. 23 around Portsmouth.
The construction company is performing the extensive mass excavation work along the 16-mile route, along with utility and storm water drainage, bridge structure construction, and the project's erosion and sedimentation pond and ditch line components. The technology was originally beta tested on two SK210LC-9 Kobelco machines.
A feature of the new grade control platform is the "Autos" or automatics feature. When the excavator is placed in Autos mode, the operator controls the stick, and Trimble Earthworks controls the boom and bucket to stay on grade. This essentially automates the excavator operation and allows operators to achieve grade at a very consistent rate, with high accuracy and in much less time. It makes a less experienced operator just as efficient as an expert operator. Also, it's easier to pull grade with the new platform, and it saves time.
Currently three years into the Portsmouth's project, Beaver Excavating has completed nearly all of the mass excavation work for the project. The initial test of the technology has been extremely successful. This example of new technology being used at the jobsite shows how advancements are being made for the industry.