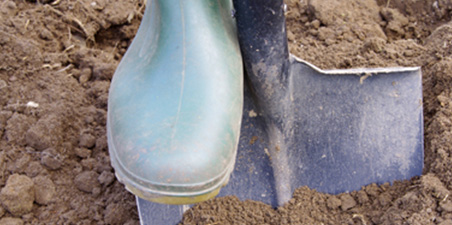 811 is the federally designated call before you dig number to protect yourself and others from unintentionally hitting underground utility lines. There are millions of miles of buried utilities beneath the surface of the earth that are vital to everyday living like water, electricity, and natural gas.
When you make the free call to 811 a few days before you dig, you'll help prevent unintended consequences such as injury to you or your family, damage to your property, utility service outages to the entire neighborhood, and potential fines and repair costs.
National Safe Digging Day is August 11, providing an important opportunity to stress the state law to dial 811 and have underground utility lines marked before you break ground.
Still, every day should be considered a "safe digging day." The "Call before You Dig" law applies at all times, to homeowners and contractors alike, whether you're a setting a fencepost or excavating a basement. Any type of digging requires a call.
This is important too because just nicking an underground wire or pipe can create liability for expensive repair bills and heavy fines. Some lines carry the potential for extensive property damage and serious personal injury. The risk can lurk just inches below the surface. How deep the utility lines are buried can change due to erosion, previous digging, and undulating terrain.
Call 811 from anywhere in the country two to five days before you plan to dig and your call will be routed to your local one call center. Tell the operator where you're planning to dig. Your affected local utility companies will be notified about your intent to dig and will send locators to your dig site to mark the approximate location of buried lines with flags or paint for free.
Have the following information ready before calling 811:
Phone number
Address (including the county)
Is the property inside or outside city limits?
Is the property in a subdivision?
A cross-street name (nearest intersecting street)
The exact area to locate?
When is the project due to begin?
By calling 811, you reduce the chance of causing damage to less than one percent. Make sure to always dig carefully around the marks, not on them. Some utility lines may be buried at a shallow depth, and an unintended shovel thrust can bring you right back to square one, facing potentially dangerous and costly consequences. Also, keep in mind erosion or root structure growth may shift the locations of your utility lines, so remember to call again each time you are planning a digging job.