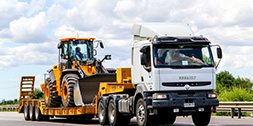 The skills and competencies required of an equipment-management professional have evolved greatly in the past two decades, from primarily maintenance expertise to today's C-suite professional who works within the spheres of operations, finance, risk management and leadership, especially in forward-thinking, successful organizations.
This evolution has been driven in many respects by technology. Telematics is changing fleet management at an amazing pace. Older business models for managing and maintaining equipment have already been made obsolete. Successful fleet-management teams are developing critical, proprietary metrics that are data-driven, resulting in higher utilization, lower idle time and pre-failure maintenance decisions. Operators are being trained to be a part of the success equation, and the right equipment is being placed on the job at the right time with more accuracy than ever before.
Telematics is rapidly becoming more sophisticated, as it simplifies fleet maintenance and management, making a skilled equipment manager even more critical to an organization's success. For instance, machine data is currently delivered from a modem on the machine to the OEM (original-equipment manufacturer) and then to the equipment owner, but this will likely change dramatically.
In the future, a machine's data will be delivered from the machine directly to multiple points across the enterprise rather than as a single stream delivered to one point. Machines will communicate directly with each other and everything else on a jobsite. In fact, everything about the machine and its interaction with other entities in the enterprise will be fully automated, even to the point of machine self-diagnosis and repair.
Tomorrow's equipment manager will be the overseer, the maestro of this futuristic enterprise. With automation, equipment managers will supplant many of today's essential corporate IT roles and become the most valuable member of your C-suite team.
If the head of your fleet team is not currently in the C-suite, consider evaluating and expanding that individual's skill sets. Do they possess the skills and competencies needed to guide your organization as it prepares for a future where equipment managers are indispensable?
The solution lies in ongoing training and education to keep up with the pace of change. Where is your fleet team getting its skills development today? AEMP can provide you with the answers to that question and more.
For more information about AEMP and its education and training, go to www.aemp.org.
By Stan Orr, FASAE, CAE, is AEMP president.