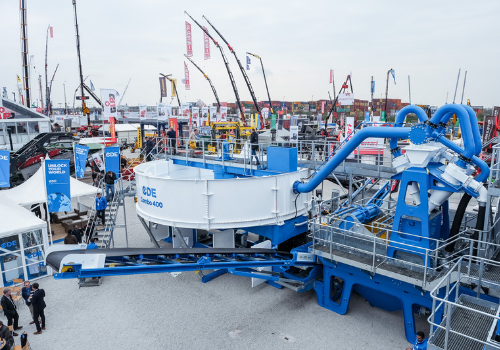 From crushers to conveyors, aggregates equipment manufacturers are rolling out a multitude of new offerings to meet the varied demands of quarry operations. Their latest products and technologies are full of features designed to improve production, increase versatility and decrease total cost of ownership.
For example, both Superior Industries and McCloskey have engineered solutions that will improve flow and decrease downtime, while CDE's new Combo sand washing plant and McCloskey's new "v3" impactors offer multiple configurations.
From the Cradle to the Stockpile
Superior Industries has made enhancements across several machine categories that target the construction aggregates and frac sand industries.
The first change is a small component that will have a big impact on conveyor belt life. The company has designed impact cradles to absorb the impact from rocks at the transition zones of a conveyor while simultaneously decreasing spillage.
"The machine has an aggregate design and we are marketing it primarily to the construction aggregate industry. In the construction aggregates industry, the belting needs to be protected in transition zones when those rocks fall onto the next conveyor," says Corey Poppe, Communications Manager, Superior Industries.
Also designed for the construction aggregates industry are two new tracked feed hoppers. The hoppers feature a patented hydraulic cylinder design; the hydraulic cylinder has an inverted design that allows for the discharge conveyor to fold (for transportation mode) and unfold (for operation mode). Plus, the hydraulic cylinder rod within that is protected from dust and debris during operation.
The third Superior Industries innovation is a 210-foot road-portable telescoping radial stacking conveyor.
"Our 210-foot Telestacker conveyor is the longest portable radial stacker in the world," says Poppe. "This machine is designed for applications, such as construction aggregates and frac sand, where you need to put up lots of large stockpiles. Being road-portable allows you to easily move it all over your pit or quarry, and then put it on the road and transport it to another pit or quarry."
Jobsite Ready from the Factory
The CDE Combo is built onto one chassis, which allows the CDE assembly engineers and electrical engineers to fully assemble and test the plant in our factory before sending it to the customer.
"This is also a major cost-saving for the customer," says Eoin Heron, VP & Business Development Director North America for CDE. "Time spent on site is expensive and the factory setting is the lowest cost environment. CDE's modular approach and chassis allows for rapid deployment."
All electric motors are pre-wired and the control panel PLC controls are tested to ensure they are fully operational. Once testing is complete, the Combo is then deconstructed for transport. During this process CDE splits the plant into several large shipments to ensure rapid re-assembly when delivered on site. Due to a smaller footprint, less site engineering is required and therefore reduces initial set-up and relocation costs.
The combo can be integrated into a range of other modular products from CDE to create a process for each of the above sectors. "However, we see the highest demand for this product from the sand and aggregate sector," says Heron. The Combo is designed to turn waste screenings into valuable manufactured sand while overcoming the challenge of water supply and pond space on site.
One of the major benefits of the Combo is its lower energy consumption compared to that required for traditional plants. "Our patented process reduces the energy demands of the water pumps by up to 60 percent using innovative water recovery designs to ensure the sand is cleaned to the highest specification," says Heron.
Overhauling Impact Crushing
McCloskey Intl. is making some significant changes to its impact crusher line.
Company president and founder Pascal McCloskey had visited several of the company's customers to see the impactors operate in the field across multiple applications. From his observations, he realized certain changes that would benefit crusher operation and those changes are being made across the impactor line. The change is being marked with the addition of a "v3" at the end of the model name.
The first change is a widening of the material flow path. "So basically, in an impactor, you might end up with a lot of bridging and blockages as the material moves along the conveyor and through processing. Now, it starts wider and then narrows, so you have a lot less material bridging and blockages," says Julie Andras, Global Marketing and Communications, McCloskey Intl.
Other significant changes include a direct drive crusher, which significantly decreases fuel consumption, and a recirculating conveyor, so the machine can feed the material back into itself and you can produce any number of products.
"The I34Rv3 is our first entry into the compact crushing; it has a very nimble footprint, so you can now take it to site just like other machines, such as an excavator or a loader, and be able to operate it in such a way that you are no longer hauling off construction and demolition (C&D) waste, thereby reducing transportation costs and increasing speed to market with the finished product."
See the latest in aggregates processing equipment at CONEXPO-CON/AGG 2020. Download the exhibitor directory to connect with CONEXPO-CON/AGG exhibitors and their products.