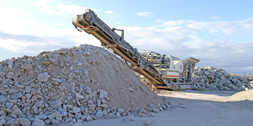 Construction aggregates are a broad category of granular materials such as crushed stone, stone and gravel which are used in construction activities. Aggregates are the world's most mined material. Aggregates give resistance to wear and erosion, volume stability, and other desired physical properties to the finished product. Construction aggregates are mainly used in applications such as commercial, residential, industrial and infrastructure construction.
The global construction aggregates market is anticipated to grow from $350 billion in 2016 to $560 billion in 2024, at a CAGR (compound annual growth rate) of 6.1 percent during the forecast period.
New trends such as manufactured sand and recycled aggregates, along with rising investments in infrastructure globally are driving the growth of the market. High transportation costs, stringent zoning regulations, seasonal factors and rising energy costs are challenges to the growth of the market.
The highest CAGR will be observed in the residential segment for the forecast period. The infrastructure segment will constitute the largest share of the total market size. China was the biggest consumer of construction aggregates and dominated the market in 2015, followed by North and Central America.
China will represent the fastest growing region in the construction aggregates market in terms of value growing at a CAGR of 4.7 percent. Developing economies like India and the Middle East are anticipated to witness considerable growth during the forecast period. The market in North and Central America will cross $95 billion by 2024.
The Gulf Cooperation Council took major steps as a part of the economy transformation to reduce its dependence on oil. A few infrastructure development steps taken are expected to impact the construction aggregates market demand in the region. With all of the infrastructure and improvement projects set to happen, this market will continue to be in the spotlight.